Genre: Horror
Premise: A non-traditional horror tale centering around three young women at a girl's boarding school.
About: "February" made the 2012 Blood List, but the more interesting story is who wrote it. Now I didn't know this before I read the script (I try to research the screenplay after I read it so I don't go in with any preconceived notions), but the script was written by Osgood Perkins. Does that name sound familiar? It should. It comes from some prime horror stock. That's right. Osgood is the son of Anthony Perkins, who played Norman Bates in Psycho. Now before you assume he got this far through nepotism, you might want to read the script and then my review.
Writer: Osgood Perkins
Details: 111 pages – June 2012 Draft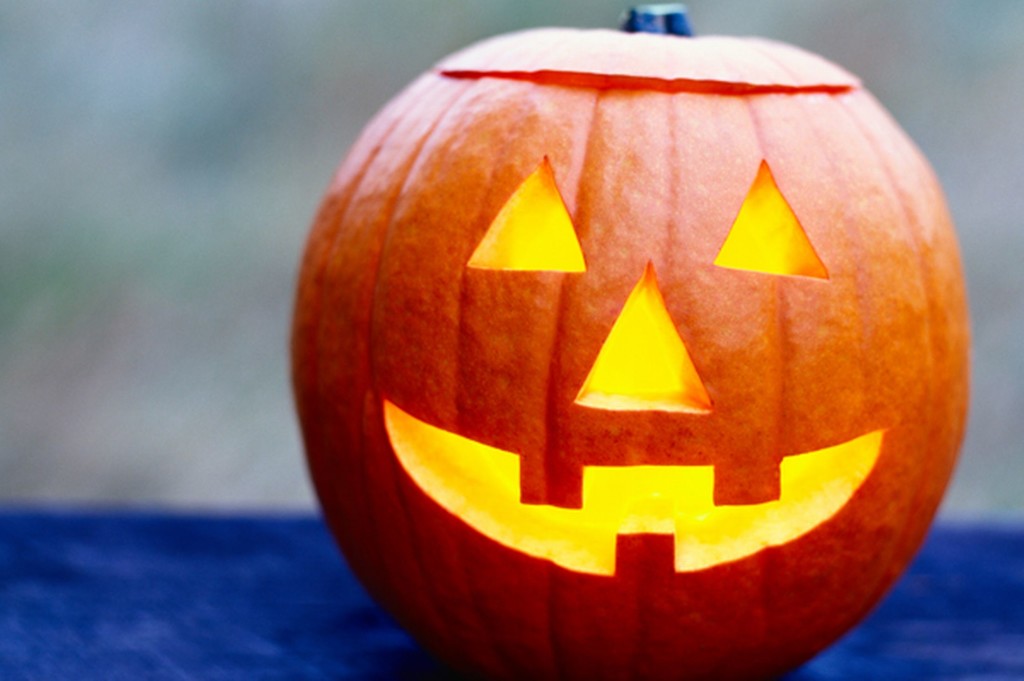 Halloween Madness at Scriptshadow continues!
In the casting profession, you'll often hear casting directors talk about going through hundreds of auditions in order to get to "the one," that one actor who makes everyone in the room sit up and pay attention. They talk about noticing that "special something" in the actor, an indescribable secret sauce that you can't quantify.
Every once in awhile, I'm lucky enough to have the same experience with reading screenplays. You see, the reason that having a unique voice is so often touted as the key to breaking in, is because so much of what we read as readers is the same. It's written the same, it's structured the same, it's imagined the same. So if you find something that doesn't feel like the rest, you're immediately drawn in.
I liked Perkins' writing here so much that I'm going to implore you to find the script and read it yourself before you read my review (plenty of people should have the script in the comments). The beauty of this script is in the way that it grows and surprises you. Reading plot points beforehand is going to take away from that experience. With that warning, let us begin.
"February" is an aptly titled script as the word is meant to convey a feeling. The cold empty air of a February morning. It's a common practice in Perkins' writing. February is 75% atmosphere, and the best script I've ever read at using atmosphere to engage the reader.
The story starts out at The Bramford School For Girls, on the week the parents are taking their kids away for the weekend. 17 year old Rose, however, informs the headmaster that she miscommunicated the day to her parents, and will therefore have to stay at the school an extra night.
We quickly find out Rose is a little con girl. She orchestrated this hole in her schedule so she could spend the night with her boyfriend. But her plans are thrown into disarray when the headmaster assigns Rose to watch over 13 year old Kat, another girl whose parents didn't show up.
Kat is a weird kid. She's plagued with that "something's off" look in her eyes. You can routinely expect a 1-2 second delay in every response she gives. But Rose could care less. She's all about hanging out with her boyfriend, and leaves Kat at the empty school to fend for herself.
In the meantime, we cut to a plane flying into Providence, and meet another strange character, the 20 year old, Joan. Joan looks even more out of it than Kat. What's going on here? Is there some sort of virus spreading through the country making women lose their shit? We're not sure. All we know is that Joan's surprised to find a hospital bracelet on her wrist. How did it get there? And how come she doesn't know?
When she lands, Joan heads out of the empty airport into the beginnings of a winter storm. A seemingly sweet married couple in their 50s spot her. When they hear she's going to the same town they are, they offer her a ride. Unsure at first, she eventually agrees.
Back at the Girl's School, Rose comes back from her date, only to find Kat missing. She sneaks around the campus looking for her, eventually finding her in the most unlikely of places. It is a place that will set the stage for a shocking turn of events which will bring Rose, Kat, and Joan together in a way we never could've expected.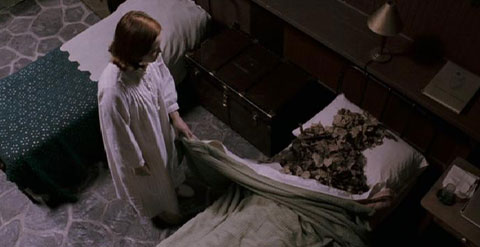 I've mentioned this before, but when I really like a script, it's hard for me to break it down. I'm so caught up in the story, I'm not paying attention to a lot of the technical aspects. This is the ideal scenario. You want your story to be so compelling that the reader never has a chance to understand why it's working. They're too busy flipping through the pages, wanting to find out what happens next.
This it the most atmospheric script I've ever read. Atmosphere is essential to horror screenplays. You don't have the music score doing the work for you as your characters walk into danger, so it's what you describe and how you describe it that creates the suspense and the tension to pull your reader in. Here's an example from "February," a quick excerpt from a scene in the cafeteria.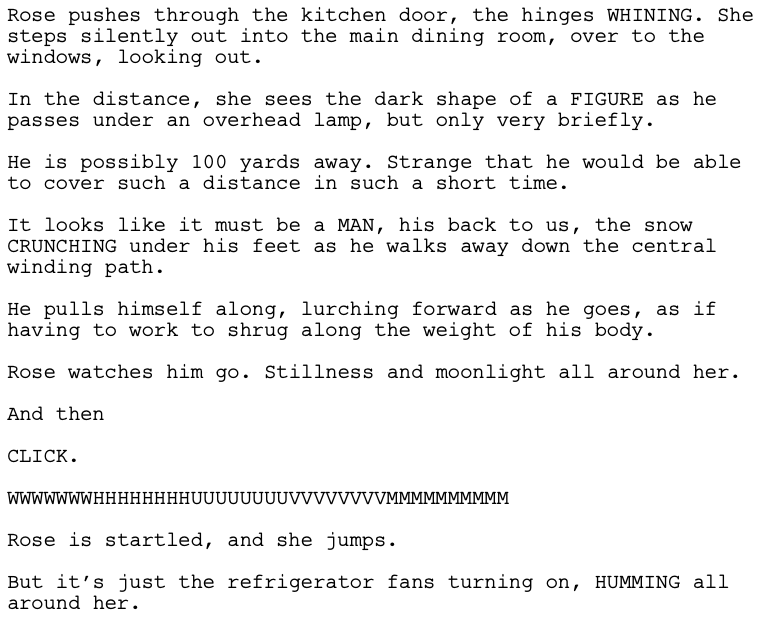 Notice the sounds and images here.  The kitchen door, whining. The man's footsteps, crunching. The focus on how the man walks, having to pull his weight along. The sound of the refrigerator fan humming. Perkins pays attention to all the little details surrounding the moment in order to bring the moment itself to life. Now you have to be careful about this. You don't want to overwrite. But readers will give you a little more slack when you're great with description, as Perkins obviously is.
But what really pulled me in here was the puzzle. The screenplay is set up sort of like Pulp Fiction, where you're bouncing around from character to character, trying to figure out how it all fits together. I mean when we jumped to Joan for the first time on the plane 40 pages into the script, I threw up my hands and was like, "Where the hell is this going?" The last thing I expected was to be leaving the boarding school, and my brain had to work overtime to figure out how those two threads were going to come together. I loved it.
Perkins also has an amazing ability to make even the most minute moments mysterious. For example, this is how Joan was introduced: "She's roughly 20 but looks older, some of the brilliance having gone from her eyes." (line space) "If you asked for her name, she'd tell you it's JOAN." You see what I mean. Even a simple character introduction comes with a mystery! Her name is Joan. Or maybe it isn't. How could something as simple as a name come with such uncertainty??
Now this script isn't going to be for everyone. Some are going to find it slow. Perkins makes you read for a long time before he rewards you with any payoffs, and his focus on description and ambiance is so heavy at times that it might turn people off. I can already hear some of you, while reading it, saying, "Get to the point already."
But I loved it. There's something inherently suspenseful about his style, allowing even the most mundane scenes to come alive. For example, when the ultra-fragile Joan is having breakfast with Bill (the husband character who gave her a ride), we're convinced that he's angling for something here, that he has a possibly evil agenda. Which makes us worried for Joan. But at the same time, we haven't figured Joan out either (what was up with that hospital bracelet??), and a part of us is wondering if she's the one we have to worry about. I rarely feel so much energy underneath a scene that was, basically, two people talking over a meal.
But the kicker of why this horror script is so much better than everything else out there is the writer's choices. As I like to say (or at least, am about to) "Voice is choice." (major spoiler follows) Had you given 100 writers the premise of, "Write about a psychopathic 13 year old killer," 99 of them would've written a straight-forward slasher type script following a 13 year old girl going from victim to victim. "February" is anything but that. It deftly weaves three giant puzzle pieces together into one of the more satisfying (and creepy) revelations I've ever come across.  Remember this always, guys.  When you come up with an idea, sit down and think about EVERY ANGLE you can tell that idea from.  Don't just hop into the first approach that comes to mind because that's probably the most boring approach.
"February" reminded me a lot of Wentworth Miller's writing, but I think Perkins is even better. If I were a horror screenwriter, I would say that these two guys are the ones you want to be studying right now.  They're the ones with the most interesting vision.  Even though I thought Interstate 5 was decent, the writing here really shows how big the gap is between average and great. You really see how good writing can elevate something.  What a script!
[ ] what the hell did I just read?
[ ] wasn't for me
[ ] worth the read
[x] impressive
[ ] genius
What I learned: If you love writing description but you're tired of the screenwriting Gestapo telling you that there's no place for excessive description in screenwriting, here's a workaround for you: Hide your description INSIDE OF ACTION. That way, the description doesn't sit out on its own and bore the reader. For example, let's say you want to describe the kitchen during a night scene, that it has "slivers of moonlight" that "shine off of hanging pots." Don't start your scene with that description. Wait until there's some action in the scene and then squeeze the description inside of the action, like Perkins does. Here he is describing Rose in the kitchen: "She steps deeper into the dark room, guiding herself by the slivers of moonlight that shine off of hanging pots and pans and along the sharp edges of metal counter tops."