Genre: Drama
Premise: An irresponsible man attempts to raise his dead sister's daughter, a child genius, until his mother comes to town and starts fighting for custody of the child.
About: This just landed on the 2014 Black List with 7 votes. Marc Webb (The Amazing Spider-Man 1&2) is going back to his 500 Days of Summer roots to direct the small character piece.
Writer: Tom Flynn
Details: 121 pages (undated)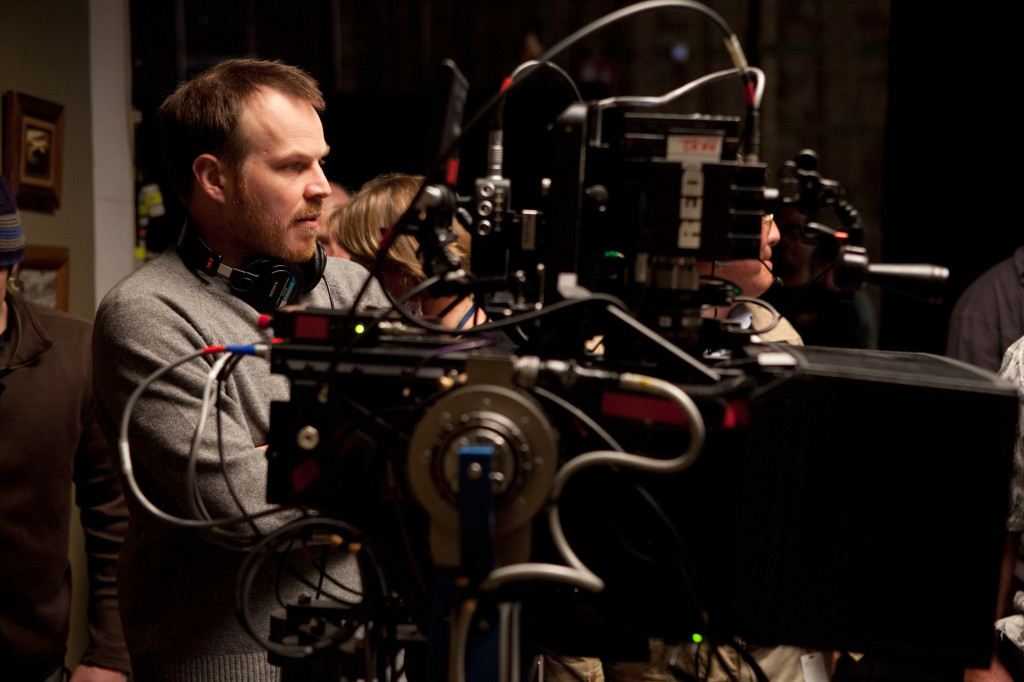 Marc Webb with a big camera.
I just read a quote by Tim Burton saying that the world will soon tire of comic book movies. I used to agree but I'm not so sure anymore. The only reason comic book movies weren't around in abundance earlier was because Hollywood didn't have the special effects to back up the vision the films required.
Now that that's not a problem, comic book movies are actually perfectly suited for film. They carry with them action, spectacle, wish-fullfillment, and a lot of flashy characters. I don't see them leaving the local Cineplex anytime soon.
But I'll tell you one person who wants to leave them behind, and that's Marc Webb. Webb's initiation into the world of big-budget comic book movies hasn't been a good one. The two Spider-Man movies he's made have been pretty bad – jumbled messes with nary a clear plot. Of course, you could say the same about the earlier incarnations of Spider-Man. But the big difference there was that Sony wasn't competing with the juggernaut known as Marvel. Say what you will about Marvel but they take their superhero films VERY seriously, and as such, they consistently deliver a quality product. Peter Parker's one-liners all of a sudden aren't enough to keep an audience interested.
Webb is clearly tired of this world, so he's going back to his indie roots. And I must say, I commend him for doing so. Rarely do directors who make it to the big leagues with those big league paychecks go backwards, especially in an industry where movies like Gifted are lucky to get 100 screen releases and featured rollouts on Itunes.
But the very notion that Webb is willing to take that chance tells me this script has something going for it. And truth be told, I love these 'gifted children' movies. Call it the Searching for Bobby Fischer Syndrome. Exceptional intelligence at a young age is always a burden, and so there's conflict built right into the character. Let's see if Flynn nails this latest attempt at the genre.
30-something Frank Adler is an irresponsible bachelor if there ever was one. Seven years ago, Frank's sister, Diane, a brilliant but troubled mind, walked in on Frank, dropped off her baby, then killed herself. And just like that, the eternal bachelor found himself father to a child.
And an awful father he was. Not knowing the first thing about parenting, Frank treated Mary more like a roommate than a daughter. Got a boo-boo?  Go, like, find a band-aid or something.  Luckily, Mary could handle it. Just like her mother, she was extremely smart. But at 7 years old, Frank's realized that he can no longer keep this girl locked up in his place. He has to send her off to school.
Problem is, Mary's like 100 times smarter than all the other kids at school, combined. Actually, she's smarter than all the teachers, combined, including Bonnie, her primary teacher, who takes an interest in Mary's unique talents, as well as her emotionally damaged but hot father.
Just as it becomes clear that Mary needs to be placed in higher education, Evelyn, her grandmother and Frank's mother, shows up, demanding custody of the child. On the one hand, Frank doesn't want Evelyn anywhere near Mary. She ran his sister (Mary's mom) into the ground, and she'd do the same to Mary.
But there's a little voice in the back of Frank's head saying: "Freedom." Finally, he can go back to living life his way, instead of being responsible for a child he's no good at taking care of anyway. At least that's what he tells himself. When the courts get involved and decide that NEITHER brother or mother is capable of taking care of Mary, they bring in a third party, a foster couple. But this couple harbors a secret that will throw everything off its axis, and force Frank to decide what he really wants out of life.
Gifted is a good screenplay, and further proof that if you can identify the key line of conflict within a logline, you probably know how to write a screenplay. You may wonder what I mean by that. Let me explain.
Your first order of business in a logline is to convey the plot, which essentially means the hero's main goal, or the journey he's going on. Indiana Jones goes after the Ark of the Covenant. But that's only half the battle. You then have to identify the key line of conflict that's going to impede upon that goal. In other words: What the fuck is going to get in the way and hamper Indiana from getting the Ark?
To see this in action, let me give you the NON conflict-laden logline version of Gifted: "An irresponsible man attempts to raise his dead sister's daughter, a child genius." There's some semblance of a plot there. BUT THERE'S NO LINE OF CONFLICT.  The idea is open-ended and therefore directionless.  There's no story yet! "…until his mother comes to town and starts fighting for custody of the child," is the key line of conflict that all of a sudden gives the story a reason to exist. Without that conflict, the story has nowhere to go.
Now as much as I liked Gifted, it had some issues that kept it shy of "impressive" territory. One thing that drives me nuts is when a writer skirts reality in order to move the plot forward, particularly with a major plot point. I'll have to get into spoilers to explain this.
Late in the story, Frank loses custody of Mary to the foster parents. But come on. There's no way this would happen in real life. Frank loves Mary. He's a family member. She loves him. He doesn't do drugs. He's not an alcoholic. He provides a roof over her head.  He doesn't neglect her in any way.  And the courts give the child to a random foster couple instead?
Come on.
The only reason this development occurs is because the writer wanted to advance the story. But audiences are savvy to this. They may not know the technical reason things feel off. But deep down they feel something isn't right. And that something is cheating. The writer is pushing along false plot points when, in the real world, we all know this would never happen.
I think it's one of the most disingenuous things you can do as a writer, is to falsely move your story along. It's your job to follow an honest path. That's not to say you can't have the courts give Mary to a foster family. But you need to build in a legitimate REASON for it. If Frank were an alcoholic (or whatever kind of addict), for example, and was therefore truly unable to care for his daughter, I'd buy into the court giving Mary away.
And lastly, they need to do more with Frank's character. If you're going to write a drama, you have to recognize that the ONLY way to market the movie (since you don't have explosions) is through an A-list actor. And A-list actors don't sign on to play characters like Frank in his current incarnation. Frank's a level-headed guy. He doesn't have any huge issues. He's a bit of a loser, but otherwise average. If an A-lister is going to be in a small movie and get paid a tiny amount of money, they want to either play a really challenging role, win an Oscar, or both.
My guess is that, as this script works its way through development, Frank will become more fucked up. He'll become an addict in some capacity. And I don't think that's a bad approach. It actually makes sense because now, like I mentioned, there will be a reason for the courts to separate him from Mary.
And all this isn't to say I didn't like the script. I thought it was good. But these are the realities of the ways these movies are made nowadays. Big actor or go home. Making the main male character interesting/unique is the difference between getting Matt Damon or Josh Brolin. I hope they figure it out because this can not survive with Josh Brolin.
[ ] what the hell did I just read?
[ ] wasn't for me
[x] worth the read
[ ] impressive
[ ] genius
What I learned: From now on, I want you to always include the key line of conflict in your logline.  I can dismiss half the screenplay queries I get due to the lack of a key line of conflict in the logline.  And if you can't come up with a key line of conflict for your logline, chances are, you don't have one for your script, which means you'll have to rethink the story and add a key line of conflict.