Genre: Action-Adventure
Premise: An alien civilization attacks planet earth… using 80s video game characters.
About: There seems to be a new stealth tactic suspect Hollywood projects are using to get geek cred. It's called the "Thrones Tactic." This is when you cast one of the actors from Game of Thrones in your movie to trick the potential audience into thinking your movie is cool. We saw this fail with Terminator: Genisys (Emilia Clarke) but hopefully it will work here (Peter Dinklage). Pixels comes out later this summer and stars Adam Sandler, Peter Dinklage, Josh Gad, and Michelle Monaghan.
Writer: Tim Herlihy (revisions by Timothy Dowling) Current Revisions by Tim Herlihy
Details: 100 pages – February 19, 2014 draft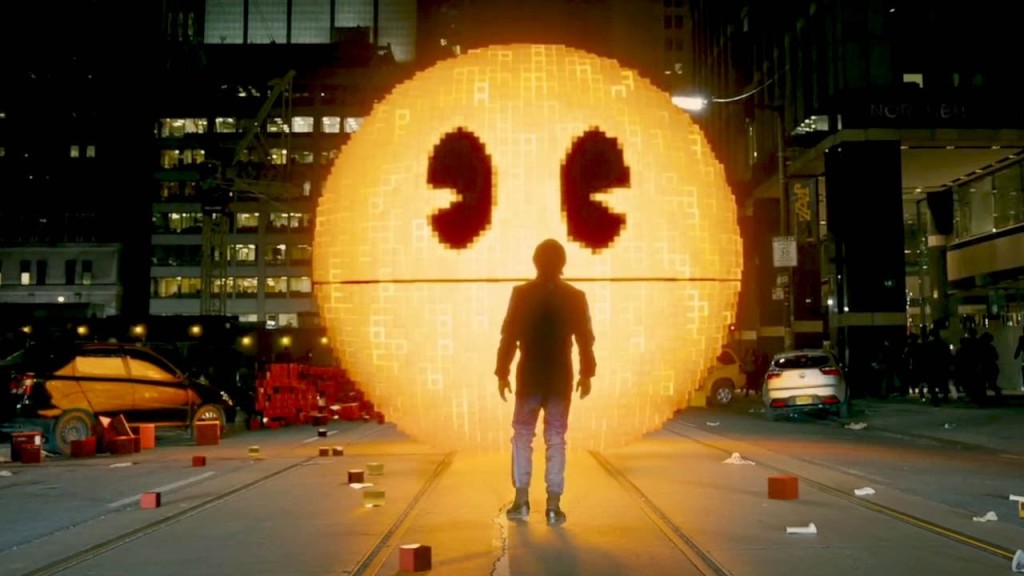 I was hoping that Pixels was going to be the movie Adam Sandler used to finally get back to being funny. That hope was dashed when I saw the writer of Pixels was the same writer who gave us Grown Ups 2, Bedtime Stories, Mr. Deeds, and of course, Little Nicky.
Sony wised up and at least got Timothy Dowling (Role Models, George Lucas in Love) to add some funniness to the script, although it appears his contributions were short lived, as the original writer got to come back on and change everything back to the way he wanted.
I was actually excited about this movie due to the hilarious final gag in its trailer (here's the trailer, make sure to watch til the end). It shouldn't be surprising, then, that that gag was NOT in this draft and was probably thought up by someone else on the set who was actually, you know, funny.
In 1982, Julian Brenner was almost the video game champion of the world. At the last second, he lost out in Donkey Kong to gamer stud and all-around asshole, Eddie Plant. Julian never quite recovered from that loss, and now, 33 years later, he's a member of Geek Squad, those guys who come to your house in sissy looking cars and install your TV or computer.
I don't know if you want to say having your planet invaded by aliens is "lucky," but when you're the one guy who possesses the special skill to defeat said aliens, you have the potential to go from zero to hero.
You see, 30 years ago, the planet foolishly sent off a satellite that included everything about earth at the time, including its infatuation with 8-bit video games. Unfortunately, the alien species who recovered this satellite happen to think that this is a direct challenge by Earth for superiority of the universe (or something).
These creative aliens want to play fair though, so they attack earth with the very games mentioned in the message. So they battle us with Centipede at Central Park, Pac-Man in Tokyo, and finally throw a free-for-all at us (Dragon Lair, Frogger, etc.) in the final battle. Julian will have to team up with his old video game friends as well as his evil nemesis who defeated him in the world championships all those years ago, if he's to both save the world… and his dignity.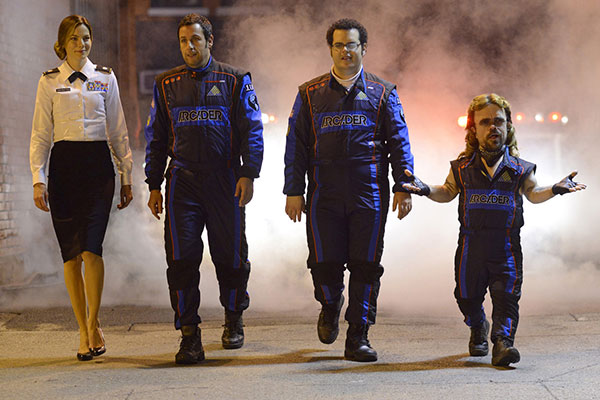 You know what kills me about Pixels? It had the potential to be balls-to-the-wall crazy fun. But the script plays things so safe, it's like playing Pac-Man with unlimited lives. There's no freaking fun to it. After seeing Fury Road this weekend and realizing what happens when you REALLY go balls-to-the-wall, Pixels feels like the 7th grader who stands in the corner of the school dance all night, afraid to talk to a single girl.
Here's the thing with formula. It's awesome for structure. There IS a way to tell a story for maximum impact and the 3-Act structure is that way. Most writers never even get to the point of understanding the 3-Act structure so there's something to be said for writers who master it.
However, if that's ALL you're doing and you're just mailing in all the other components (characters, dialogue, plot beats), you're never going to write anything good. Your script is going to look fine on the page. But it's never going to stir up emotion in a reader. It's never going to shock them or excite them. And if you're not achieving those things, you haven't written a good story.
One of the most important practices in screenwriting is anticipating what the audience expects, then giving them something different. If you're not doing this, you're not screenwriting properly.
So let's compare a scene from Pixels to a scene from Fury Road, shall we? In Pixels, one of the big scenes is when Centipede attacks Central Park. So our main character and a bunch of soldiers go to Central Park with brand new "light guns" to stop the game. How does this scene play out? BY CENTIPEDES ATTACKING FROM THE SKY AND OUR SOLDIERS SHOOTING AT THEM. In other words, EXACTLY how any member of the audience would've written the scene themselves.
I mean seriously? You can't do better than an audience member?
I'm not even going to use a BIG scene from Fury Road for this challenge. I'm going to use one of the few scenes without a car chase. Someone posted this in the comments yesterday so you can watch it yourself to see what I'm talking about.
In the scene, Max is chained to a door as well as a passed out War Boy and wants to be cut free. He approaches Furiosa and the five sirens, who are enemies at this point, to get help. Max is using a shotgun that we know doesn't work, to force them to cut him free. We also see, in the distance, that the enemy caravan is driving towards them, leaving them little time to settle this issue.
In other words, there are like 18 FUCKING THINGS GOING ON AT ONCE. Max is bluffing with the gun. Max needs his chain cut. Max is chained to a dangerous enemy who could wake up at any second. A siren approaches him with a bolt cutter. Will she help or will she attack? Furiosa looks like she might attack at any second. Behind them, we see the caravan approaching. They need to get back in the truck and leave now!
Had the writers of Pixels written this scene it probably would've gone something like this:
Max sneaks up behind the truck. He sees a bolt cutter attached to the truck's back bumper. He pulls it off and cuts himself free.
That was the kind of boring predictable writing that went on throughout Pixels. And don't give me this shit that you're catering to a younger audience who doesn't expect as much. That doesn't give you license to be lazy. And lazy is exactly what Pixels was.
Julian's best friend as a kid, Cooper, grows up to be the president! How convenient is that when aliens invade. The first person the president calls now is our main character. Oh, and the woman Julian delivers a TV to for his job and falls for – she just happens to be the main weapons defense administrator at the White House. How perfectly convenient once again! Even the best character created – an asshole midget gamer villain – wasn't even a midget in the screenplay! That was, of course, figured out by someone BESIDES the writer. Because going with a midget would have been way too risky.
The only sequence worth its salt is the Pac-Man set piece. It's the only time where the writers actually felt like they were trying. For example, our heroes start off chasing Pac-Man through the streets (with their "ghost cars") and everything's looking easier than they thought it would be. Then, all of a sudden, Pac-Man turns a corner and there's: A POWER PILL. Julian, of course, knows exactly what this means. They're no-longer chasing Pac-Man. Pac-Man is chasing them. Everything reverses now and they're on the run. It was a rare Pixels treat. An unexpected reversal.
Unfortunately one good sequence is not enough to save an otherwise generic screenplay. I'm still torn with this one as the trailer makes the film look genuinely fun. So I'm wondering if they got another writer on this to save the day or they have just cleverly covered up all the weaknesses. I shall hope for the former.
[ ] what the hell did I just read?
[x] wasn't for me
[ ] worth the read
[ ] impressive
[ ] genius
What I learned: If Fury Road has taught us anything, it's to go into every scene/sequence in your screenplay with this question: "What is the audience expecting here?" Once you have that answer, you simply go in a different direction. That one tip can improve your writing tenfold. Go ahead, I dare you to open your script right now and try it.