Edit: This draft going around is not the Scott Brick draft, but rather a chopped-up version of another writer's draft of Rama (one of the risks of reviewing older scripts). Now we need to find the official Brick draft, as Coming Attractions says it is great.
Genre: Sci-Fi
Premise: When a giant mysterious cylindrical ship is spotted barreling through the solar system, a small team of astronauts goes to inspect it.
About: This project was a hot property for a few years in the early 2000s as both David Fincher and Morgan Freeman really wanted to make it. This was going to be Fincher's make-up film for Alien 3. Unfortunately, it never came to be due to them never getting the script right. This is why good screenwriting is so important. A good script can thrust a project through a green light. A bad one can keep you at that stoplight that always stays red. And big directors only have so much patience before they blow the light and move on to the next big shiny thing. I still think this film will get made at some point. It's too cool of a premise not to be. A lot of writers have tackled Rama. This draft was written by Scott Brick and is said to be one of the better offerings.
Writer: (edit) Philip Whitcroft (again, someone cut sections out of this script, so this isn't the full representation of Whitcroft's screenplay)
Details: 103 pages (2001 draft I think?)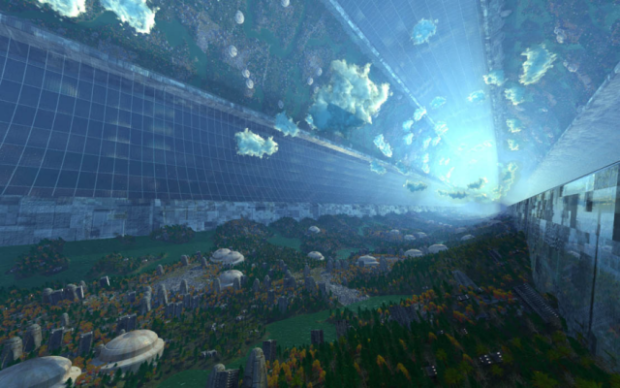 I've known about this script for almost a decade now. The only reason I never read it was because I heard the book was good. So I wanted to read the book before I read the script. Well, I finally read the book!
And what a strange book it was. Rendezvous With Rama is a book with, maybe, the least amount of character development I've ever seen in a novel. Characters are only given cursory backstories and no meat whatsoever.
The reason, however, that Rendezvous with Rama is so revered is because it contains the most compelling mystery of any science-fiction novel ever. This is something I love to remind screenwriters about. Your script can be shit in one area as long as it's really amazing in another. When Harry Met Sally has zero story. It's just people talking for 2 hours. But it has the best romantic comedy dialogue ever.
Anyway, back to Rama. I never finished the book. Even though the mystery was, indeed, fascinating, the author had an excruciatingly annoying habit of describing the orientation of the characters. Since we're inside a cylinder, he loved discussing whether the characters were not quite facing up, and not quite facing down either – TO THE TUNE OF 100+ TIMES! At a certain point, I was like, enough is enough, dude. This isn't orientation porn. It's a sci-fi novel. So I bailed.
Which is great news for me going into this script, as I can finally find out what happened! Let's get into it…
It's way way off in the future. We're at the point where we have cities on each of the major planets in the solar system. Commander Norton is one of the best space pilots in the business, based out of Mars. Just as he returns from a routine mission, his science buddies hit him with a whopper of a discovery – there's an alien ship shooting through the solar system, heading straight for the sun.
Due to the trajectory of this thing, humans will only have a brief window to inspect it. And the closest folks are Norton and his Mars team. So Norton's team hops on their ship, the Endeavor, before shooting towards what the media is now calling, "Rama." Unfortunately, they leave a little too fast, as ZOINKS, Norton's 12 year old daughter, Myrna, was able to stow away on Endeavor, joining the mission!
The group gets to Rama and finds a giant streamlined sphere. There's only a single blemish on the sphere, which they realize is a way in. So they land next to it and head inside. The hollow Rama goes on for hundreds of miles, so they can't see it all, but it appears to have several giant cities inside.
However, when they get closer, they see that these aren't cities at all, but rather giant featureless rectangles. This is commonplace on Rama. Everything has the appearance of life, and yet is completely dead. They see a giant sea, except when they get to it, it's like one enormous piece of plastic. What the hell is going on??
The teams split into two to explore, and that's when shit gets crazy. Rama begins to heat up, and as it heats up, things change. That plastic sea begins to melt into a real sea. Also, out of nowhere, various robotic entities the groups deem "biots" begin appearing. For example, spider biots skitter about, grabbing debris and disposing of it. It seems as if Rama is preparing for something. But what?
As our group gets closer to the answer, they realize they are in great danger. If they don't get off of this ship soon, they're going to be casualties of this Rama transformation. A good 100 miles away from the exit, that escape begins to look like a pipe dream.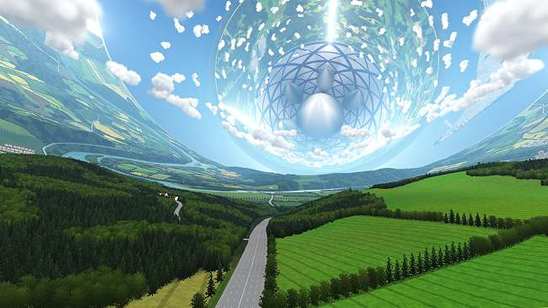 Rendezvous with Rama was… frustrating.
I think I liked it. But I hated the first act so much that I'm not sure I can give it a passing grade. This was one of the shittiest first acts I've read in a long time. The writing was terrible, to the point where I thought I'd been duped and that this was a fan script. Luckily, the stuff on the ship (Rama's mystery) redeemed the story. But only barely.
So why did I hate the first act so much? Let's start with the first page: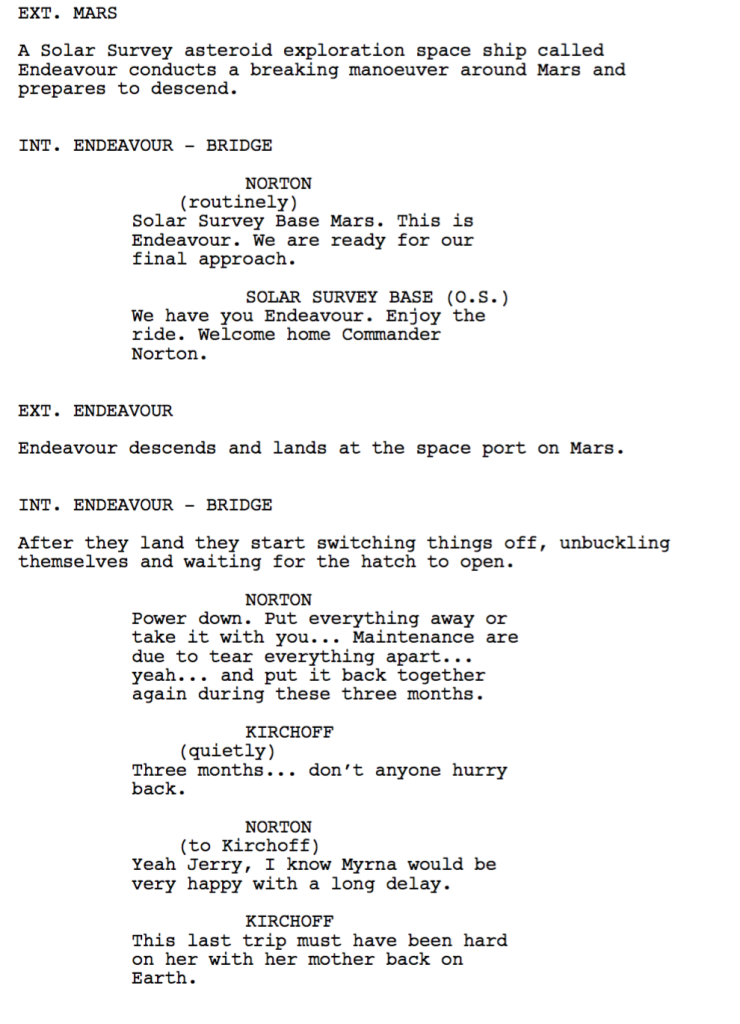 Where the f*&% are the character introductions???? Are we just supposed to know who these people are telepathically? And does Norton have a first name? That's a mystery ready for its own novel.
Things get worse when we meet Myrna, the commander with no name's 12 year-old daughter. Myrna appears to be a character constructed just for this screenplay, a bad producer note likely suggested to expand the demographic. Because, oh yeah, a hard science-fiction movie about an alien invasion isn't complete without a precocious 12 year old daughter who stows away on the ship. What is this? An episode of Star Wars: Rebels?
Anger reached a crescendo when the Hermians (the people who live on Mercury) threaten to blow up Rama with a nuclear bomb. That's when I almost put the script down. However, once the script moved past those problems (thankfully, Myrna the Menace stays in the background for most of the story), it got good.
And it got good because Rama is awesome. The ship I mean. It's just such a great mystery. What is this thing? What's happening to it (why is it heating up)? What's coming? If this is an alien race, what do they want? As each new mystery is introduced, I found myself thankfully forgetting more and more about the first act.
But if your script is only as good as its weakest link, this one needs an entirely new setup. For starters, the weight of finding an alien freaking space ship for the first time in history needs to be built up! We need to feel the importance of this moment so that we know how important it is to go and investigate Rama. The discovery of Rama in this screenplay is given as much focus as finding a dollar bill in the dryer. "Oh look! I found a dollar!"
From there, there seems to have been zero outlining. With a discovery this big, the first thing that would happen is a giant question and answer session with the media so humanity could find out what's going on. Instead, that moment comes when our group is on the ship, almost at Rama, a clear sign of, "Oh yeah, I forgot to include this scene. I'll just do it now." It fed into to the laissez-faire approach in which the script was written and in which all the characters seemed to approach Rama.
I mean it's only the biggest discovery of mankind.
The time period for this is also wrong. We're staked a couple of hundred years in the future, to the point where we have cities on all the planets. That in itself is amazing achievement, which dilutes the amazingness of discovering an alien ship. This needs to be set as close to present day as possible.
Not to mention, get rid of this nerdy Mars nonsense. Not only is it not 1954 anymore, but we need to be able to feel the shock and awe from people that this ship has been discovered. We can't do that if we're camped out on Mars.
And finally, we need a writer who understands character. The characters here are so thin. I've already pointed out that the main character doesn't even have a name! Late in the script (spoiler) a "major" character comes back to life. It's supposed to be this huge moment but we're like, "Uhh, I don't even know you, dude."
It's frustrating because this is a movie that could be great. This is a movie that someone should make. But we need a screenwriter who knows how to write. That's going to be the first step towards giving Rendezvous with Rama a rendezvous with reality.
[ ] What the hell did I just read?
[x] wasn't for me
[ ] worth the read
[ ] impressive
[ ] genius
What I learned: NEVER. EVER. take character introductions for granted. Give us a good description. Have the character perform an action that defines them as soon as possible. Have them talk and say things that let us know what their personality is immediately. And start feeding in their backstory as soon as you can invisibly do so. If we don't know your characters, your script is doomed.