Genre: Action
Premise: When his family gets stuck in Hong Kong's newest super-scraper during a fire, a former FBI agent must figure out a way to save them.
About: The Rock is big. Therefore, it makes sense that he only goes big. Big monsters (Rampage). Big earthquakes (San Andreas). And now, Big Buildings. Rawson Marshall Thurber is writing and directing. Thurber directed two movies that over-performed beyond everyone's expectations (We're the Millers and Central Intelligence), and is therefore moving up to the big leagues – Summer Tentpole Action. This is actually a smart path for directors wanting to get into action. Direct a comedy (cheap to make). Use your comedic success to pitch an action-comedy. Use that film's success to go straight action.
Writer: Rawson Marshall Thurber
Details: 117 pages – 3/10/17 draft (Revised)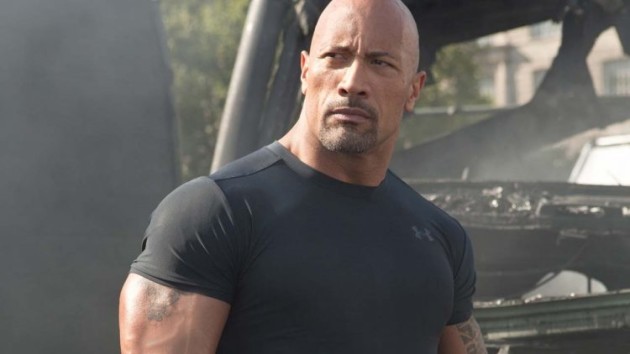 There's a story in Hollywood that goes like this. Die Hard comes out. It becomes a smash hit. Everyone in town loves this movie so much that a pitch trend is born: "Die Hard on a…" If you weren't pitching your script with those four words at the beginning of it, you were out of touch. "Die Hard on a boat." "Die Hard on a bus." "Die Hard on a space shuttle."
This pitch trend goes on for YEARS, with "Die Hard on a…" eventually becoming the single most popular way to pitch a movie ever. It went on for so long, in fact, that young execs a decade later who'd never even seen the film, were now pitching "Die Hard in a…" to their bosses. One cocky exec hushed the room, as he felt like he had the Die Hard pitch of all Die Hard pitches. "Are you ready for this?" He says to his boss, adding a dramatic pause for effect. "What about… Die Hard in a building?"
In many ways, this story was bigger than just the joke, as it was a commentary on how ignorant studio execs had become – these bean counters with zero artistic ability were making major decisions about what made it to the big screen. And they didn't even know they were pitching the original Die Hard. But maybe – JUST MAYBE – that infamous studio exec was ahead of his time. Because guess what? 20 years later. We finally have it. Die Hard in a building.
Will Ford is a former FBI agent who specialized in hostage situations. After one of those situations goes bad enough that Will loses a leg, we cut to ten years later, where Will is now looking for a job. Luckily, his old friend from his unit, Horace, gets him set up with one. In Hong Kong.
The billionaire owner of a new skyscraper, Zhao, needs a security and safety evaluation of his building in order to get the insurance people to sign off on it. The building is called The Pearl, and it's the tallest building in the world. In fact, it's its own little city, with a mall and a garden and elevators without cables. Shit, I think there's even a zoo in it somewhere.
Will's staying on the 98th floor with his family while in town. The floor is bare, as everything above the 95th floor needs Will's 'okay' before they can start renting it out. When Will heads outside to take a quick breather, his laptop, which contains the only copy of the building's secret security system, is stolen.
This starts a chain reaction of events across the city where Will must get his laptop back. However, back at the Pearl, someone sets fire to the 96th floor, just a couple of floors underneath where Will's family is staying. He will now have to get back inside the Pearl somehow, entering the building above the level of the fire, and figure out a way to rescue his family. I, for one, hope he succeeds.

I really liked this script for 40 pages. Then it started crumble, like a past due Pepperidge Farm cookie. I take that back. Those cookies crumble regardless of if they're past due. But you get what I'm saying.
This building was so damned cool. And I liked that Thurber didn't throw some generic bland description at us like: "It's a rad technologically advanced building with cool gadgets in it!" Just like we discussed with Club Lavender the other day, there's a ton of specificity built into this skyscraper, and that's what kept my suspension of disbelief suspended. Thurber's description was so specific, in fact, I even looked up the building online, assuming it had to be real.
Thurber also did a good job of conveying how big and impressive this thing was. When size matters in your screenplay (if your script follows a giant monster, a huge spaceship, an enormous skyscraper), it helps if you VISUALIZE that size for the reader. Just saying, "It's really big" or "It's 3000 feet tall," isn't a visual. Thurber includes this line in the video demo of the building: "It's so tall, you could fit the entire Empire State Building in it twice." Aha! Now that I can visualize.
Unfortunately, the plotting in this script is very clumsy. We have these weirdly specific setups, such as the family being placed on a deserted 98th floor. Or that the bottom half of the building is filled up but the top half is empty. And we also have this deal where an insurance company needs to okay the top 100 floors before Zhao can rent them out. Each of these setups were so blunt in their conception, it made it blatantly obvious that a writer had shoehorned them in there.
Remember that your job as a writer isn't just to plot. It's to make that plot invisible. That's one of the primary skills of a screenwriter. Anybody can write big obvious plots. It takes a skilled hand to mask the exposition or place a sheet over the plot gears, not unlike a top-flight real estate agent steering potential buyers eyes away from the house's weaknesses during a showing.
But the biggest problem with the plotting is that the main character spends almost half the movie OUTSIDE THE BUILDING. The building is your strange attractor. Plot-wise I sort of understand this decision. It creates an action-movie-friendly scenario by which the main character must do the impossible and find a way into the building through one of its upper floors to save his family.
But when you have a toy everyone wants to play with at the party, you don't toss it in the closet and lock the key. 90% of this story needed to take place inside the strange attractor, which is the building! That's the big ticket item we paid for. We don't want to see your hero running around the streets of Hong Kong. We can get that in any cheap Hong Kong B-Action movie. We want the building, baby.
With that said, once Will does get in the building, things get fun. There's a lot of cat-and-mousing around the unique super-structure as Will's family attempts to escape the bad guys, all while the fire continues to grow. And there are plenty of twists and turns, with allies turning into foes, and a growing plot that may or may not lead back to Zhao. I could see all of this being entertaining if they nail the production of the The Pearl.
But the makers of the film would've done well to study why Die Hard was so successful – it had a simple yet powerful plot. This plot was too messy for its own good.
[ ] What the hell did I just read?
[x] wasn't for me
[ ] worth the read
[ ] impressive
[ ] genius
What I learned: I never understand why writers do this. Stay with your strange attractor. You have a cool ass super-building unlike anything we've seen on film before. Why is our main character outside of it for half the movie? Spend every second of the film playing with your toy.