Genre: Sports Drama
Premise: A boxer's life spirals out of control when his wife is killed, forcing him to team up with an alcoholic low-level trainer to make it back to the top.
About: "Southpaw" was written by Sons of Anarchy creator and all around badass, Kurt Sutter. Sutter got his break in Hollywood writing for the hit FX show, The Shield. What a lot of people don't know is that Sutter is married to Peggy Bundy herself, Katey Sagal. Southpaw is Sutter's first foray into features. This one's got Jake Gyllenhall in the lead role, Rachel McAdams playing the wife, and Antoine Fuqua directing. Forest Whitaker will be playing the Oscar-friendly role of "Tick." This is an older draft, written back in 2011.  Believe it or not, the project has been around long enough where Eminem was once attached as the lead.
Writer: Kurt Sutter
Details: 122 pages – 3/9/11 Studio Draft 1 (keep in mind that a studio draft does not mean a first draft of the script itself, but rather the first draft the writer turned into the studio. A writer may have gone through many drafts of the script before turning it into the studio. Studio 1st Drafts are typically the drafts that most reflect the writer's vision, as it's before the writer gets studio notes).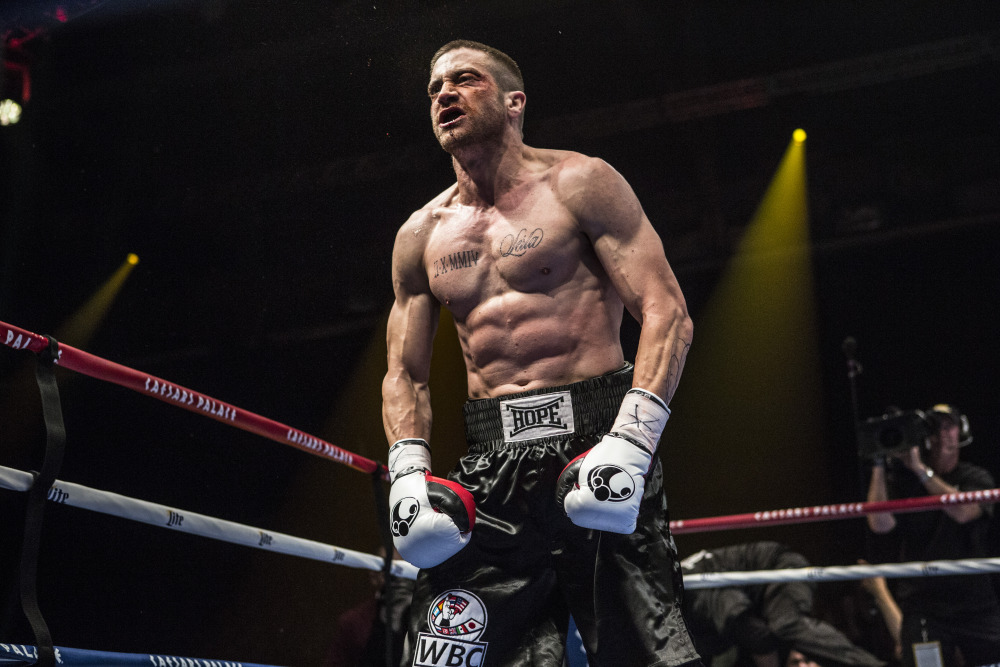 Today's script is like the anti-Brian Duffield. Kurt Sutter writes thick. Like the very first paragraph in Southpaw is nine lines. Duffield's written entire first acts in nine lines. Now a lot of you point this out when you see it in scripts and say, "Carrssssonnn! How come THEY can write so much text and we have to keep everything to three lines or less??"
Basically, when you're already in the industry and have fans of your writing, those people are going to read your scripts regardless of if they're chunky or lean. But if you're not yet in the industry, the reader will have less patience with you. They have what I call "bail mentality." They're ready to bail at any sign of difficulty. So you have to speed things along and get to the good stuff quicker in order to keep their attention.
33 year-old Billy "The Great" Hope is the best boxer in the world. He's Mike Tyson in his prime. He's got Lamborghinis, mansions, pools, he even has a beautiful wife (Maureen) and daughter (Leila). Hope seemingly has the world in his hands.
Then one day, Billy's posse runs into the posse of Miguel "Magic" Canto, the younger quicker version of himself. Trash talk turns into threats and, in an instant, guns come out on both sides. (SPOILER) Shots are fired, and when everyone does a body check, it turns out Billy's wife loses. She dies right there in his arms.
Billy spirals into depression, ignoring bills and contracts, even spacing out in the middle of fights. Over the course of half a year, he loses everything, even his daughter, after the local child services deem Billy unstable.
Billy can handle not having money. But he can't handle life without his daughter. So he hires a low-rent one-eyed trainer named Titus "Tick" Wills to get him to a point where he's making money again.
Tick tells Billy if he's going to train him, he has to play by his rules. And that means dropping this bulldozer mentality he takes into the ring and learning how to actually BOX.
To improve Billy's speed, Tick puts Billy in the ring with 15 year olds who are twice as fast as him, like little mosquitos. Then he teaches Billy how to break down his opponent with his mind. Learn their weaknesses so he can exploit them.
Resistant at first, Billy soon becomes a Tick disciple, and gets a bout with the man who's responsible for his wife's death. Will he win? Will he get his daughter back? Check out Southpaw to find out.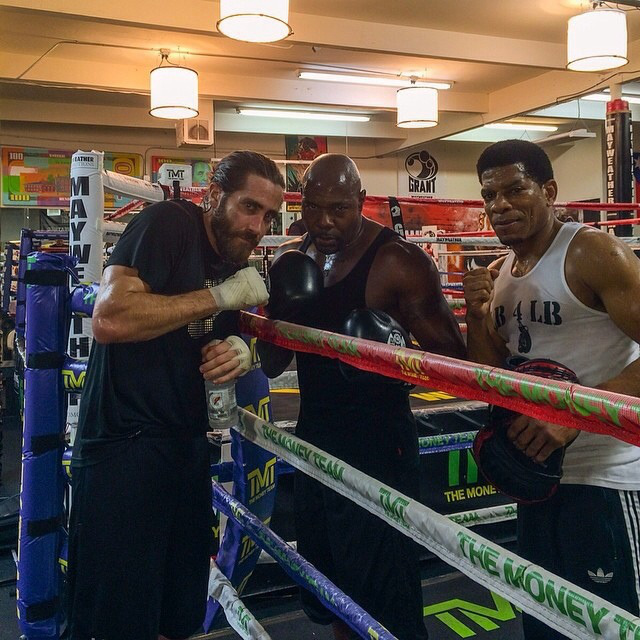 Because of Rocky, you can't set up the ideal character scenario for a boxing movie anymore. Which is the down-on-his-luck underdog. No matter how you spin it, if you start your boxing movie that way, people are going to say you're copying Rocky.
So you have to find fresh takes for your boxing hero. Sutter does this by introducing us to Billy at the top. An interesting choice, because that means he's the opposite of an underdog. He's a champion. And as I've stated here before, it's damn hard to make the non-underdog sports story work.
But eventually, Billy hits rock bottom and BECOMES the underdog. Or does he? This was my only big issue with Southpaw. It wants to paint Billy as having no chance against Miguel "Magic" Canto. But we've already seen Billy pummel people into ground beef. So it's a hard sell. And it's not like Billy had an injury, something that made him slower. He's the exact same guy.
Luckily, that's not a deal breaker in these movies. With any fighting movie, it's more about what happens OFF the mat than ON it. And we have three key relationships doing the work off the mat. We have Billy and his relationship with his daughter. Billy and his relationship with Tick. And Billy and his relationship with Angela, Billy's daughter's childcare worker.
I've said this before. Having three key relationships to explore in a script is an ideal number. If you go for more than that, you might not have enough time to properly explore each of those relationships (though it's possible if your plot isn't too heavy).
Southpaw's success was always going to hinge on the relationship between Billy and Tick. And it's pretty good. It's not Rocky and Mick good, but there's always an undercurrent of tension between them that keeps their interactions interesting. Plus Tick is a mysterious guy who we want to know more about (make characters mystery boxes, folks!). His backstory for how he ended up this way is one of the better backstories I've read in a sports movie. (good mystery payoffs earn you double points, folks!)
As for the daughter relationship, it was pretty good as well. The two didn't have any issue to deal with. But remember, you don't always need an issue. As long as there's conflict SURROUNDING THE RELATIONSHIP in SOME CAPACITY, the relationship between two characters can be great. In this case, the conflict is the court – which is keeping Billy and his daughter apart.
Billy and Angela (the childcare worker) was the final relationship. And I could tell it was a tough one for Sutter. You can't turn Angela into a romantic interest on the heels of his wife's death. So that puts you in a spot that Hollywood movies are never comfortable with – putting an attractive male and female in a bunch of scenes together, and not exploring any romance.
But here's how I would've dealt with it.  And I'm far from a Sutter-caliber writer so you're welcome to laugh me off. It wouldn't be the first time.  But it's important to remember that every key character in your story should have a dilemma.  Characters should never exist solely to serve the main character's plight, but rather their own plight.
Angela is introduced as a stickler for the rules. She has to chaperone all visits between Billy and his daughter, and she does that. But this flaw of hers (her need to follow the rules) never comes to bear. What I would've liked to see is for the court to play dirty. They go back on their word and keep Leila away from Billy after he's done everything he was asked to.
By doing this, you set up an interesting dilemma with Angela, the rule-follower. She's now presented with a choice. Break the rules so Billy can rightfully be with his daughter or continue to enforce an unfair ruling she morally disagrees with.
That's not what happens though. Angela is more of a constant force. And constant forces aren't evolving forces. In my opinion, a character's status quo should be constantly challenged. The more their morals and beliefs are challenged, the more compelling they get.
Think about that for a second. When are we most pulled in by a character? It's usually when the core of their being is being challenged.
I actually saw this exact scenario while reading a script a few weeks ago. The entire script was bad. Just really really bad. But there was this one scene – ONE SCENE – and I could only surmise that the writer wrote the thing by accident because it was so unlike anything else in the story.  In the scene, a cowardly character who always avoided conflict was walking into a store with his girlfriend and these punks started saying terrible things to her. It was the only time I was drawn in because the scenario cut to the heart of this character's flaw. Was this guy SUCH a coward that he would allow these bullies to harass his girlfriend?  That's good character exploration there.
Too many writers think these choices should only be explored through their main characters. That's a mistake. You want to be exploring them through your main three or four characters. Otherwise, those characters are just serving the needs of your hero. They're not their own people.
Southpaw is a good script. You can tell Sutter's blood and sweat is in this one and so, even when I didn't personally agree with something, his passion for the story carried me through. Here's to hoping the movie is awesome.
[ ] what the hell did I just read?
[ ] wasn't for me
[x] worth the read
[ ] impressive
[ ] genius
What I learned: With any sports movie, it's what happens OFF the field that matters most to the audience, not what happens on it. And what happens off the field can basically be measured by the quality of the three main relationships your hero's involved in. Make those three relationships compelling and you're going to have yourself a good script.