Genre: Comedy-Drama
Premise: When an aging irresponsible meat truck driver learns he's fathered over 500 children via artificial insemination, he does everything in his power to help them, as long as they don't find out who he is.
About: Well this is a bit of a rags to riches story. Writer-Director Ken Scott was making small indie movies in Canada for a decade when he conceived of "Starbuck." The small-budgeted film made all of 1.6 million dollars at the global box office. Then Vince Vaughn saw the movie and wanted to make an American version of it. Instead of going the typical Hollywood route of hiring a flashy big-name screenwriter to adapt the film, he hired Scott himself. Not only to write the film, but to DIRECT it. Talk about getting your shot. Apparently, Vaughn liked Scott so much, he's having him direct his next film, the Walter-Mitty-like "Business Trip," as well (which I've read and thought was quite good). So I guess there ya go. You stick with it long enough and good things come to you.
Writer: Ken Scott (adapted from the film "Starbuck" written by Ken Scott and Martin Petit)
Details: 103 pages – February 2012 – First Draft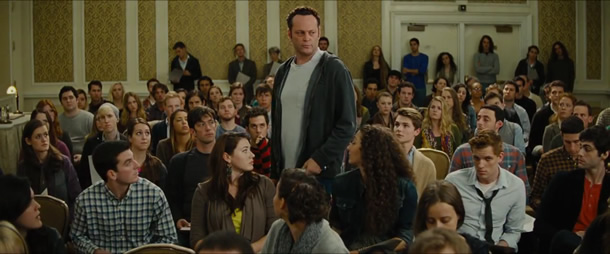 As long as we're laying our cards on the table, I gotta be true to you.
I kinda liked the Google movie. The one with Vince Vaughn and Owen Wilson? You have to keep this between us because I don't want anyone else to find out.
I don't even remember what it was called. Google Guys? Google, The Film? Don't Loogle On My Google? Whatever the case, I assumed it was going to be horrible because it was so clearly an ad for Google. Yet it was fascinating to watch in the oddest way. You'd have these situations – like this evil villainous Indian character who worked at Google – and you're wondering, how bad are they going to make him? Because if they make him too bad, they're basically saying, "If you come work at Google, really angry Indian men are going to yell at you all day and make your life a living hell." Which isn't the best endorsement for the company. At the same time, the story requires a villain to work. So the writer wants Angry Indian Man yelling at all these poor interns.  You, then, get to watch this push-pull battle between Google and the writers in real time, desperate to find out who wins! Okay, maybe that's not as fascinating as I originally thought it was, but for someone obsessed with screenwriting, this is prime entertainment.
What does this have to do with today's script? Everything!!!! Actually nothing. But being dramatic always sounds better. I didn't know a whole lot about Delivery Man going into it. I just knew that this was supposed to be the beginning of Vaughn's resurgence as an actor. He'd been making these really terrible goofy movies for a decade now (with the exception of a couple) and I guess he just got sick of it. Call it Matthew Mcconaughey Syndrome. Let's see if he's indeed changed his ways.
David Wozniak never quite grew up. He's 42 years old. He works as a delivery man for his family business (a "Meat Store") and he's the low man on the totem pole. If somebody needs something done, they DON'T call David.
But David's not a bad guy. He sort of wants to be better. But it's hard to change your habits when you've been doing them for 42 years. Take the fact that his girlfriend, Emma, is pregnant. David KIND OF wants the baby. He just isn't confident he'll be able to handle it when the shit hits the… diapers.
Well David's about to get a crash course in fatherhood. A lawyer breaks into his loft and informs him that twenty years ago, when David donated his sperm to a fertility clinic, "complications" resulted in that sperm being given out to 700 women. Which has translated, today, into 533 children, 342 of whom have put together a class-action suit to find out who their father is.
While at first, David can barely handle this burden, he eventually becomes obsessed with all his children, doing what anyone who's been told they have 500 children would do – he stalks them (no word yet on whether Scott is applying the Rian Johnson Looper approach of digitally super-imposing Vince Vaughn's features on all the kids' faces). He finds out one is a professional basketball player, another is a wannabe actor, another a drug addict, another an emo goth, another black, another gay, and yet another developmentally challenged. David does his best to touch and guide these childrens' lives, but there are so many that he can only do so much.
Eventually, the class action suit starts heating up and David must do everything in his power to protect his identify, even as the story about the "mystery donor of 500 children" goes global and everyone in the world wonders who this man is. In the end, David will have to decide whether to disclose his identity or not, a decision that will go to the very core of whether or not he's finally ready to grow up.
Starbuck (aka Delivery Man) was pretty good. I mean this is definitely not your typical Vince Vaughn flick. The scene where David finds out that one of his kids is developmentally challenged alone has more emotional layers than Fred Clause, Dodgeball, Couples Retreat, and The Watch combined.
I think the big takeaway here, though, is the notion of turning an idea into a story. This particular idea (of someone fathering tons of kids via artificial insemination) has been all over Hollywood for the past 15 years. But nobody was able to get it right in movie form. And the reason for that is, they weren't able to take the IDEA of a man who fathered a bunch of children through artificial insemination and figure out how to build a STORY around it.
Think about it. Let's say you're starting to spitball this idea into an outline. A guy has fathered 500 kids. That sounds funny, right! Yeah! Err, but what happens after the scene where the lawyer tells your protagonist he's fathered 500 kids? Uhhhhh… Have you thought that far? Because most writers don't. You can't have your character go meet every single one of his kids because you don't have enough time. So then where's the story? Does he only meet a few kids? Then what about all the others? You can see how it starts to get complicated.
Delivery Man uses an offbeat cobbled-together approach to create its story, but manages to make it work. David sees and helps five of his children, then Scott amps up the class action suit against him, so that David must hire a lawyer (his friend – who's the worst lawyer in the world) to protect his identity. In the meantime, David continues to see his children (anonymously) and even attend the meetings for the class action suit (anonymously).
Everything is building up towards the judge's decision, and so that becomes the engine that drives the story. Without Scott discovering the class action suit, I'm not sure this ever becomes more than an idea. Because with the suit, we have a destination. And once you have a destination, you have a story.
While I believe the script on the whole is good, I don't think it fulfills its promise (at least not in this draft). (spoilers). That's because we're supposed to be worried about David being exposed as the father, and I'm not sure we do. Scott does his best. He shows articles and talk shows discuss how horrible this anonymous donor is for doing this, in hopes that we'll say, "Oh my God! David will be roasted on national TV if he's found out!" The problem is David hasn't done anything wrong. It was the clinic that fucked up. David was just a stupid 20 year old desperate for cash. I guess I just didn't see how it was bad if he was exposed.
Despite that, Delivery Man was packed with enough heart, charm and earnestness to make up for its faults. It really is a step up for Vaughn. And I'm curious to see it. I know Business Trip (Vaughn and Scott's next collaboration) is a very visual director-y type script. So I'm curious to see how Scott is as a director as well. Can't wait.
[ ] what the hell did I just read?
[ ] wasn't for me
[x] worth the read
[ ] impressive
[ ] genius
What I learned: The problems with this script come down to stakes. As a screenwriter, you always have to ask, what happens if my character "loses" at the end of the film? If the answer isn't something catastrophic (his job, his wife, his kids, his life) then the stakes probably aren't high enough. In this case, what happens if David gets discovered? He becomes a national media topic for a week. Then his life probably goes back to normal.  He may even become a minor celebrity.  I'm just not sure that's bad enough.