Genre: Mystery-Thriller
Premise: When a group of boys turn up dead with their skulls surgically detached, a broken down FBI agent must use a mysterious 50 year old short movie to find their killer.
About: Mark Heyman wrote Black Swan for Darren Aronofsky and if I had to guess, the producers here hired him in hopes of tempting Aronofsky to direct this film as well. It's very dark and "Aronofsky-esque" so we'll see what happens. The book the script is based on was written by French writer Franck Thilliez. The 41 year-old author spent 10 years in a computer engineering job he hated before he began writing (those of you in a dead end job that you hate – let this inspire you!). Syndrome E placed in the middle of last year's Black List.
Writer: Mark Heyman (based on the novel "Syndrome E" by Franck Thilliez)
Details: 123 pages – March 6th, 2014 draft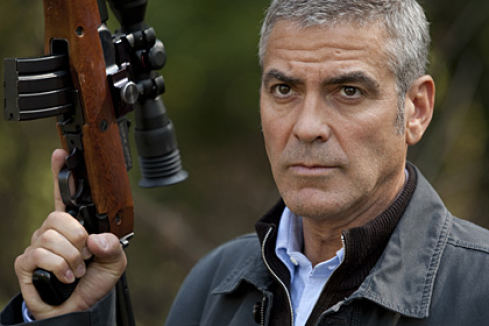 Clooney for Sharko?
Syndrome E has all the makings of one of those bad books that could turn into a good movie. From everything I've heard, the book is a mess, but it does have a lot of cool ideas in it. We have weird 8mm films, kids with their heads sawed off, and a 50 year-old mutli-government worldwide conspiracy. If someone could wrangle the best parts of the book into a cool serial killer script, you might have yourself something.
And I could see Aronofsky coming on-board, lending his one-of-a-kind voice and turning this into a sprawling cornucopia of visual mastery. However, if he doesn't, I could just as easily see this going to some scrub who turns it into a straight-to-digital Girl With The Dragon Tattoo rip-off starring John Cusack.
Isn't it funny how that works? That two people could take the exact same script and create two totally different experiences? But Syndrome E is that kind of script. The kind of thing that could turn into The Ring or Pulse depending on the talent involved.
Agent Frank Sharkovsky (Sharko) stumbles upon the kind of case every Federal agent dreads. Five dead kids dumped in a river. All boys. Each around 12 years old. To make matters worse, the top of their skulls have been sliced off and their brains removed.
Meanwhile, across town, local cop Lucy Brennan visits her fuck buddy, Dominick, only to learn he's purchased an old 8mm film at a yard sale and after watching it has TURNED BLIND. Lucy watches the film herself and is shocked when it depicts boys having their eyes slit open and being placed in front of live bulls trained to maul them to death.
Lucy and Frank eventually find each other when their cases overlap, and start chasing leads all over the world. Sharko finds out that a similar case of boys with their scalps sliced off occurred in Egypt. The resistance he gets there tells him that they're definitely on the right track.
Their clues eventually lead them to an orphanage in Canada of all places, where they suspect the movie was made. It's through this revelation that they realize what someone's been doing to these poor children – inducing something called "Syndrome E." But what's happening to these kids pales in comparison to how long it's been going on…… and what it's being used for.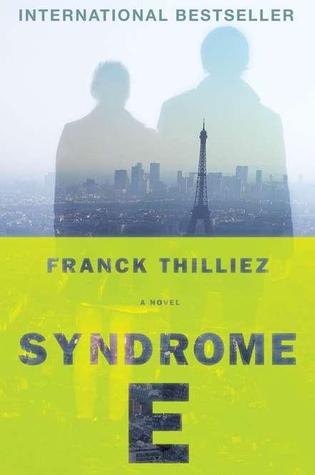 I like mystery scripts.
They're perfect for spec writing (even though this isn't a spec) because what's one of the easiest tools you can use to keep a reader around? Mystery, right? Or, as JJ Abrams calls them, "mystery boxes." The very nature of this genre is to provide the reader with a constant flow of mystery boxes that he'll want to stick around to open.
The question is, does Syndrome E provide too many mystery boxes? Are there so many mysteries that we forget or stop caring about what the ultimate mystery is?
I'd say… no. And credit goes to Heyman here. He kept something together that could've easily fallen apart in a lesser writer's hands.
The structure for the first act shows why Heyman is one of the big screenwriting guns in town. Instead of setting up a traditional problem with a single protagonist, Heyman sets up two problems with two protagonists. The first is Sharko, who's been assigned to this case of murdered boys. And the second is Lucy, whose boyfriend's just found a reel of film that's turned him blind.
As we follow these parallel storylines, they eventually collide at the end of Act 1, allowing the characters to head into Act 2 as a pair. This seems simple from afar but whenever you're messing with time-tested storytelling structure, you risk losing your audience. Remember, the audience has been conditioned with a certain level of expectation. Break that expectation and they can be confused. Or worse, angry.
It's like throwing a birthday party and instead of serving cake, you serve pie. That pie might be great. But if everyone was expecting cake, there's going to be some disappointment.
However, once the two detectives start working together, the script eases into more traditional territory. We have a clear goal ahead of us: Find the killer. And even though we have two protagonists, their objectives are the same, so the story's never at risk of losing focus.
Syndrome E also thrives on something I call the TURBO MYSTERY BOX. Standard mystery boxes have an excitement ceiling (and are so 2011). So why not create a bigger badder version of the mystery box? For example, at one point, our detectives get a lead. Is this lead downtown at a local church? Nope, that's so "standard mystery box." Instead, it's in EGYPT! That's the kind of weird but flashy mystery box that can amp up a story.
Despite Heyman's best efforts, Syndrome E suffered from its own version of Syndrome E. And that was its dated subject matter. We've seen the whole "people strapped to chairs with their eyelids pulled open, forced to watch a film" thing before. And the reveal of why these kids were being used as test subjects was pretty heavily telegraphed, robbing the script of a shocking finale. I wish the mythology behind the whole conspiracy was more original.
But you can't deny that the screenplay is a page-turner. The Mystery Box formula is used so effectively here that there's always a plot point to look forward to. The story's a little confused at times (Is this a horror mystery or a thriller mystery?) but if you liked The Ring or The Girl With The Dragon Tattoo, there's a good chance you'll like this too.
[ ] what the hell did I just read?
[ ] wasn't for me
[x] worth the read
[ ] impressive
[ ] genius
What I learned: If you're going to use an analogy in your description, make sure it's there to convey information, not to show off. I see this with a lot of new writers, who try to impress the reader at every turn. They write analogies describing pointless things, like how the sun is setting. Just like anything in writing, the analogies you use should serve a purpose – to further the reader's understanding of the moment. So in Syndrome E, when Sharko is in Egypt, he realizes his handler is part of the conspiracy. So he has to find a way to ditch her. This is what Heyman writes:
He starts going before she can protest. She watches him, anxious. Like an owner whose dog has slipped its leash.

You see how the analogy provides a detailed visual of how the handler reacts when Sharko gets away? The analogy visually conveys the level of desperation in her eyes. Compare that to a writer who uses an analogy for no other reason than to write an analogy.
The sun rises up from the horizon, like a wild horse who's just woken up from a long slumber.
How does that sentence improve the reading experience?