Genre: Comedy
Premise: After America's favorite astronaut nearly loses his life in an accident, the government decides to rebuild him into a bionic man. The problem? Money for the project is tight.
About: Jonathan M. Goldstein and John Francis Daley are one of the hottest comedy writing teams in Hollywood. They wrote Horrible Bosses, Cloudy with a Chance of Meatballs 2, and recently won the plum assignment of rewriting National Lampoon's Vacation. This is the script that got them noticed. It landed on the 2007 Black List, and although it never got made, it started their careers.
Writers: Jonathan Goldstein and John Dale
Details: 100 pages (undated)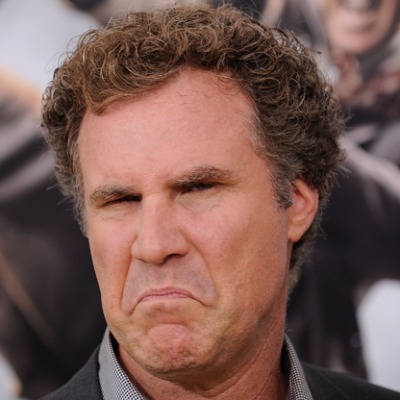 Calling Will Ferrell?
Aspiring screenwriters all live with the same dream of writing a screenplay, getting it into the right hands, said hands loving it, and a studio sending them a check for six figures. While those moments always get the most press because of how rare they are, the more well-known path is for a writer to write something that shows promise, then use that to build credit in the industry, which they'll then cash in on later with another spec.
Cause what happens when you're a "nobody" writer and you write something good is that everyone in town is afraid to buy it. They don't want to be the "dummy" who just spent a boatload of money on an unknown. Tinseltown people are horrified of being the laughing stock. But what that first script does give the writer is "street cred" so that, now, when they write another script, people aren't as afraid to pull the trigger because the writer is no longer "unknown."
That's the kind of script we're dealing with today. It proves to the industry that you're close. How do you write one of these scripts? One of two ways. Come up with a great idea and execute it adequately. Or come up with a so-so idea and execute it exceptionally. The former is the waaaaaay easier route to go, and that's squarely where $40,000 Man lies. This is a really clever concept. It takes a known property (the 6 million dollar man) and flips it on its head with a funny question (What if they had to make the bionic man on a budget?). Let's see how the script fares.
It's 1973. Buzz Taggart is America's favorite astronaut – a star amongst the stars. His only crime is that he's a few craters short of a full moon. And one day when some annoying teenagers challenge him to a drag race, his idiocy gets the best of him. He crashes badly and the government tells him that the only way they can save him is if they put him back together with bionic parts.
Buzz is happy to be alive, don't get him wrong, but he's less than thrilled when he finds out this "program" he agreed to is on a super tight budget – as in only 40,000 dollars. This has left his new supposedly awesome bionic powers somewhat… lacking. For example, his bionic arm just randomly punches people. His bionic legs (which only run 1 mile an hour faster than the average human) can't stop once they start going. Oh, and his bionic nose can only smell one thing – shit.
Buzz is placed on his first mission right away, but as you'd expect, it goes horribly. So the government SCRAPS the project due to money, leaving poor Buzz living life as a rapidly deteriorating heap of scrap-metal. To make matters worse, he finds out that the government was lying to him! Buzz was a guinea pig. A pre-cursor to a newer better bionic man worth SIX MILLION DOLLARS!
One year later, depressed and washed up, Buzz gets a call. The six-million dollar man is missing! And they need Buzz to save him. Buzz demands that they upgrade him first, so they tack on 10,000 dollars worth of new parts which… don't really do anything. Buzz then heads to an island run by terrorists to save his replacement and become a hero once more. In order to do so he'll have to overcome a body that may be the worst government project in the history of the United States.
The $40,000 Man is pretty much the perfect career-starting script. That's because while it may not be great, it shows a lot of potential. The first way it does this is by nailing a good concept. This is a seriously over-ignored aspect of screenwriting. No matter how many times I talk about the importance of it on the site, 80-90% of the scripts submitted to me are dead in the water before I read a word.
Either the idea's devoid of conflict, isn't exciting enough, lacks irony, or isn't big enough. A lot of writers delude themselves into thinking that they can turn mundane topics into gold with their execution. And sometimes you can (staying within the comedy genre, "The Heat" comes to mind). But go look at the top 50 grossing movies every year over the last 10 years and you'll rarely find small ideas. Almost all of them feel "larger-than-life." And that's a good way to look at concept. Think big.
In addition to a big idea, irony is a great way to set your concept apart from others. Since $40,000 Man is based on an ironic premise, it immediately shows the industry that the writers know what they're doing.
Once you come up with a good concept, you must execute it adequately. And that mainly means structuring your story well. It doesn't have to be perfect. Again, you're just trying to show that you have potential. But you must show that you can sustain a story for 110 pages. One of the easiest ways to spot a new writer is a script that loses momentum around the page 40 mark. This is where most beginners fall because they don't yet know how to structure their screenplay so that the story lasts.
For example, in $40,000 Man, Buzz gets fired and abandoned at the mid-point of the story. This was an unexpected twist that gave the story new life. Soon after, he's re-recruited, ironically, to save the 6 Million Dollar Man, and the story builds from there until the climax. The writer who's not yet ready writes a few "fun" scenes once Buzz gets his bionic powers and then isn't sure where to go next. To him, the "fun" scenes were his whole idea so he hasn't really considered what to do once they're over (hint: it starts with adding a goal!)
Just a warning. Readers only give you leniency with your execution IF YOU HAVE A GOOD CONCEPT. If you already botched the concept, so-so execution will be the nail in the coffin. For writers who argue that their script was attacked for lazy structure/execution while [recent spec sale] had lazy structure too and still sold – chances are it's because their concept was a lot flashier than yours and therefore received a longer leash from the reader.
Remember, any idiot in Hollywood can spot a great script because there are only 2-3 of them a year. With everything else, agents and producers have to spot potential. Potential in a script that's not yet there or in a writer who's not yet there. If you can give them a great concept and an adequate execution, you'll have a shot at getting noticed. These scripts are "table-setters." They're not amazing, but they set the table for you to start selling screenplays.
By the way, this one shouldn't be hard to find. It's a 2007 script that has been traded forever. So ask around and you'll likely receive.
[ ] what the hell did I just read?
[ ] wasn't for me
[x] worth the read
[ ] impressive
[ ] genius
What I learned: Set up late-arriving characters earlier if you can. A common beginner mistake is to throw new characters into the story late. Because the characters have little time to make an impression, the reader never truly connects with them, so they, along with whatever storylines come with them, fall flat. This happened with the Six-Million Dollar Man (Steve), who comes into the story around page 70. I barely knew this guy so I didn't care if Buzz saved him or not. You should try to set up every important character as early as the story will allow you to. So here, why not make Steve someone Buzz worked with at NASA? Maybe Steve worked in a lowly position and Buzz was a dick to him. I don't know. But just by creating a history between these two, the Six Million Dollar Man becomes way more relevant as he takes center stage in the 3rd act.