Genre: Horror
Premise: When a family moves into their new home in the country, they find a hidden room with a terrifying secret.
About: If you're anything like me, you were there every Monday night for another episode of Prison Break. Imagine The Great Escape meets Lost meets Orange is the New Black with men. At the head of it all was our hero, Wentworth Miller.  But once Prison Break ran out of prisons to break out of, Miller disappeared, and didn't reappear until a couple of years ago when he came out with two super-specs that took over the town. To ensure he didn't taint anyone's opinion, he sent the scripts out under an alias. The first script, Stoker, went on to a not-so-successful indie run.  The Disappointments Room is Miller's second script, and supposed to be more traditional. The last I heard, it will star Kate Beckinsdale and be directed by DJ Curoso.
Writer: Wentworth Miller
Details: 126 pages (1st Draft)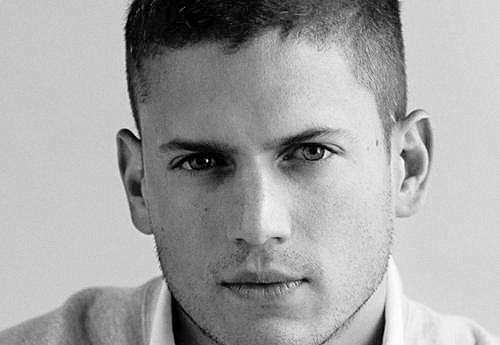 Wentworth Miller
The Disappointments Room was about to be one big disappointment until Wentworth Miller went all Travis Bickle on us the last 20 pages. Rarely have I witnessed a script go from so average to so memorable in such a short period of time.
I'm not saying this script is great. I'm just curious why Miller played it safe for so long before he channeled his inner serial killer. Instinct tells me it may be a first draft issue, although everything else in the script is so polished, it's hard to see why the structure isn't.
The Disappointments Room starts out a lot like The Conjuring. You have a normal family, led by wife Dana, with husband David and son Jeremy rounding out the cast.  They're moving into a giant house in the middle of the country with plans to start anew.
But something about the house's energy is off. At least to Dana. An architect who's trying to get back in the game, Dana notices an attic window from outside the house that isn't there on the inside. She goes up to inspect it, and finds a hidden room that only locks from the outside. Someone was kept here.
She starts doing research on the house and learns it was home to a prominent couple known as the Blackers. The Blackers never had any kids. But Dana's noticing some strange things around the house that indicate otherwise.
She eventually realizes this room is a "Disappointment" room. Back in the day, if you were a prominent family and had a freak child (with like Elephantitus or something), it was too embarrassing to bring your kid into the community. So these families would lock up these "disappointments" in their own little room where they'd live out their entire lives.
Naturally, Dana wants to find out who lived in the room and so continues her sleuthing. Her journey reveals a dark secret from Dana's own past, that is so horrifying, it makes disappointment rooms look like 80s arcades. But it isn't Dana's shocking reveal of this secret that does her in. It's what her husband tells her after the revelation. That's the true shocker.
I experienced déjà vu today, as it was JUST YESTERDAY we were talking about not exploiting your premise properly. Once again, we have this strong uique set up (a "disappointments room,"), but very little is mentioned about it.
There's the reveal of it as a disappointments room, which happens halfway through the script. Then it works its way back into the plot at the very end of the screenplay. But between all that, we have your typical "something's making a spooky noise in the other room, let's go check it out" generic horror flick.
I started to wonder if Miller made Fatal Screenwriting Mistake Number 7. Did he pick a concept that didn't have enough meat on it to build an entire movie around? Admittedly, the disappointment room is a scary idea, but there's only so much you can do with one room.
Actually, when Dana got stuck in the room early on and nobody could hear her screaming, I thought we were going to stay there with her for the entire movie. She'd be stuck in the creepy Disappointments Room, where she'd almost certainly die. I'm not sure that would be a better script, but at least we'd be exploiting the premise. But she gets out immediately, and it's back to your typical procedural storyline. Head to the scary library, look up books on who these Blackers are, and see if you can figure out who this child was.
Then I realized this was probably an exploratory first draft. Miller's figuring things out as we are. It's the only excuse for why we don't find out until page 90 that Dana lost a daughter six years ago. That doesn't work as surprise information. It needed to be known earlier.
Which is why we rewrite. Rewriting is often the practice of moving the exciting things up earlier and earlier in the story so that your script stays exciting the whole way through.  In the next draft, Dana's lost baby will probably be moved up to page 60. The next draft, page 30. And I'd bet in the next draft still, we'd open on it, sort of like they did in Dead Calm (Nicole Kidman). A dying baby is the perfect inciting incident to get them to move to a new home. And it sets up the ending better.
Outside of the glacially paced story, I can see why this got Hollywood all hot and bothered. Miller's got a talent for pulling you into the page, forcing you to hear and feel the things he's describing, then spitting you back out. In particular, he's got a strong sense of atmosphere he builds into his prose ("It's now pitch black and pouring rain. The car SLIPS and SLIDES along a muddy single-lane road, branches SCRAPING the sides as they pass. David hunches forward, squinting through the wipers").
Or take the opening scene, a presumably boring packing scene that reads anything but boring.  We hear the SQUEAL of the packaging tape as it rolls. Miller increasing the pacing by compressing the description with each box packaged, giving the scene an almost frantic feel. Faster and faster it goes, until BOOM, we're done. You can't believe it but you actually feel exhausted. After boxes being packed! That's good writing, my friends, when you can make boxes interesting.
But if Miller is going to compete with the likes of The Conjurings, he can't just depend on atmosphere and a creepy hook. He needs to look at this script (if he hasn't already) as an accordion. The whole thing is stretched out from end to end. He's got to SQUEEZE it together as tight as he can, pushing the first 100 pages into 30, and then he's got to give us a second act that's more concept-focused. Jump scares are fun, but Miller's proven he can knock your socks off with his ending. He's got to bring that imagination to the middle act as well. I hope he gets there. Because this could be a really good film if he figures it out.
[ ] what the hell did I just read?
[ ] wasn't for me
[x] worth the read
[ ] impressive
[ ] genius
What I learned: When trying to come up with scares in your haunted house movies, instead of focusing on the house itself, look to other characters – characters eccentric or unique or who make your hero uncomfortable in some way. One of the most memorable threads in The Disappointments Room is they hire a plumber to fix a mysterious leak in the home. The plumber is intense and scary, but Dana finds herself strangely attracted to him. He senses this, and aggressively puts her in uncomfortable situations, letting her know that if she wants it, he'll give it. And while she doesn't do anything with him, she hates that she considers it. That to me is a memorable situation, something I haven't seen before. It sticks with you a lot longer than, say, the 630th creepy girl in a horror movie trope.