Genre: Action/Drama/Thriller
Premise: A veteran covert operative seeks redemption for his dark deeds, devoting himself to helping others where injustice has been done.
About: This first draft made a lot of noise in Hollywood for being so amazing for a…well, a first draft! The project has Denzel Washington attached to star (who's perfect for the role by the way) but took awhile to get its director.  It started with Nicholas Winding Refn hot off his "Drive" success.  But rumors swirled he wasn't thrilled with the direction they were pushing the project in and bailed.  More directors came and went, including Rise of the Planet of the Apes director Rupert Wyatt.  The studio finally decided to team up a proven combination, bringing back Denzel's "Training Day" director, Antoine Fuqua, to do the job.  They've also since rewritten the female lead (the waitress) to a younger girl, which Chloe Moretz will play.  I found that to be a strange choice but it looks like they're going the Taxi Driver route, and since this has the same kind of tone, it shouldn't affect the script much assuming the part is written well.   I have to admit I'm kinda shocked Wenk wrote this, as he's the screenwriter of one of my least favorite scripts of last year, The Expendables 2. He also wrote The Mechanic and 16 Blocks. Wenk was born in 1952 in New Jersey and went to NYU.
Writer: Richard Wenk (based on the TV show created by Richard Lindheim)
Details: 106 pages – 1st draft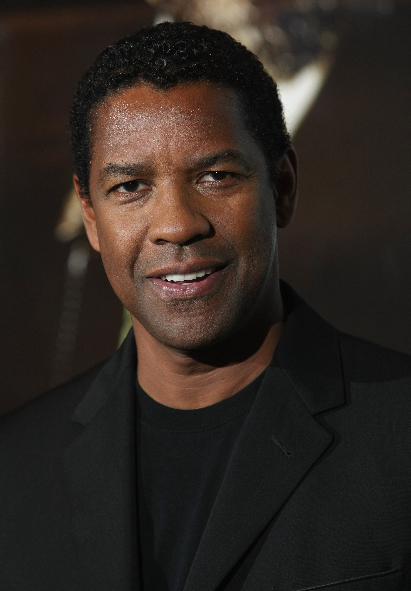 Something strikes you right away when you open The Equalizer. The writing is so sparse it borders on anorexic. Yet somehow it still contains a ton of information. To me, that's the essence of great screenwriting. You want to convey a ton of information but you don't want the reader to have to dig through a mountain of text to get to it. It takes years to perfect that, and still to this day, there are only a few dozen writers who can pull it off. Add Richard Wenk to that list.
I mean here's his opening scene:
AN ALARM CLOCK
Hits 5:30 AM and goes off.
BEDROOM
Grey morning light. Alarm still BUZZING because the room's empty.
Bed already made. Tight enough to flip a quarter. Room Spartan and immaculate.
(We then cut to the bathroom where we'll meet our hero)
This miniature scene gives us key information about our main character. It's 5:30 AM and he's already up. Not only that, but his bed has been made. Not only that, but it's "tight enough to flip a quarter" on. The room is also "Spartan" and "immaculate." Our character clearly has his shit together getting up this early and keeping his room this nice. And with that tightly made bed, it's a good bet he has a military background. We also get a little visual flair: "Grey morning light," to give us a better feel for the room. All of this takes an eighth of the page to say. Wow.
So what's The Equalizer about?
Robert McCall ("Middle aged, middle class, middle of the road looks.") works at the local Home Depot. He's one of those guys who keeps to himself, and it isn't hard to figure out why. This dude's got a dark history. Except we don't know what that history is yet. That'll come up later. In the meantime, we see McCall helping an overweight employee, Ralphie, with his lunch choices. He seems genuinely interested in helping Ralphie kick his unhealthy eating habits.
After work, he goes to his usual diner where he spots his only friend, if you can call the local hooker who offers a few nice words before going to earn her paycheck every night a "friend." But McCall sees something different in Teri. He knows there's more going on there and if she can just get out of this profession somehow, she can reach that potential.
Naturally, then, McCall is devastated when he finds out Teri was beat to within an inch of her life by her pimp, a local Russian crime boss who's got "Don't Fuck With Me" written all over his face. Unfortunately for him, McCall fucks with those kinds of faces.
To McCall's credit, he offers a fair deal. 5 grand. To give Teri her freedom forever. But the boss and his half dozen thugs just laugh at McCall. Boy was that a mistake. This is the first moment where we see what McCall is capable of. With unimaginable speed and beauty, he dismantles and kills everyone in the room within 45 seconds.
The next day he sees how happy Teri is to be free of that world and he realizes – for the first time in a long time – the kind of power he wields. There are so many people out there just like Teri who are being used and taken advantage of. There's nobody out there to stand up for them. Until now that is. McCall has just found his McCalling.
What McCall doesn't know is that he just wiped out the Russian mafia's entire east coast team. And that makes the mafia's CEO, Valdimir Pushkin, very very angry. He wants this McCall taken care of to send a message to any rival families not to fuck with Pushkin's people. Which naturally means there's going to be a monster showdown. The Russian mafia's biggest baddest men versus one man. The only man who can take them on all on his own. The Equalizer!
Holy shit was this a good screenplay. I have so many good things to say about this script, I don't know where to start. First of all, the dialogue was great! I've read so much bad dialogue this week and it's usually because characters are talking to each other in literal, obvious, on-the-nose, saying-what-I'm feeling, sentences. What's cool about the dialogue here is that characters talk around things, even though they're talking about them.
Like how McCall and Teri are talking about the book he's reading (The Old Man And The Sea) but what they're really doing is flirting, getting to know each other better, trying to see if the other likes them as much as they like the other.
And speaking of McCall's reading habits, The Equalizer had this perfect little quirk that McCall is trying to conquer the "100 books you should read before you die" list. Not because it makes his character more interesting. But because his wife died and SHE was doing the list. He's trying to accomplish what she never could. I just thought that was such an interesting way to get into backstory about one's wife dying. Usually characters will come out point-blank and say something like, "My wife died six months ago," and that's it. It's so generic that it never registers. We never feel the pain because no specificity has been put into it. Those books were that specificity that made the backstory of his wife dying real.
And then there was the character of McCall himself. He was just so damn likable! Who doesn't love a guy who goes around evening the score for the people who can't do it themselves? Hero-likability (or dare I say "loveability") was hardwired into this script, which made you want to follow McCall through anything.
When he takes down that room of Russians, mark my words, that'll be one of the coolest crowd-pleasing scenes of the year. Just the moment when he's about to walk out of the restaurant with the Russians taunting him, and instead of opening the door, he LOCKS IT – that has to be one of the most badass moments ever!
I've heard a few people complain that McCall never really encounters any resistance in the script. There's "no doubt" that he's going to win every time. What's strange is that I've had this same complaint about a lot of scripts. But it didn't bother me here for some reason and I don't know why. I think it's because I liked McCall so much and I hated all these lowlifes so much, that all I cared about was them getting their due. I didn't need resistance. I needed him to put them in their place.
This is such a surprising script in that the setup is so generic. I mean, give this to 999 other writers, they would've written a generic piece of garbage. But Wenk is that one in a thousand screenwriter who knew what to do with it. This is cream of the crop screenwriting here. I don't have anything bad to say about the script. Find it if you can and read it now!
[ ] what the hell did I just read?
[ ] wasn't for me
[ ] worth the read
[xx] impressive (Top 10!)
[ ] genius
What I learned: Notice the double dose of likage Wenk hits us with right away to make sure we'll love McCall. At first, his co-workers make fun of him (we're always sympathetic towards people who get put down/bullied by others). Then McCall goes to lunch and helps an overweight co-worker stay on his diet (we're always sympathetic towards people who help others). Remember guys, don't just make your hero likable.  Make him double-likable.