Genre: Horror
Premise: During their annual trip to an isolated cabin for Christmas, a family begins to suspect a supernatural force may be haunting them.
About: This script finished high on this year's Blood List and comes from the writing-directing duo best known for giving us that creepy image of a mom with her face all bandaged up in the 2014 Austrian film, Goodnight Mommy.
Writer: Sergio Casci (current revisions by Veronika Franz and Severin Fiala)
Details: 78 pages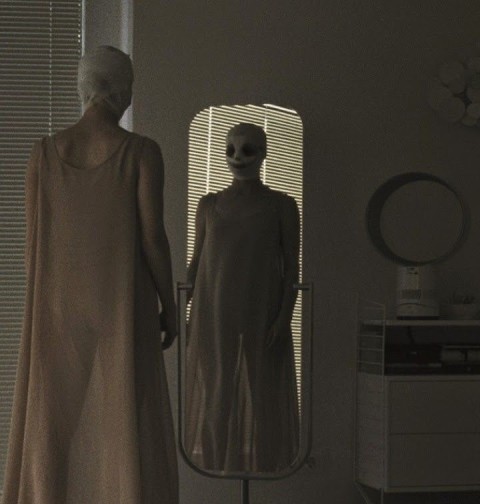 Yeah baby.
The micro-screenplay is baaaaack!! 78 pages! Join the revolution. 78 is the new 100.
Truth be told, I watched this duo's previous film after seeing that creepy ass trailer that played all over the indie circuit, but came away asking, "Did I just watch a movie or a David Lynch fever dream?" It's the blessing and curse of foreign films. You're thankful to see something outside of the American movie system. But by the halfway point you're always saying, "This writer sure could've benefitted from learning inside the American movie system."
A recent example is Personal Shopper. That movie felt like one of those goofy writing experiments where one writer writes the first 20 pages, passes it on to another writer for the next 20 pages, who passes it on to a third writer who writes another 20 pages, and so on and so forth til the end. The movie LITERALLY starts out as a ghost movie and ends up a murder mystery. For some reason, the word "focus" seems to get diluted whenever it crosses the Atlantic.
So I don't know what to expect from The Lodge. But let's check it out.
10 year-old Mia and her brother, 15 year-old Aiden, are prepping to stay with their dad, Richard, for the weekend. While they get ready, you can sense that their newly separated mother, Laura, isn't happy with the arrangement. And when she gets to Richard's, he drops a bomb on her. The woman he's seeing? Grace? They're getting married.
Laura casually drives home, retrieves a gun, puts it in her mouth, and pulls the trigger.
Cut to a few weeks later where Richard proposes something to the grieving kids. They'll go stay at their holiday home in the snowy wilderness of Silver Lake and get to know his new fiance, Grace! Oh, Mia and Aiden are just soooooo excited about that! Especially since Richard plans to head out to work for the week, leaving the kids alone with Grace to bond.
Mia and Aiden have good reason to be skeptical of Grace. Richard is a psychiatrist, and Grace was one of his patients. I don't know what that doctor-patient thing is called. The Hippocratic Oath? Whatever it is, banging one of your patients is definitely not one of the tenants.
Oh, but it gets better. The whole reason Grace needs psychiatric help in the first place is she grew up in some creepy cult where they had you stab people and pour their blood on you during dinner and kill animals and all those other neat culty things. You get the feeling this woman probably isn't the most stable domino in the row.
After Richard leaves, Grace tries to bond with the kids, but only pushes them further away. Her creepy sleepwalking isn't helping matters. But where it really falls apart is when everyone wakes up one day to find everything gone. No clothes. No food. No power. No firewood. Grace blames the kids, but as the days pass, it seems like something more sinister is at play. Could the trio have died? Have they all turned into… ghosts?
Man, I loved this script at first. Then hated it. Then loved it again.
Let me explain.
The Lodge had a kickass setup. The mom killing herself was a shocker. Didn't see that coming. Learning that Richard was a psychiatrist and Grace was one of his patients? Juicy. Grace having that cult past? Loved it. The kids being forced to stay in this remote house with this woman to get to know her? Conflict written all over that setup.
But then the movie got dumb. It became clear that the writers hadn't thought about this relationship nearly as much as I thought they did. Richard is a non-factor. He leaves the kids here and is no longer a part of the movie – a plot piece so plastic, he should've had his own casing. The cult stuff started out cool, but was never expanded on. It felt very generic and vague, the kind of cult activities you would find in any Cult 101 Storytelling Manual.
And Grace was thinner than that 4k TV you bought on Black Friday. Outside of her cult backstory, we know NOTHING about her. The writers make the mistake of not allowing us to get to know the "real" Grace before she goes crazy at the lodge. For that reason, the "crazy" Grace was our normal. And that didn't work. It would be like if in The Shining, Jack Torrance started off as "Here's Johnny!" Jack Torrance.
Overall, there was a decided lack of detail in the details. Bathroom mirror scenes where someone has traced crosses in the fog, for example. The "crazy" horror character who's no longer taking her crazy pills. Little kids speaking to people who aren't there in the dark. Lots of spooky nightmares assumed to be prophetic. It wasn't the cheapest form of horror storytelling there is (that would be jump scares), but it was whatever resides just above that level.
However, once the characters began to suspect they were dead, the story found its way back home. It was an interesting story choice. What if the characters in The Others found out they were dead at the mid-point of the movie instead of the end? What would they do? Naturally, you start to go insane, as you suspect that you may be stuck in this house forever. And that's when this became more than your average haunted house flick.
But it was the subsequent twist and the ending that really placed this in the "must see" category. There are two great scenes at the end, one that involves a woman who believes she's already dead playing chicken with a fireplace fire, and the other a shocking turn of events when the entire family is brought back together again. A great ending can deodorize so much shitty writing in a script. And that's what happened here. The ending made me completely forget about all those earlier problems. And solidified The Lodge as a creepy flick that should do a proper job haunting you next October.
[ ] What the hell did I just read?
[ ] wasn't for me
[xx] worth the read
[ ] impressive
[ ] genius
What I learned: Your horror script needs 'TALK ABOUT' scenes – scenes that are creepy, weird, odd, unsettling, shocking – the kind of stuff people WILL TALK ABOUT after the movie. If you don't have those scenes, you don't have a horror film. You have a compilation of copycat scares from previous horror movies. The Laura suicide scene was unsettling. But it was the fireplace scene, where a Grace who thinks she's already dead picks up a burning log, stands there with it, and allows it to burn her face, while we cut to the kids upstairs, and hear a screaming Grace slowly burning alive, that really freaks us out. Seriously, one of the first questions you should ask yourself after your horror script (and really after any script), is "What scene will everyone be talking about after this movie?"