The writer of the best screenplay of all time takes on a mythical creature whose home is threatened by a new marina.
Genre: Um…Romantic Comedy? Drama?
Premise: In charge of bringing a new Marina to the community, a sailor has second thoughts when he meets a mermaid who lives in the area.
About: This was a huge project Columbia wanted to make back in the 80s. It was spearheaded by Warren Beatty. Millions upon millions were poured into its development. This was the last ditch effort to save the project – bring in Robert Towne for a half a million dollar rewrite. Remember, Towne is responsible for writing what many consider to be the greatest screenplay of all time, Chinatown. That's the main reason I wanted to review this.
Writer: Robert Towne
Details: 121 pages – Sept 24, 1983 draft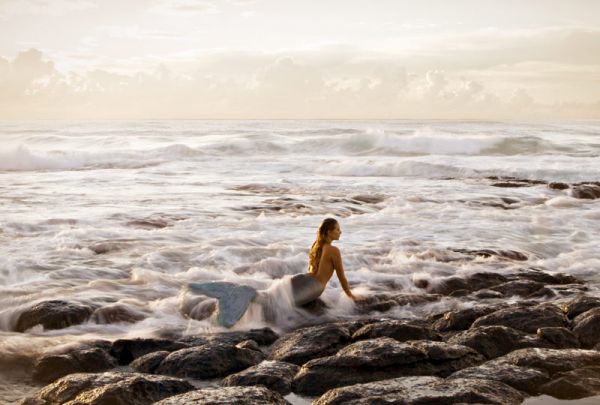 When you open up The Mermaid, you're taken back to another time. No, I'm not talking about the story. I'm talking about the script itself. As one of the site's readers pointed out in an e-mail: "Screenwriting was just so different back then." Indeed, large chunks of description detail everything from the look of a boat's sail to the smell of a nearby reef. 10 line paragraphs are the norm, and it's not that those paragraphs are bad (how could they be? They're written by Robert Towne). But getting through them is a chore and something that today's reader isn't used to having to deal with.
What's strange, though, is that in addition to all those giant paragraphs is a lot of talking. Like…a LOT! Like, this entire movie is people talking. Every single scene comes down to two people talking FOR-EV-ER. Scenes go on for pages and pages with characters repeating things we've already been told several times. It's bizarre.
I know this is not supposed to be Pirates Of The Caribbean, but whoever's decision it was to take a Mermaid flick and spend 95% of the screenplay having people talking in rooms needs to walk the nearest plank. That choice was inexcusable, so much so that it killed this script.
Ken Gaer is a sailor who, with his wife, Joan, are responsible for bringing a marina to the local community which will house over 1500 boats. It's a big deal that a lot of people are going to get rich over.
The thing is, there's something missing in Ken's life. Maybe it's because managing the marina will mean the end of his sailing career. Maybe it's because his wife is a bitch who could care less about him. Either way, there's definitely a hole in his life that needs filling.
Just when things are at their lowest, Gaer meets a strange woman swimming in the water. Except this is no normal woman. This woman has a fish tail! It's a freaking MERMAID! Naturally, Gaer thinks he's hallucinating, but Fin-Girl is so intoxicating that the two end up talking all night (LOTS OF TALKING!).
At the end of the evening, she asks him for one favor. Don't blow up the large rock that's sitting just off the beach because that's her home! The next day, Gaer isn't convinced that the mermaid he talked to was real, so he goes to his step-mother, Dorothy, to see what she thinks about the whole ordeal.
The step-mother, you ask? Why would he go to the step-mother of the wife he hates? Uhh, good question. In one of the kookier script choices in "Mermaid," these two are the story's primary relationship. Why you'd wrap your Mermaid story around a man and his 60-something step-mother is beyond me.
Anyway, a geological surveyor is called in to make sure the marina construction is kosher and, what do you know, he decides that they can't do the marina unless they blow up that damn rock. The same rock that's housing the mermaid!
Gaer goes searching for the Mermaid to give her the lowdown but assures her that he will not allow them to Michael Bay her rock. What he doesn't know is that his bitch wife, Joan, has already ordered its detonation behind his back! Say what!
Luckily, before that fateful day, Gaer and the Mermaid fall in love. But will they be able to continue that love once her 500 year old home is stolen from her? Everyone knows that a Mermaid without a home is a Mermaid death sentence. Errr…or at least I think that's the case. Either way, shit needs to get figured out if these two are to live happily ever after.
This thing is such a miscalculation it would blow up your calculator. To be honest, it feels like a casualty of the old development system, where production companies and studios would develop a script to death, grasping wildly at story directions and plot straws they hoped would turn their project into a "can't miss" blockbuster. But somewhere along the way the script's direction was lost and each successive writer who came in was basically trying to revive a story that was already dead.
How much Towne was responsible for this dreadful draft is impossible to tell but one thing I noticed were his endless dialogue scenes that had absolutely nothing going for them. Compare this to Inglourious Basterds, which I broke down yesterday, where Tarantino uses impending doom and dramatic irony to make all of his dialogue riveting. There's none of that here, leaving our characters and the writer flapping in the wind, not unlike a boat's sail. Towne is literally using every desperate exchange he can to keep the dialogue lively but when people are talking for ten minutes about shit we've already covered in eight other scenes, there's only so much gimmickry you can pull out of your hat.
Then there was this weird decision to severely limit the story's locations. I have an unofficial rule that you don't limit your movie to a small area unless you have an intense thriller or TONS of conflict. Otherwise, it's hard to keep the story alive. And that's pretty much what happened here. We have roughly 4 locations for the entire flick. The main country club building, the beach, the boat, and the water. We just keep jumping back and forth between these 4 places. Not only does this make the story feel smaller than it should, but since this is a drama with zero thrills and very little conflict, most of the scenes lie dead on the page within seconds of commencing.
As for the movie's key relationship, that of Gaer and the Mermaid, all I can say is that it was bizarre. Their friendship begins when the Mermaid teaches Gaer how to do some twirly-dirly spritz thing with water that is so poorly described I could never imagine what it was, which was unfortunate because Gaer becomes obsessed with it and it then becomes a key plot point. When key plot points are murky, your script's in major trouble.
And then there was Gaer himself. I believe every hero needs a life goal – their ultimate dream. The reason I find this so important is because the right life goal can tell us everything we need to know about a character. Luke Skywalker wants to fight the Empire. That's his dream. That tells us everything we need to know about him. Here, it's terribly explained what Gaer wants out of life. He kind of wants to race sailboats but kind of doesn't. It's never detailed or made clear and it makes him feel wishy-washy. Wishy-washy protagonists are inexcusable. And when combined with murky plot points? It's no wonder this script died in the water despite the millions of dollars put into it.
The Mermaid feels like one of those bare-bones ideas someone came up with then wanted to develop ("I know. Let's make a movie about a MERMAID!"). I say this because outside of the mermaid, there's nothing remotely interesting about this story. If there's a lesson here, it's that even the best screenwriters can't save a piece of shit.
[ ] what the hell did I just read?
[x] wasn't for me
[ ] worth the read
[ ] impressive
[ ] genius
What I learned: Drop boring relationships from your script. Take a look at all the key relationships in your script and ask yourself if they're interesting. If one isn't, change it so it is or drop it. This movie is dominated by this agonizingly boring relationship between Gaer and HIS STEPMOTHER!!! Are you serious? You're going to revolve your movie around a young strapping male lead and his geriatric step-mother? And they're going to spend most of the movie debating whether mermaids are real?? Kill me now! Then kill the most boring relationship in your script!