Genre: Thriller/Drama
Premise: A safari tracker who's long since given up on life races home to look for his brother, who's gone missing in the wilderness.
About: While this is Spencer Mondshein's breakthrough script, he's not a stranger to the industry. His father was an editor, and he was working as an assistant on Boardwalk Empire when he penned the thriller. He was lucky enough to convince Boardwalk Empire director Allen Coulter to give him guidance on the screenplay. The script made last year's Black List and was picked up by Voltage Pictures.
Writer: Spencer Mondshein
Details: 98 pages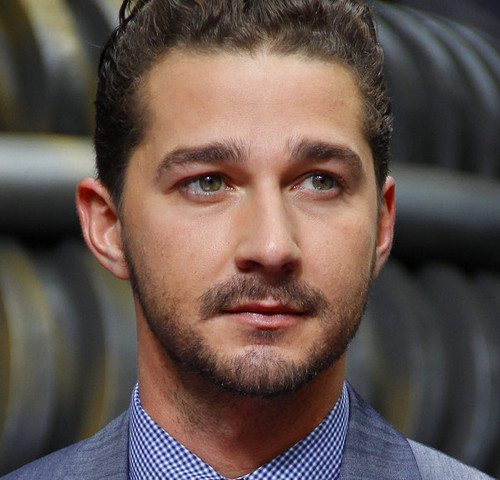 Shia would be perfect for this.
If you're coming into the Scriptshadow 250 Contest, you're most likely thinking like a lot of Scriptshadowers – "I need to have GSU." Indeed, it's a favored approach around here because it works. You want to give your main character a focused goal. You want there to be high stakes attached to that goal. And you want there to be urgency behind his pursuit.
But GSU can be dangerous in the wrong hands. If that's ALL you're adding to your screenplay, you're going to find you have a really simplistic screenplay.
Some of the ways to avoid this are to add rich compelling characters, a rocking high concept, some clever twists and turns, and – the most dangerous but potentially rewarding route: Break the rules. Introduce something into the script that's not traditionally done.
This is the scariest thing to do in screenwriting. You know you're gambling when you eschew convention, but the rewards are much greater when you take the risk. Today's writer gambles away, and you'll have to read on to find out if he succeeds.
27 year-old Henry Davis hasn't been the same since his father died. Henry's been on some sort of failed spiritual journey ever since, medicating himself with booze and pills, trying to find a reason to go on.
Probably the only reason he hasn't killed himself yet is his older brother Sean, who he hasn't talked to in ages, but who he still loves very much. The two were close as kids and almost started a business together. But eventually Henry flew off to Africa to help rich English families track big scary African animals like his father used to do.
Henry's been filled with even more rage than usual lately and he's about at the end of his rope. Who would've thought that he'd be saved by his brother, some 5000 miles away, who's gone missing in the wilderness.
Sean was doing an exploratory run for his mountain biking business when he slipped, fell, and became seriously injured. The script takes us over to Sean, where we see that he has stomach and leg injuries that leave him with about 36 hours to live at best.
Sean's wife, Jessica, doesn't trust the local clueless cops, which is why she calls Henry. For the first time in a long time, Henry has purpose. He arrives and immediately starts tracking, and as he does, we cut back to a series of flashbacks from the brothers growing up. These randomly sequenced flashbacks cover everything from when their father first taught them how to track to the brothers' eventual break-up after Henry left Sean's business.
As Henry gets deeper into the wild, nature throws more and more curveballs at him, and we begin to wonder if he's going to make it. In the meantime, Sean is holed up in a cave, his health deteriorating rapidly. If Henry's going to save his brother, and probably himself, he'll have to pull off a miracle.
Ahhh, the flashback.
The evil infatuated-with-the-past demonic entity known as the flashback.
Screenwriters and screenplay professors everywhere will tell you to avoid it like the plague. But should you?
The answer, of course, is yes.
But there's always an "unless."
And the "unless" is if you can make the flashbacks matter. If they're essential to telling your story, then include them. The thing is, they're usually not. And writers don't realize that.
What I've found is that flashbacks are either used to convey backstory that could have easily been conveyed in the present, or they're utilized to fill up space when the writer doesn't have enough story.
And that's exactly what I was worried about here. The core storyline for The Search is bare-bones. You have two characters. One is looking for the other in the forest. It's hard to turn that into a 100 page screenplay and not add filler.
So I was skeptical when the flashbacks began. I thought, "He's just trying to get this to a respectable page count." Because the thing you have to remember with a flashback is that it's almost always detrimental. If you're going backwards, it means your story isn't moving forwards. And moving your narrative forward is THE ONE UNIVERSALLY AGREED ON component in screenwriting. Everybody agrees that if you're moving your story forward, THAT'S GOOD.
But here's what flashbacks give you when done well. They give you depth. In this case, depth to the main characters. If you stay in the present only with Henry and Sean, you don't learn anything about their relationship. You don't learn what happened to their father, what happened to their business, or how they drifted apart. And when that's the case, you get that dreaded "GSU and nothing more" I was talking about at the beginning of the review.
But, see, the only way that you can justify adding all that depth, is if you deliver with your climax. All that setup you stopped your story cold for to go back to and show us, needs to be paid off in your finale. Or else what was the point of it?
So everything about The Search hinged on its finale.
And let me tell you this: The Search delivered in its finale.
One of the things I was frustrated with while reading this script was there were no surprises. I was always a bit ahead of the story. I know when I'm able to skim down a page and get to the end of a scene, and that scene finished exactly like I thought it would, that the writer isn't challenging me enough. So I kept waiting for that one unexpected moment. And I finally got it at the end.
I'll just admit to you right now that I wept like a little girl. I wasn't expecting the script to go to that place. And I also realized that it was all those flashbacks that helped bring me there.
So I'd say The Search is a great example of a writer who risked breaking the rules (Rule #137 in screenwriting: "Avoid flashbacks!"), and found a way to make it work for the script. It also goes to show that people are much more likely to remember your script if you write a great/powerful ending. I'm not going to say that everything about this script was great. But the ending made up for a lot of its weaknesses.
[ ] what the hell did I just read?
[ ] wasn't for me
[xx] worth the read
[ ] impressive
[ ] genius
What I learned: Flashbacks are like making a deal with the devil. They add depth to your story (creating deeper characters). But that depth comes at a cost (slows your story way down). So you have to weigh that every time you're tempted to use a flashback. I will say this: If flashbacks become a consistent part of your story structure like they are here (they're brought in repeatedly at regular intervals), that always works better than just randomly stuffing a few flashbacks into your story, which often feels hackneyed and lazy.