Genre: Action
Premise: After a military helicopter pilot is badly injured, the U.S. Government turns him into the most highly evolved human, and most dangerous weapon, on the planet.
About: Wahlberg's supposedly been looking for a big franchise for awhile now. And The Six Billion Dollar Man (an upgrade of the 1970s TV series, The Six Million Dollar Man) appears to be it. The script here is written by Argentinian Damian Szifron, who will be making his American writing-directing debut with this film.
Writer:Damian Szifron
Details: 124 pages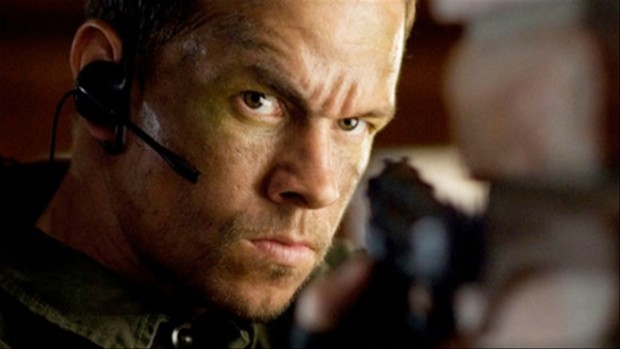 Normally, you wouldn't see me reviewing a Mark Wahlberg vehicle. Wahlberg and I have been on shaky ground ever since he voiced his life-long dislike for Star Wars. Until he calls me up to apologize, I'm staying away from his projects.
But today's script is different. That's because it's written by Damian Szifron. Szifron wrote and directed one of my favorite movies of 2015, Wild Tales, a wacky and wonderful collection of short films that's unlike anything you've seen. Seriously, go rent it right now.
Color me curious, then, how he ended up on this project. Despite the greatness of Wild Tales, there was nothing in the film that indicated he's the right guy to write a great big Hollywood action film.
And my skepticism wasn't helped when I opened the script file, which boasted an entire screenplay in the wrong font. But I'm trying to stay optimistic. I just put a script in my Top 25 that was 73 pages long. Who's to say a wrong-fonted script couldn't follow suit? Let's find out.
Steve Austin is a 25 year-old crop duster when two 767s hit the Twin Towers in New York. Steve, inspired by his father, joins the military to go into Iraq and Murica some ter-rists!
But during his first mission, piloting a Blackhawk helicopter, he's shot down and assumed dead. That is until Steve wakes up 15 years later on a hospital bed with a whole bunch of scientists looking down at him.
Steve's new friends inform him he's been injected with six billion (with a "B") dollars worth of upgrades, making him the single most expensive soldier in the world. After a cool little montage of Steve learning all his new abilities (yes, his high jumping power is featured prominently), he's sent on his very first mission, where he rescues a bunch of hostages from some terrorists.
Steve's feeling conflicted about his new job though, particularly the fact that he's lost all his freedom in what's supposed to be the freest nation in the world. That sounds a bit Murica backwards to me.
And when Steve falls in love with a lovely bookstore owner, Miriam, she only reinforces this idea. In fact, she does some research on the corporation that's turned Steve into a weapon, only to find out they're connected to some Nazi scientists who were doing experiments on Jews in World War 2!
So Steve's going to have to make a tough decision. Does he keep working for the company that's helping keep the country safe? Or does he expose them for the morally suspect practices they endorse?
I feel sorry for true artists who are pulled into the Hollywood system.
This industry has a way of neutralizing everything that made them stand out in the first place.
It's like if Miles Davis were asked to play trumpet in a pop band. The second he started riffing into one of his legendary improvisations, they'd turn to him and say, "Yo Miles! Just play the fucking song."
That feels like what's going on here with Szifron.
With that said, Szifron isn't completely free from criticism here.
Some of the dialogue in this script is tough to read, with a lot of the early stuff being achingly on-the-nose. For example, an early conversation between Steve and his dad reads like this: "I want to be proud of myself, dad. Take a risk for once in my life." "Then go all in, do it. Apply to NASA!" "Not with my grades. I'll never get in."
With that said, nobody's coming to this movie to hear great dialogue. Most people come to big Hollywood movies for one reason and one reason only: to see them deliver on the promise of their premise.
What that means is, Six Billion Dollar Man is about a man who has six billion dollars worth of weapons-related enhancements in his body. People are coming to that film to see fresh, cool, original body-weapon-enhancement shit that they've never seen before. As long as you give the audience that which you promised? They'll give you a feee pass on dicey dialogue and problematic plotting.
Unfortunately for Six Billion Dollar Man, it's entering the market during the golden age of comic book movies, a world where EVERY SINGLE WRITER is trying to come up with fresh, cool, original body-weapon-enhancement shit. And in many ways, those writers have it easier. Cause they can draw on supernatural abilities. The Six-Billion Dollar Man has to keep its powers grounded.
Enhanced eye sight? Enhanced jumping-power? Enhanced hearing? A really strong arm? Am I paying 20 bucks to see these things?
I don't want to go on one of my big rants here. But the proof is in the pudding. Stale concepts lead to stale execution. You can't find original scenes and set pieces inside of ideas that have been done to death. I mean how many original ways can you write a spy-like character, even one with powers, taking down a group of terrorists?
They've all been done before. I challenge you. Right now. Come up with a terrorist take-down that's never been done before. You can't do it. Because you're competing against too many shows and movies that have covered the same ground.
Contrast this with a movie like Inception. Inception had all these weird original scenes (people fighting each other in a gravity-shifting environment) because the concept itself was weird and original. When you start from a place of uniqueness, you open up a sort of "unique porthole," which gives you access to scenes that nobody's seen before because nobody's bothered to go down those roads yet.
The only time unoriginal concepts work is when the director has some sort of unique stylistic take. John Wick is a good example. If you dress that movie down, it was one of a thousand guy-with-a-gun movies. But the directors had a really cool style and were able to use that style to cover up the script's weaknesses. If you doubt that, talk to anyone who read the script before it was made. Many people considered it one of the worst scripts of the year. I mean, a guy goes on a Russia Mafia revenge trip because of a dog.
I should also point out to studios that if you're going to revive old IP, you don't want it to be the kind of IP that has inspired dozens of ripoffs in the years since it came out. I mean everything from Robocop to Deadpool has been using the genetically enhanced human being thing. If you're going to come in after those updates, you're going to have to update your own IP to a place where it feels fresh and different. And, unfortunately, Six Billion Dollar Man didn't do that.
The script does start to ask some challenging questions about personal freedom in its later chapters but, again, that's not why we come to see The Six Billion Dollar Man. We come to see The Six Billion Dollar Man to see six billion dollar set pieces. Shit that nobody's ever done on screen. And I didn't see that here.
I do want to give credit to Szifron for one thing before I end this review though. He wrote the best tongue-in-cheek line in a script I've read all year. Here he is describing Miriam, the bookstore character Steve falls in love with.
"Because she's kind and lovely and has been cast perfectly in the role, we love this woman."
[ ] What the hell did I just read?
[x] wasn't for me
[ ] worth the read
[ ] impressive
[ ] genius
What I learned: There's some IP that carries well over time, and some that doesn't. Action IP does not. What was interesting action-wise 40 years ago is not interesting today. Which means if you're going to mine IP that old, you have to completely reinvent the character. In contrast, horror IP travels well. What was scary 40 years ago can still be scary today. Case in point. "It."