One of the more notorious unproduced screenplays out there, with promises of DiCaprio galavanting through the sets of The Wizard Of Oz in order to solve murders.
Unfortunately, I'm off today, trying to make some last second changes so that a certain book by a certain person (hint: it's me) can be ready to buy by next week.  For that reason, I'm bringing in one of our awesome new consultants, Steven, to tackle today's screenplay.  And he doesn't disappoint.  Sorry I couldn't contribute on "Mann/Logan" guys, as I know it's one of the more interesting projects stuck in development hell.  I'd still like to know what you think though, so I'll be following the comments section closely.
Genre: Mystery/Noir
Premise: In 1938 Hollywood, MGM's problem-solver falls in love with a famous actress while cleaning up her husband's murder.
About: This script from writer John Logan ("Hugo", "The Aviator") came close to being made in 2007, with Michael Mann set to direct Leonardo DiCaprio, but New Line's bid of $100 million came short of the projected $120 million budget. The project is now, presumably, defunct.
Writer: John Logan
Details: 122 pages – undated draft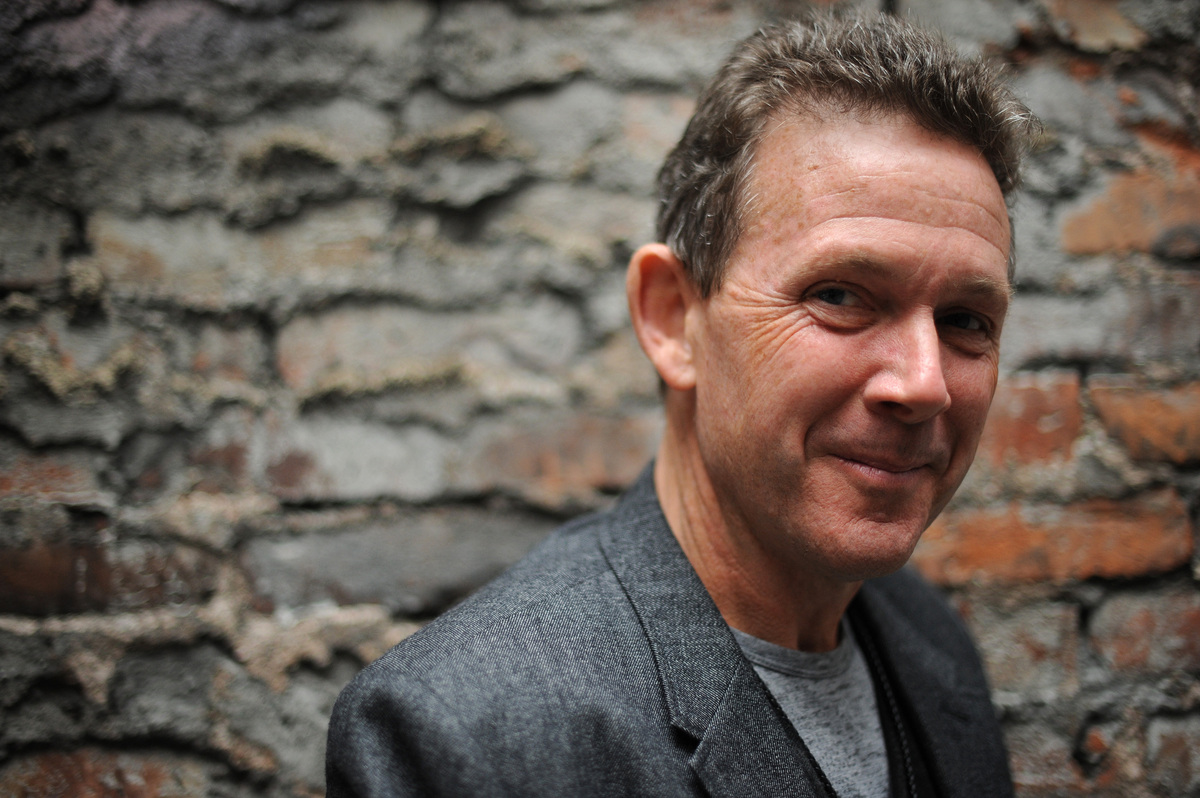 Screenwriter John Logan
It's pretty astonishing, when you consider the sheer amount of the creative power behind it, that "Mann/Logan" never got off the ground. Certainly all of the pieces were in place: a big-shot writer (Logan), a bigger-shot director (Mann), and the biggest-shot leading man (DiCaprio), working with a script so well-regarded that even the decidedly non-screenplay-centric website Slate did a two-page piece on it. Yet, despite that, not a single studio pulled the trigger on the project. Now all we have is the script itself, and some vague daydreams of what might have been.
It's 1938 in Hollywood, and while the rest of the world prepares to burn, the major film studios are still enjoying their Golden Age. The money is pouring in for everyone, but MGM stands above them all. Indeed, for MGM, the future looks brighter than gold. It's in the process of shooting a couple of films you may have heard of: Gone with the Wind, and The Wizard of Oz. Still, all that money can't change the one simple truth about people: we're none of us above doing something profoundly stupid, short-sighted, and ugly. Luckily for the rich and powerful (and for MGM), they have Harry Slidell on retainer.
Slidell, see, is what you'd call a fixer. Need to get out of a speeding ticket? Get a ride down to Mexico for a discreet abortion? Cover up a pill addiction? Call Slidell, an ex-cop in a fancy car who can make all of your troubles disappear. The script opens up with Slidell cleaning up a murder. Specifically, the murder of an Academy Award-winning producer employed by MGM. A producer who just happens to be the husband of one of MGM's contract stars, the beautiful Ruth Ettis.
Slidell's no slouch. He knows this isn't a robbery gone bad (for one, the producer's Oscar is still on the mantelpiece). All signs point to a domestic dispute, and that means all signs point to Ruth. Trouble is, his job is to keep her out of jail. That's what MGM pays him for, after all. So he puts a c-note in the maid's palm, makes the whole deal look like a suicide, and slips the cops some money to make sure they're all in agreement. Easy peasy, right?
Nope! When Slidell goes into LB Mayer's office at MGM for a quick debrief, Mayer refuses to believe Ruth did it. Why? Well, he claims a certain affinity for the actress—"Someone is trying to hurt my Ruth. I don't like to see women hurt." So he encourages Slidell to investigate further. Harry is skeptical, but the money is right. So off he goes.
Allow me a quick aside. There is literally no reason for Mayer to send Slidell on his forthcoming odyssey, other than for the pretty lame excuse that the plot needed something to put Slidell into motion. The question of who killed the producer is meaningless—even If Ruth did do it, Slidell already solved that problem for her and for MGM. And it's not as though Mayer's stated reason (that he cares about Ruth, and about women) is a sound one. Mayer and Ruth never interact in the entire script; in fact, Mayer doesn't interact with any women at all. Because we're dealing with film noir, you'd think that Mayer might be engaged in some sort of underhanded machinations, but you'd be wrong, alas. He's just a plot device, masquerading as a character.
Look, I'm aware that this is a minor plot hole. Probably most of you think that I'm giving mindless pedantry a bad name. But this is the entire story's inciting incident—all of the subsequent action flows from this one event. And if you can't bother to tighten up your plot enough to make that inciting incident airtight, what hope does the rest of your script have?
In any event, before Slidell goes to see Ruth, he swings by the set of the Wizard of Oz to see Judy Garland. It's obvious that Slidell has helped Judy out of a few jams in the past. Judy is deferential and melancholy but profoundly thankful for the unnamed services Slidell has performed for the troubled girl. Thankfully, there are no romantic undertones to the exchange. He's more of a big brother figure, and he's sweetly protective of her.
Finally, Slidell goes to visit Ruth on set, to see what she has to say. They have a meet-cute. Slidell still thinks she's guilty, but he's becoming less sure in his convictions as he spends more time with her. Romance bubbles up. He can see she's an ex-dope fiend, and his protective nature begins to override his more rational suspicion that Ruth is a murderer. Then Ruth reveals that she's being blackmailed by an anonymous someone who has incriminating photos from her days as the decidedly less-glamorous prostitute, Brenda Gomey. Ruth insists further that the blackmailer killed her husband after a scheduled meeting to pay off the blackmailer went awry.
So Slidell careens through sleazy Los Angeles to track down the blackmailer, who just might be the killer, too. He interrogates a series of suspects, each shadier than the last. He runs down the husband's drug dealer at the horse races in Hollywood Park. He meets the obese queen of the Los Angeles underworld. He hangs out with famed gangster Bugsy Siegel for some reason. He goes down to Mexico to question Ruth's former madam. Between each of these engagements, he falls deeper in love with Ruth.
If you've ever seen an episode of Law and Order, you'll know immediately the identity of the mastermind. That's fine, as far as it goes, because we go to the movies not for a great plot twist, but for great characters. After all, rosebud is in the vernacular not because the twist in "Citizen Kane" was so exciting, but because Orson Welles played Charles Foster Kane so memorably.
Which is why it's so disappointing when an otherwise wonderful script has as its center an enormous black hole. In the case of "Mann/Logan", that black hole is named Harry Slidell. Slidell isn't given an inner-life, or much of a history, either. He has no hobbies, as far as we can tell. He seems to rely existentially on his work, but not in any sort of passionate way. He isn't charming or funny, really, and he's not exactly a forensic expert on the level of Sherlock Holmes. Almost all of his leads are the products of him greasing palms or bashing heads. He's a blunt-force instrument, not a scalpel, and the former are inherently less interesting than the latter.
As a writer, you must always have a strong grasp of your protagonist. Without that, your script becomes unmoored. There's a telling description late in Act 2, when Logan tells us that "Harry –always cool, always in control — blows." Except that Slidell, from all available evidence, is never in control. He's the consummate non-professional. He freaks out when a man tears his sport coat, and blubbers about how expensive it was. He kicks that same man in ribs after he has already been badly beaten and subdued by Slidell's partners. He violently attacks a doctor for giving Judy Garland drugs. Etc. The result is that Slidell is a distracting, schizophrenic dichotomy, acting inconsistently throughout the script.
And that's a real shame, because so much of the rest of "Mann/Logan" is top-notch. Bugsy Siegel is superfluous to the narrative, but his rise to the top is a blast to read. LB Mayer is similarly fun—imagine Al Swearengen in charge of MGM. The urban hellscape of Los Angeles, so convincing in its danger, might as well be its own character.
But by far the most interesting and effective aspect of Mann/Logan is its extraordinary portrayal of women. The only time the script sings is when it's focusing on them. Judy Garland is heartbreaking, and her exchange with Slidell at the beginning of the script ("Judy, you eating?" "Not a lot. They don't like it when I eat … I sneak malts.") is poignant enough to give pause to any parents thinking of bringing their kids to Hollywood. Ruth Ettis is the polar opposite of the manic pixie dream girl. She's one of those rare female leads that exists for reasons beyond bringing pleasure to the male lead, particularly in the way she grapples with how her movie star persona has allowed her to set aside her former life. Even one-offs like Rosalind Quinn, Ruth's former madam, and Bess, the queen of the Los Angeles underworld, are tragic figures in their own right.
The Mann/Logan script wants to convince you that Hollywood is an indifferent beast, full of idle malice. Mayer, surveying his domain, explains to Slidell that "the river of money goes on forever. It is incapable of weeping for those left behind." This is true up to a point. In a noir, everyone gets hurt in one way or another. In Mann/Logan, only the women do.
[ ] what the hell did I just read?
[ ] wasn't for me
[x] worth the read
[ ] impressive
[ ] genius
What I learned: It's important to steer into the curve. More crucially, it's important to recognize that there's a curve to be steered into. We're all heard stories of writers setting out to create what they thought were serious dramas, but ended up as farces or slapsticks. This can happen on a more micro level, like when you structure your plot to be consistent with what a cool-as-a-cucumber private eye would do and say, except the private eye you've committed to page might be a lunatic with a short fuse. On a bigger level, you might think you've written a pulpy noir, when your real story is an eloquent takedown of the way Hollywood chews up its women. Find the most interesting parts of your script, and explore them further, even if—especially if!—it takes you away from your original vision.