Genre: Superhero!
Premise: An Amazonian Princess living on a remote island is brought to the real world, where she uses her unique set of powers to take down a mega-corporation with world domination on the brain (basically every comic-hero plot ever).
About: This is the Joss Whedon draft of Wonder Woman he wrote in 2006! Whedon, as many of you know, has left his DC buddies in the dust to become the head directing honcho of Marvel Universe with his Avengers films. To give you some context of the movie business when Whedon wrote this, the two big superhero films preceding this draft were 2005's Batman Begins and 2004's Spider-Man 2. Both films were considered dark (Batman moreso than Spider-Man of course) and so the dark realistic super-hero trend was beginning.
Writer: Joss Whedon
Details: 115 pages (2006 draft)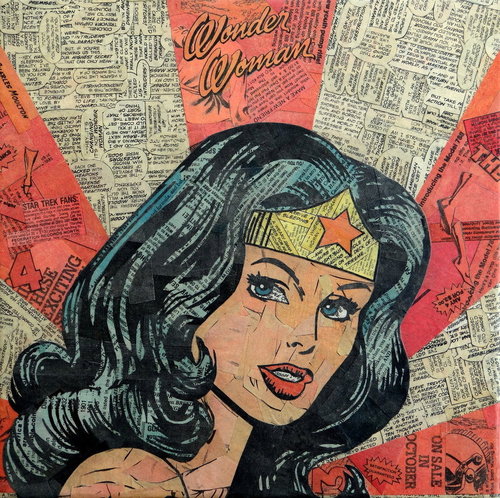 Teenage Mutant Ninja Turtles. Yay!!! Michael Bay is a kajillionaire. Can't say I ever got into the whole mutant turtle thing. But I knew when Dr. Explosion decided to put his particular brand of vapidness on the turtle tale, I definitely wanted nothing to do with it.
I was rooting for Swetnam's Into the Storm (spec script) to do some hurricane like damage at the box office, but it just goes to show how difficult it is to play with established properties (remember that spec script writers – it's why your concept has to be really awesome for Hollywood to take notice). Into the Storm needed at least a couple of recognizable faces to sell the movie, like Twister and The Perfect Storm before it. I don't think a storm by itself can do all the heavy box office lifting.
Speaking of storms, what happens when a Marvelnado and a DCunami meet? You'll find out today. Whedon, the flagship director for the third biggest movie ever, Marvel's Avengers, wasn't always chummy chummy with the Marvel comic book family. He was once playing for the other team, scripting the DC script for Wonder Woman.
Stories like this always intrigue me. Because if Joss Whedon wrote a Wonder Woman script today, while he's on top of the world with the biggest franchise in the world, everyone would be DESPERATE to read it. It would be the hottest script in town, right? So what changes if he wrote it eight years ago? Was Joss Whedon any worse of a writer? He may not have been a household name at the time, but he's still the same guy. So why not use this script for a wonder woman movie. Say it's written by Joss Whedon and everyone wins, right?
Well, that's assuming he overcame the same problems everyone who's been trying to adapt Wonder Woman over the decades has run into. Which is that her character's not fit for today's super hero audience. A lasso that makes people tell the truth? How dumb is that? It looks to me like they finally said fuck it and Zack Snyder is going to change the character to make her a straight-forward ass-kicking female, kind of like how he dropped the whole Clark Kent glasses reporter stuff. Screw history.
But what if Joss Whedon had been in charge. What would he have done? Let's find out!
I don't know if you knew this or not. But Wonder Woman is an Amazon. You know that legendary island full of tall beautiful ass-kicking ladies? Well it's real. At least in this script it is. A pilot named Steve is bringing food and supplies to child refugees when his plane goes down and crash-lands on this Amazonian Island.
At first Steve goes looking for Jeff Bezos, but he ends up running into Diana instead. Diana is the Princess of the island. And when her mother, the queen, finds out that a man has entered the perimeter – a huge no-no on this island – she sentences him to death! (probably why Beznos is hiding)
But Diana's developed a little bit of a crush on Steve, and challenges her mom to a duel for the right to help Steve get off this island and save the children! She ends up winning, and the two head off, where Diana learns the complicated multitudes of the real world, namely that when you deliver supplies to kids, a local warlord is going to want 75% of the goods for himself.
After the Warlord shoots Diana for questioning his motives, she gives him a taste of his own medicine, beating some ass, and Steve realizes he's got something special here. So he takes Alice/Wonder Woman back to the U.S., to a crime-ridden city called Gateway, which I guess is Wonder Woman's version of Gotham.
In Gateway, there's this super-huge company called Spearhead that poses as a wonderful company that manufactures weapons to help the United States defend itself.
Wonder Woman, pissed that there's so much lying and corruption in this city, takes it upon herself to work her way up the local gangster ladder to find out who's ultimately responsible for all this crime. Using her truth lasso (which forces people to tell the truth), it eventually leads back to, you guessed it, Spearhead.
The problem is, Spearhead's being protected by a super-human of its own, some freaky-faced metallic skull-capped dude named Strife who, oh yeah, just happens to be the nephew of Ares. Ares as in THE GOD OF WAR! Yup, craziness is happening all over. So if Wonder Woman is going to save the day, she's basically going to have to defeat a God to do it.
I'm going to give Whedon this. He somehow made Wonder Woman cool. I thought there was no way around the whole truth-lasso thing. But Whedon doesn't use it much, and when he does, it's with attitude (for example, with one gangster, Wonder Woman slings the rope around his neck like an Indiana Jones whip, before asking him who he works for).
But the biggest reason this worked was that Whedon went all in. He committed to this character, to this world, to the rules of this universe. And I think that's what you have to do with these scripts.
When amateur writers tackle comic material, they typically have a vague sense of the hero they liked growing up, then they use their own imagination to fill in the gaps, whether it be their heroine taking down a gangster or kicking ass in some big set piece fight. It all feels very thin, like a writer who really loves movies including all his favorite movie moments in one script.
When you read the opening of Wonder Woman, the detail involved in this Amazon tribe, where they came from, the hierarchy, the connections between the characters. It feels like Whedon really immersed himself in the comics and knew this world before he wrote anything. And when you do that, even if the world is silly and weird, the audience believes it, because you, the writer, have committed to it.
That's one of the biggest differences I see between amateur and pro writers. Pros commit themselves to the world. Amateurs learn a little bit here, a little bit there, and think that's enough.
I never really knew how good of a writer Joss Whedon was until this script actually. His writing always seems to have this immediacy, yet it never feels rushed. It creates this propelling motion as you're reading, spinning you down from one paragraph to the next.
In amateur screenplays, it always feels like the writer is fighting his sentences, writing himself into corners he must clumsily write himself out of.
And I noticed that what Whedon is really good at, is that no matter how intense things get, he's not afraid to undercut it with a joke to lighten the mood. For example, near the middle of the script, amongst a lot of chaos, a girl stops Wonder Woman and with giant puppy dog eyes says, "My cat's stuck up in the tree." Wonder Woman looks up at the cat, then back to the girl. "Climb it." She then runs off. This is something Christopher Nolan can learn from the Firefly scribe.
The only weakness in the script is that no matter how skilled Whedon is, he can never get too far away from the fact that this is a super-hero movie. There are only so many surprises you can pull on the audience. It's why I liked X-Men: First Class so much. Because for once, there was something different going on that we weren't used to in the comic book world. It's why Batman Begins made such a big splash when it came out. Because it approached the superhero genre from such a realistic place (Nolan's got Whedon there). It's why, I believe, Guardians of the Galaxy did so well. Because these weren't your typical super-heroes and it wasn't your typical super-hero movie.
Those movies found little black holes to slip into that took them to parallel universes which allowed them to tell a new story.  But Wonder Woman is stuck in the land of garden-variety comic book movies.  It tries to break out (the first act, away from the city, felt pretty unique), but ultimately is pulled back in (giant egomaniacal city villain alert).
I'm actually shocked that audiences haven't grown tired of the genre yet because, like Wonder Woman here, we're basically seeing the same movie over and over again.  So kudos to Whedon for writing what really is a cool script. It's just too bad he was limited by the genre.
[ ] what the hell did I just read?
[ ] wasn't for me
[x] worth the read
[ ] impressive
[ ] genius
What I learned: In fight scenes, it's not as important to detail every punch or sword swing, as it is to give the reader a sense of what kind of fight it is. Tell us how each fighter fights, and we'll be able to fill in the visual gaps ourselves. So when Wonder Woman fights her mother, Whedon writes: "Everywhere Diana strikes, Hippolyte counters. Diana tries to control the fight through youth and relentless strength, and though she responds with no less, Hippolyte relies on experience over enthusiasm." Obviously, you'll detail fight specifics after this, but sentences like this allow you to summarize pieces of the fight so you don't have to detail. Every. Single. Swing.