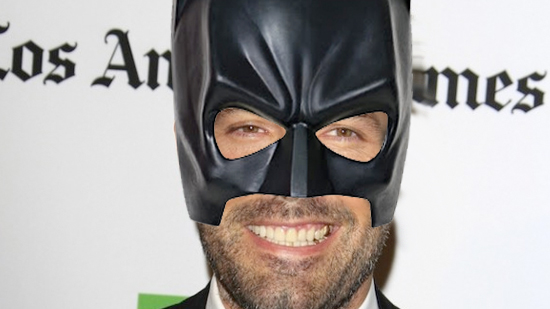 So today I read the news that Ben Affleck is thinking about making The Accountant his next project. "The Accountant"?? I wondered, my face pinching up, trying to remember why that sounded familiar. Off I went to my review archives and LO AND BEHOLD, I'd reviewed it! But that's impossible, I thought. I would've remembered it, right? Yet I was drawing a size-10 blank.
But once I skimmed through the review, it all came back to me.  The awfulness.  The sloppiness.  I remember actually thinking at one point that I'd been duped. That's happened a few times, where I hear about a script, go looking for it, find it, it turns out to be unreadable, then I later learn I've read an amateur script with the same title.
So then why was Ben Affleck doing the movie??? Take whatever you think of Affleck as an actor out of the equation. The guy is the hottest thing since sliced bread at the moment. Which means he gets all the best scripts in town. He gets his pick of the litter. So for him to literally choose "litter" to star in was confounding.
Until you look deeper. You see, the main character in The Accountant is autistic. And this is the screenwriting secret that so many writers either ignore or are ignorant to. Outside of the summer tentpoles, actors make a movie go. They lead to financing which leads to a green light. Which logically means that to get a movie made, you have to write a great character that an actor will want to play.
In fact, for 90% of the actors out there, the role they play is more important to them than the script itself. They want to play a part that's challenging, that's interesting, that's going to get them some acting credit. When you look at it that way, it's not so ridiculous that Affleck would choose this script. He wants to play an autistic hitman. He'll either fix the rest of the script himself or hire Chris Terrio to do it. But dammit if he's not going to play that autistic hitman.
This brought me to a realization that I've already had several times before, but for whatever reason, didn't become crystal clear until today's events. Unless you're writing a huge summer flick, you need to put more emphasis on the character at the center of your story than the story itself. Cause that's what the actors are going to do.
Which leads us to today's article. I'm listing the top 17 "challenging" character-types that actors want to play. If you can fit these into your story in a natural way, you'll want to consider it. 'Cause I guarantee you this: If your main character is bland, no A-list actor is going to make your movie.
Autism – Why not start with Affleck's new love? The disorder did wonders for Dustin Hoffman with his role in Rain Man. Because acting is, in many ways, about emoting, there's something appealing about a character who does the complete opposite.
Psychopathic – Being a psychopath isn't just about murdering. It's about playing anti-social and non-empathetic behavior. Its appeal is that it's another condition that goes against how we normally act in life. Inevitably, these characters tend to become killers (American Psycho, Monster, Taxi Driver) but it's all the other tics that get the actors excited.
Going Crazy – Aw man, talk about actor catnip. Write in a character who's going nuts and watch the A-listers line up, as "going crazy" often leads to an Oscar nomination. A Beautiful Mind, The Aviator, The Shining. These characters are fun to write as well, so it's an actor-writer match made in heaven.
Robots – Bringing sci-fi into a venue where we're looking for meaty rolls seems counter-intuitive. But much like playing a psychopath or a sociopath (the psychopath's little cousin), playing a robot forces you to strip away all your emotions, a challenging feat. We've seen great robot characters in the Alien movies, as well as 2001.
The Genius Paradox – Talk about the perfect part to play to actors' egos! A genius character! We saw it recently with Lucy. Before that, Limitless. As we saw in my recent review, "Brilliance" will be coming to the big screen soon. Thrusting genius into your lead character is a surefire way to get some actor attention.
OCD – OCD got Jack Nicholson one of his Oscars (in As Good As It Gets). We just saw it to a lesser degree with Robert McCall in The Equalizer. They even based an entire show around OCD once (Monk).
Addicts – Many actors have demons. And playing addicted characters allows them to explore and battle those demons, if only for a few months. From Flight to Leaving Las Vegas to Half-Nelson, playing a convincing addict seems to be a badge of honor for actors.
Mentally Challenged – This has been made fun of plenty of times before, most notably in "Tropic Thunder," but what can you say? Actors love the challenge of playing someone who's mentally challenged. Forrest Gump. I Am Sam. I mean, if you can pull this off, you're basically guaranteed an Oscar.
Twins – Imagine you're an actor and you get the opportunity to play not just one role in a movie, but two? Two completely different characters. What actor isn't going to take that into consideration? Check out The Prestige or The Social Network to see this in action.
Body-Swappers – Looked down upon by some for being gimmicky, a body swapping movie allows actors to play two roles which are usually polar opposites. We saw it with Face-Off. We saw it in The Change-Up. But don't limit yourself. I think it's only a matter of a time before someone comes up with a clever body-swapping drama idea.
Amnesia – Amnesia gets a bad rap for being cliché, but don't tell actors that. They love playing people who can't remember jack shit about who they are. That's a hell of a challenge. Bourne built an entire franchise off this conceit.
Pathological Liars – A character whose every day survival depends on lying can be fascinating for an actor to play (and for an audience to watch!). We saw William Macy do it in Fargo, and Hayden Christensen nail it in Shattered Glass.
Self-destructive – This is usually tied in with addiction, but can exist on its own as well. Some of the most tragic characters in our history did themselves in due to being self-destructive. Most recently, we watched this play out in Wolf of Wall Street.
Depression – Depression is sad. But it sure makes actors happy. Punch Drunk Love, Revolutionary Road, Silver Linings Playbook, Little Miss Sunshine. It's a clever way to lure in comedy actors hoping to play against type (Skeleton Twins).
Any extreme limitation (blindness, wheelchair-bound, deaf, cancer) – The Book of Eli. Sea of Love. Born on the Fourth of July. The Fault In Our Stars. Dallas Buyers Club. It goes without saying that actors love to play these roles where they've been handed an impossible limitation.
Discriminated Against – One of the greatest 1-2 punches for drama is to set a movie in a time where a subset of people are being heavily discriminated against, then make your main character one of those people. A black man in the 1960s. A gay man in the 1950s. A Jewish man in Germany in the 1940s. You'll have to fight actors off from taking these roles.
Get creative – Look for any way to create a challenging lead role in your script. Benjamin Button got made because Brad Pitt got to play every age in life, from a newborn to an old man. In the Black List script, What Happened to Monday, an actor will get to play septuplets! I seem to remember a movie awhile back that centered around a Jewish Nazi. Create something that, at its core, is challenging. These are the roles actors are drawn to.
Now there are a couple of caveats to this business. The character you're writing has to fit into the story you're telling. A meth-addict protagonist may increase interest from actors, but it's not going to work if you're writing a romantic comedy produced by Mark Burnett. In other words, don't slap a fancy character into any old idea and expect miracles. The two must co-exist organically.
Also, none of these suggestions will work unless you convey them in a truthful manner. In other words, research the shit out of them so that you know what you're talking about. If you try to write an autistic lead and all you know about autism is what you've seen in movies, I guarantee you the character's going to suck. Do tons of research and find out what everyday life is like for these people. The more you know, the more convincing they'll be, the more likely an actor will be attracted to them.
And, as always, take these suggestions as a starting point. They won't work on their own. They need your own personal spin to pop. A great way to do this is through irony. Make a sex addict the new church pastor. Make your protag, who suffers from depression, a Barney-like character on a new kid's show. I hope that helps.
What do you guys think? Anything I should add to the list?