I recently read a script from a beginner scribe that wasn't very good. The key problem was the plot, which was too simplistic and predictable. This simplicity bled into the scene-writing, which was also too predictable. Everything had an "obvious" quality to it, like the writer hadn't considered any other possibilities. Frustrated, I shared the experience with Miss Scriptshadow, and we got to talking about it.
We came to an agreement that the reason the plot was so simplistic was because the writer wasn't being discerning. He wasn't thinking about what he was writing. He was just writing. This is both the blessing and the curse of being a beginner. A blessing because having no filter means total and utter euphoria when you write. Everything feels wonderful because you never have to think beyond your first inclination. And if it feels that good, then the writing must be good, right?
It isn't until you've written a few scripts that you realize there are choices involved in writing – that it's okay to stop and think about what you're going to do before you do it. Because the curse side of never considering options is that your script reads option-less. The plot is either simply boring or simply messy, but it's always simple.
Here's the crazy thing though. I was reading another script later in the week – a professional script – and I was encountering the same problem. Not as frequently as with the beginning writer, but it was happening every fifth scene or so. I realized that it's not just beginners who are guilty of this. The best writers in the world do it as well. It's a slightly different variation of the practice, but it's essentially the same thing. I call it: "Predisposed Writing."
Predisposed Writing is when you go into a situation – usually a scene – knowing what you're going to write beforehand. This may seem like a good thing. If you already know what you're going to write, then it must be a good scene! What other explanation could there be for being so certain about something?
But if you already know what you're going to write, chances are the reader's going to know what you're going to write as well. That means you're writing a scene that they've already imagined. And if that happens, you're boring them. Readers (and audience members) can be sympathetic to this for a scene or two. But if it keeps happening, boredom sets in, and they officially check out.
I'm not saying that your first inclination for a scene is always wrong. It may actually be brilliant. But you owe to yourself to STOP before you write a scene and think about other options. Chances are, there's something better in the cupboard.
Let's try to look at this visually. I want you to pretend that you're an interior designer and imagine you've just walked into an empty room, a room which you'll be designing.
A bad (or beginning) interior designer is going to go into this room with a predisposed point-of-view. They know what a basic room looks like. So that's what they're going to give the client. A TV near the corner by the cable outlet. We'll throw the couch back against the wall. Maybe a vase by the TV to make it look nicer. A lamp or two. In your head, you're imagining this is going to look pretty killer. Then, when you put it together, you get something like this…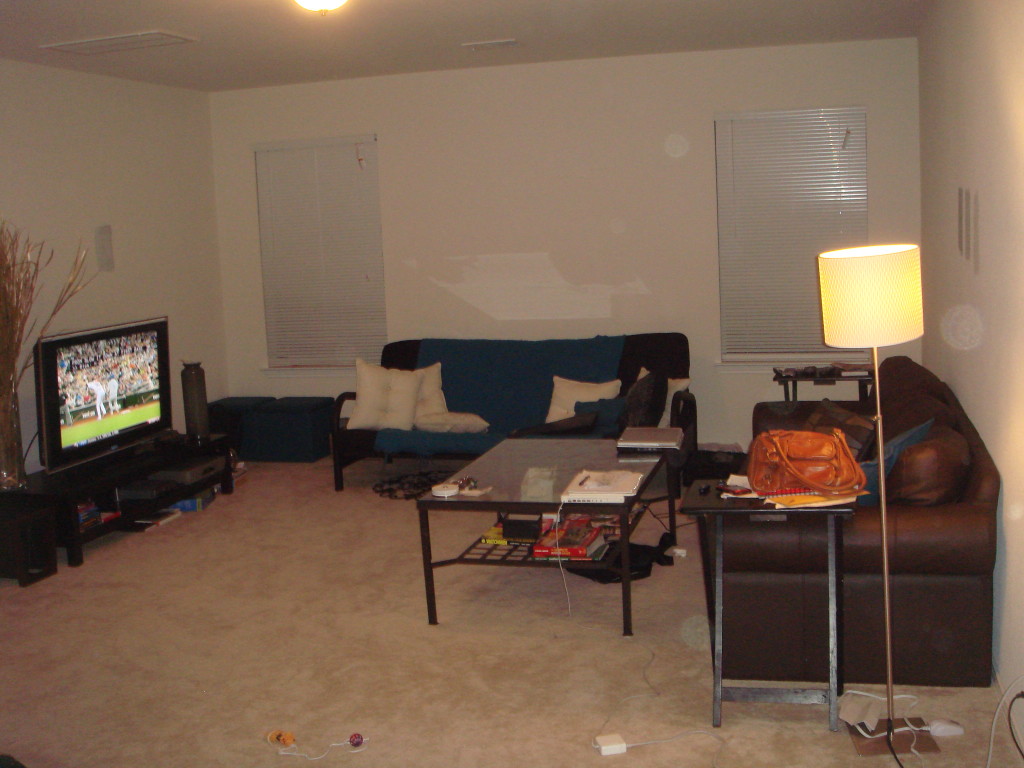 Now you're looking at this room and probably saying, "Oh my GOD. I would kill myself if I had to live in that space!" Well folks, you're looking at the visual equivalent of 90% of the scenes I read in amateur screenplays. They're that dull, that lifeless, that devoid of creativity, and it boils down to writers being too set in their ways.
A good interior designer's first step is to let their initial inclinations wash over them. Not ignore them. They may still use them. But first they want to explore some not-so-obvious choices. Maybe a nontraditional couch as the centerpiece. A cowhide rug instead of a boring hardwood floor. How does the light come in from the windows? Is there any way to arrange the room to accentuate that? With this approach, you're more likely to get something like this…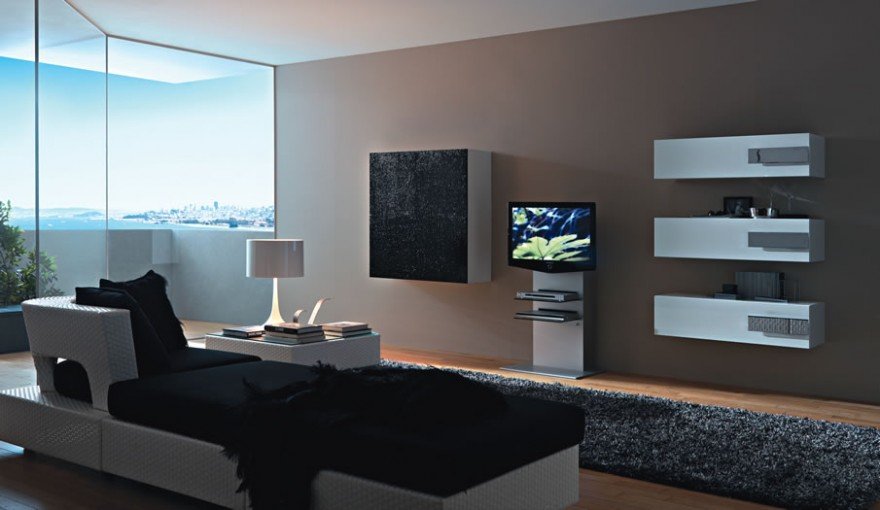 Notice how much more thought was put into this room. Notice how they went with a hardwood floor AND a rug. Look at how the rug is shaped. Look at how funky the couch is. Look at the unique shelves placed on the wall. The other designer didn't even put shelves on the wall. This room is infinitely nicer than the one above.
Now I can already hear some of you crying foul. "That's cheating, Carson. The second room has a floor-to-ceiling window and costs a hundred times as much to furnish." I admit that the analogy breaks down a little in that sense, but not really. With writing, the only currency is time. You have no budgetary considerations. If you take the time to challenge yourself and flesh out your ideas, you can create windows with the most beautiful views in the world. You can put a 20,000 dollar couch in your room. You can change the walls to brick.  An imagination is infinite, and when you predispose your writing, you prevent yourself from mining all those possibilities.
Predisposed Writing is not just a scene thing. Writers come in with predisposed characters. They come in with predisposed relationships. They come in with predisposed concepts. The thing to remember with writing, especially screenwriting, is that nothing is set in stone. You can have an idea for something, but once you're tasked with putting that "something" down on paper, it's your job to challenge it. Your mind, more or less, has been trained by society to think and act like other minds. Which means most of what you come up with is the same kind of stuff other people come up with. Going against your predisposition, then, is the only surefire way to provide a unique experience for the audience.
Let's apply this practice to an actual scene, shall we? Let's say we're going to write one of the more common scenes in screenwriting, a cop arresting someone, let's say a drug dealer. Now you're probably already imagining how this scene is going to play out, right?
My predisposed version has a sketchy dealer on a street corner in a bad neighborhood, dealing dope to some loser. Our officers pull up their car, pop out. The Dealer ushers the buyer away, turns to our officers as they're approaching, an innocent smile at the ready.  Looks like this isn't the first time they've met.  There'll be some funny "we've been through this before" banter between the three. But the Dealer senses that something's off, that they might actually arrest him this time. He decides to make a run for it. They chase him down. Catch him. Scene over.
Hmm, how many times have we seen that before? It might as well be in the Predisposed Hall of Fame. So let's see what happens when we spend some time considering other options. Again, there's no law that says you have to write these options into your script. All you're doing is considering them.
A dope dealer in a bad neighborhood is cliché, right? So what if we made our dealer a… grand piano salesman who deals dope on the side? Our cops have evidence he's dealing so they go to the piano store to arrest him. Inside, a child prodigy is loudly playing Beethoven's 9th on a nearby piano. Our cops attempt to ask the salesman a few questions (or read him his Miranda Rights), but the annoying prodigy is playing louder and louder (secretly cued by the salesman?), resulting in a lot of "I'm sorry, I can't hear yous." In a moment of distraction, the salesman slams the piano flap down on one of the cop's hands and makes a run for it.  The prodigy breaks into some chase music.
This may or may not be the best scene ever. I'd certainly want to take it through a few more drafts, but it's more inventive and less cliché than the previous scene.
Now obviously I'm writing with free rein here. Within the context of your story, your dealer may have to be on the street. That's fine. Then you simply ask what other ways you can make the scene different.  Maybe the dealer only speaks Spanish, creating a translation problem. Maybe the dealer's the brother of one of the cops, complicating the arrest. The options are limitless, but they're only there if you search for them.
In closing, all I ask is that you not get wrapped up in any predisposed notions when you write. Always consider other possibilities. I promise you that if you perfect this practice, you'll become a much better screenwriter.