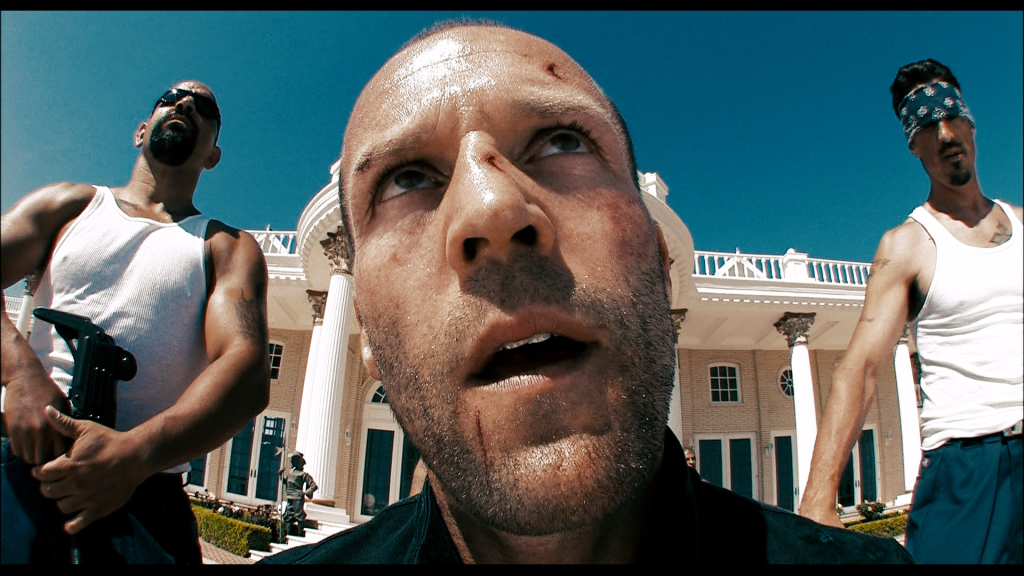 Jason Statham fully endorses #3
It's one of the questions that never goes away for a writer. What should you write next? Write what you know? Write what you want? Write what's going to make money? I don't think there's any one right answer. I've seen writers break in with a script they're passionate about (Allan Loeb: "Things We Lost In The Fire") and writers break in with a script that was purely market-driven. Ideally, the stuff you want to write would match up with the stuff that Hollywood wants to make, but it never quite works out that way, does it?
Then again, maybe you haven't explored all your options yet. Maybe you need to see all those options to make an informed decision. That's what inspired today's post. I thought it'd be fun to show you the top ten types of movies Hollywood likes to make. These are the movies that keep popping up, year after year, and have been making the film industry moolah for decades. If you're not writing within one of these genres, you're not necessarily screwed, but you certainly aren't making things easy on yourself.
A couple of caveats to this list. I don't want to include anything that's impossible for the average amateur screenwriter to write. So I'm not going to include comic book movies, high profile intellectual properties (Harry Potter, Twilight, The Hunger Games), or animated films. I'm also not including sub-genres that pop up every five years or so, stuff like submarine flicks, the body-switching movie, the inspirational-teacher movie, or the stoner-comedy. The whole point of this list is to show the TOP films that Hollywood likes to make year in and year out. Let's take a look, shall we?
1) The buddy cop comedy – This sub-genre doesn't need much of an explanation. Basically, pair two people up who have a job to do, make sure there's a lot of conflict between them, and make sure it's damn funny. This year it was Ride Along. Last year it was The Heat. Before that 21 Jump Street. The Other Guys. Going back in history, we had Rush Hour, 48 Hours, and Lethal Weapon.
2) The weepy romance – Destined to drive men everywhere mad, the weepy romance flick is primed for the young female audience to drag their boyfriends to. It's recently been dominated by the Nicholas Sparks craze, but it's been around much longer than that. I guess not surprisingly, these movies almost always have someone dying in them. The Fault In Our Stars, Love Story, Harold and Maude, The Notebook, The Last Song, The Lake House. Strange how soft and soothing all those titles sound. These films don't do Transformers numbers, but they bring in the lady money.
3) The straight action thriller – These are usually very simple stories following a bad ass protagonist as he/she kicks a lot of ass in pursuit of a clear goal. Die Hard, Brick Mansions, Jack Reacher, Salt, James Bond, Wanted, Crank, Rambo. Liam Neeson has made this genre his bitch in recent years, but it's been around long before him and will continue to be around long after.
4) The big action movie where shit gets destroyed – It could be aliens, monsters, zombies, whatever. Give us a movie big in scope where lots of shit gets effed up. World War Z, Independence Day, Godzilla, Pacific Rim, Cloverfield, War of the Worlds, The Day After Tomorrow, Battle L.A. Hey, where else can anyone destroy entire cities with just their MacBook. This is one of the coolest things about being a writer!
5) The safe female-driven comedy – This is an area where Hollywood has changed. This slot used to go to the classic romantic comedy, stuff like The Wedding Planner or Notting Hill. Now, these stories tend to be broader in scope with multiple characters. For the most part, the female audience who go to these movies want to watch female characters going through the same things they are, and laugh about it. The Other Woman, Sex and the City, Eat Pray Love, Julie and Julia, He's Just Not That Into You, Mamma Mia. If you're a man writing these movies, God help you with authenticity.
6) The classic high concept comedy – This genre is never going away. If you can come up with a clever big idea for a comedy, you can strike gold in the spec market and at the box office. High concept comedies are one of the few genres that can break through that stodgy box office top 10 full of sequels, cartoons, and comic books. The Hangover, We're The Millers, Identify Thief, Night at the Museum, Tropic Thunder.
7) The action-adventure – Although increasingly difficult to break into this IP dominated field, if you can write a good one (which, by the way, usually requires its characters to wield swords, wear sandals, or both), you can start yacht shopping, because these don't just make a lot of money HERE. They make a lot of money EVERYWHERE, as in all over the world. Pirates of the Caribbean, Braveheart, 300, Troy, Raiders of the Lost Ark, Immortals.
8) The big family comedy – One of the few huge genres you don't need intellectual property for. These movies are usually divided into two categories – the literal family adventure, and the unique concept targeted at families. In the first category you have stuff like Cheaper by the Dozen, Parental Guidance, Blended and RV. And on the other end, stuff like The Tooth Fairy, Beverly Hills Chihuahua, Journey to the Center of the Earth, and Home Alone.
9) The straight horror film – This is a tricky one. Hollywood loves these films cause they cost so little to make and have such a big upside, but they're more of a crapshoot than they look. Maybe you get the next Paranormal Activity. But there's a much better chance you'll get Would You Rather. Your best bet is to focus on a unique concept that you haven't seen before, then write in the most complex characters you can. No character development in a horror script almost always leads to direct-to-Itunes. The Conjuring, The Sixth Sense, Oculus, Saw, The Exorcist, The Shining.
10) The serious subject matter vanity project – These are usually centered around the most complex characters of the year. So don't even attempt to write one if the main character isn't fascinating in some way. Also, they're almost always based on real people, so you'll typically have to snatch up the rights to someone in book or article form. Not as impossible as you might think. Sure, you're not going to get the big players, like Johnny Cash, but there are plenty of people in this world who have lived captivating lives that haven't had movies made about them yet. Other than that, this sub-genre is exactly what it sounds like. Write us a story centered around a very compelling individual that has the potential to win an actor an Oscar. The Wolf of Wall Street, The Aviator, Lincoln, Seven Pounds, Ray, A Beautiful Mind.
So why are these movies so popular? Well, outside of the obvious, that audiences enjoy them, these are the movies Hollywood knows how to market best. They know exactly how to draw up the posters, how to cut the trailers, how to snip together a TV spot. That makes them low-risk, and since Hollywood is risk-averse, that's a match made in heaven. But it doesn't mean if you're not writing one of these that you're screwed. Plenty of popular films don't fall into these categories. Life of Pi, The Descendants, Argo, Magic Mike, Gravity, American Beauty, Slumdog Millionaire.
The difference is, because Hollywood knows these movies are going to be tougher to market, they're less inclined to pick them up or produce them. Which simply means the journey to get your script purchased or made will be harder. As long as you know that and are okay with it, by all means take that chance (although you should be taking less chances the older you get).  I believe your best shot at success is to look through the ten film types I've listed above, figure out which one you like best (the kind of film you actually go out and pay for) and see if you can't write something in that mold. Not a copy. But a fresh angle that gives the genre a kick in the butt. That way you get the best of both worlds. You get to sell your script to Hollywood and you get to push the envelope some. I'll be right here on the other side waiting to see what you come up with. ☺