Genre: Action
Premise: In an apocalyptic future, a woman rescues the five wives of her insane leader, and tries to take them to her childhood home.
About: George C. Miller has been trying to make this movie FOREVER. With Miller getting older, it was looking like it wasn't going to happen. He finally scraped together $150 million though to get his dream film finished. The movie debuted this weekend and took in 42 million dollars, a respectable sum, but not enough to defeat a group of crooning women. That's right, Pitch Perfect 2 took in 65 million dollars.
Writer: George C. Miller (he was the only writer on the draft that I read)
Details: 120 minutes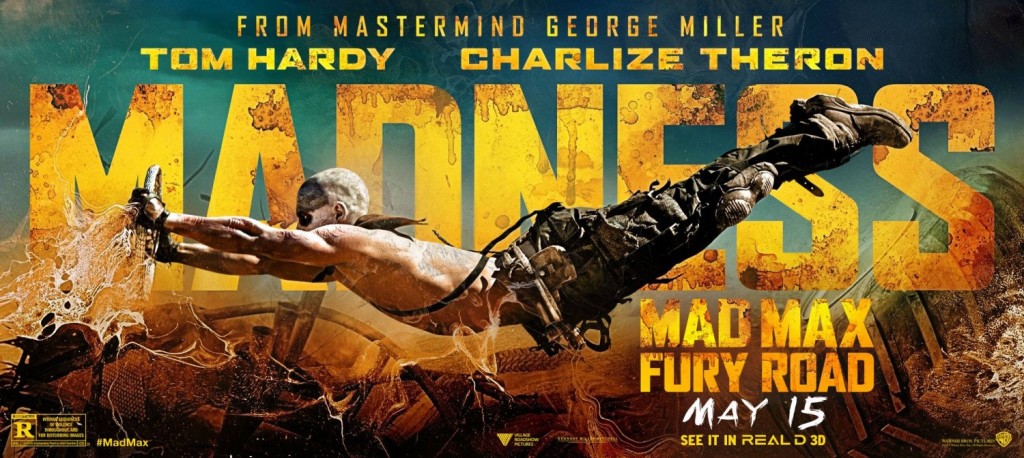 They say the definition of insanity is doing the same thing over and over again expecting a different result.
That definition has now been retired.
The definition of insanity is George Miller.
And I mean that in the most glorious way.
I read this script almost three years ago and I remember thinking, "This is the best written chase in the history of cinema." But even what I read on the page could not possibly prepare me for what I saw on the screen this weekend. Miller didn't just run with his chase. He fucking stashed the thing into a nuke blender and created the second Big Bang.
Fury Road's story is both simple and complex (remember, we're talking about an insane person here. Many things you read in this review will contradict themselves). The simple part is that this woman, Furiosa, a dependable driver in a post-apocalypitc town run by a madman named Immortan Joe, decides to ditch her city and head back to the town she was kidnapped from as a child (the Green Place). Immortan Joe then sends his entire brigade of cars to stop her.
We have a clear goal (get to the Green Place), urgency (they're being chased the whole time), and stakes (death). And this is where the complexity seeps in. Furiosa has kidnapped five drop-dead gorgeous women who breed babies for Immortan Joe. She doesn't like that the five sirens are being enslaved and wants to bring them along. Almost all of these sirens are pregnant.
Now you may be saying, "Well wait a minute. Where the hell is Mad Max?" Ooh, we're going to get all sorts of into that in a bit. But basically, Max has recently been kidnapped by Immortan's clan, the War Boys, and is now being used as a "blood bag." Lots of people in this town have janky blood and need to be constantly pumped with healthy blood to stay alive.
One of these pale-as-a-sheet boys is Nux, who really really really wants to join the chase for Furiosa. But he won't survive without blood. Hence he comes up with a plan to chain Max to the front of his car and use him as a constant influx of blood during the chase.
As you can imagine, Max eventually gets free, teams up with a tepid Furiosa and the sirens, and the group tries to get to the Green Place together. It's not without its share of challenges though. Out here in the nowhere lands, there are NUMEROUS tribes and clans, all with their own types of cars and styles, determined to take Furiosa's team down.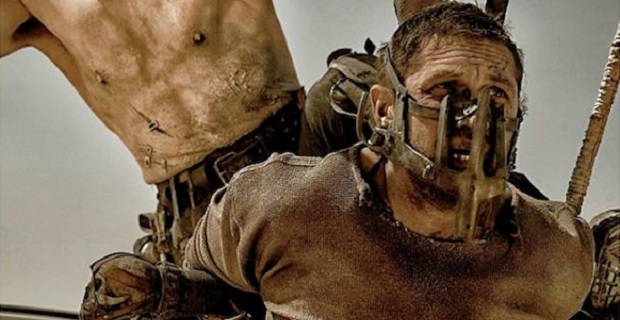 Let me just start by saying this is probably going to be my favorite movie of the year. This is unparalleled filmmaking here. You can tell that this is the movie George Miller originally envisioned in his head 30 years ago but only had 1/10th the budget to bring it to life. Well, he finally got 10/10ths of his budget and the result is magnificent. Almost everything is done practically. The style is unlike anything at the movies right now. It's imaginative. It's bold. It takes chances that lesser filmmakers wouldn't even dream of.
But the film is not perfect because the screenplay is really strange. First of all, you have Furiosa. If it was just her and these sirens trying to get to this land of hers, everything would've been a lot smoother. Instead, we have this weird Max subplot where he's literally silent for the first 50 minutes of the movie, strapped to the front of this car, watching everything happen around him. Mad Max, the character who's name is in the title, HAS NOTHING TO DO WITH THE FIRST 50 MINUTES OF THIS MOVIE.
In fact, as crazy as it sounds, you could take Max out of this movie and barely anything would change. This isn't Max's movie. It's Furiosa's. So how the hell did that happen?
Well, here's my theory. We all know that Miller's been trying to make this movie forever. He's had near-starts maybe a dozen times, many of them with Mel Gibson.
When Mel got too old to play the part, Miller started searching for younger actors to play Max, and that carousel went on for awhile without success. Finally, he decided to give up on Max and build a new character to center the movie around, Furiosa. That, for whatever reason, got him a green light, but then at some point somebody wised up and said, "We can't have a Mad Max movie without Max," and rising star Hardy was cast.
However, the script was already written and Charlize was cast. So how the hell did Miller infuse Max in the story? This is how. And this is why Max seems to always be on the outskirts of a plot that clearly favors Furiosa.
Now I happen to know a couple of people on the production of this film who confirmed exactly why this was a problem. According to them, both Charlize and Tom were pissed off at the fact that the other thought it was THEIR movie. And they were completely justified. Charlize's character's the one who's driving the plot. Tom's character has his name in the title of the movie. A series of carefully worded conversations needed to be had with each actor to convince them that THEY were in fact the star and not the other way around.
This speaks to a problem that I've been preaching to screenwriters forever. Unless it's a team-up scenario (Safe House) stay far away from the dual-protagonist screenplay. It's just too hard to pull off and you're always going to be struggling to find that balance between each character.
So why does the movie still work despite this flaw? Because the chase scenes here were the single greatest chase scenes in the history of cinema. If you have something in your script/movie that is the single greatest in history, your script/movie can survive a lot of flaws.
This is the same thing I say to writers who point out that When Harry Met Sally had no plot, no goal, little structure, and basically followed two people sitting down and talking about nothing for 2 hours. That's all true, but When Harry Met Sally also contained the best dialogue in the history of romantic comedies. Hence, it was able to overcome these issues.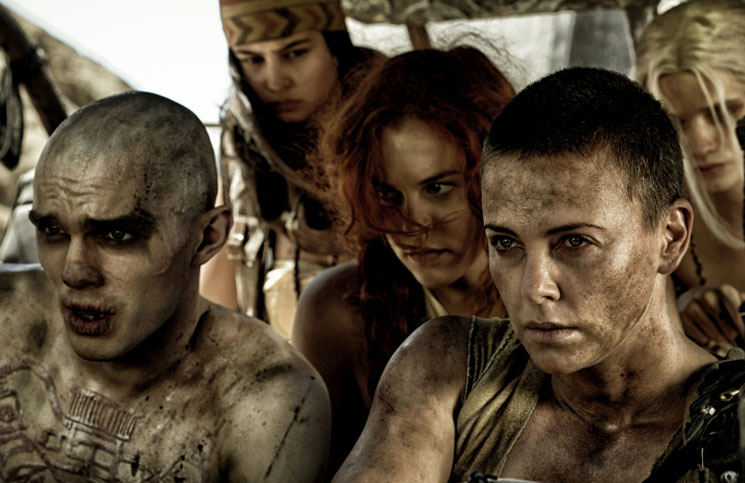 "Man, there sure a lot of people in here."
So what changed between the draft that I read of Fury Road and the final movie? Not much. They gave Furiosa an amputated arm for some reason, I imagine because it gave her a little more to play with as an actor. Plus she has a mechanical arm that looks cool now.
Nicholas Hoult's character, Nux, got a more developed part. I barely remember him in the script but here he gets to come over to the good guys, strike up a relationship with one of the sirens, before redeeming himself in the end. My guess is that the studio was always unhappy with the fact that there's no love story between Max and Furiosa (a super bold move on Miller's part) and they wanted a love story somewhere. Hence, they created the Nux love story.
The last thing about the script that drove me crazy was the ending. And this keeps Fury Road from becoming a true classic. The entire movie is geared towards getting to the "Green Place." However, once they get there, they find out that the place is dead. It's no longer there.
So what do they do? Max decides that they should simply… go back!
I'm sorry but WHHHHAAAAA???? We spent the last 100 minutes getting to this place and now the last 20 minutes are going to be about going right back??? Um, no. No no no no no noononojoajono. NO GEORGE MILLER! You had something amazing on your hands here. Why couldn't you have come up with a better ending!!!!???? Anything would've been better than going right back where you started.
So did that mean the ending sucked? No. The ending was saved by the same reason the whole movie was saved. Because the chases were so freaking spectacular that you forgot all about the story. I mean, there is a guy in one of the cars CHAINED TO A FUCKING GUITAR that he is playing for the ENTIRE MOVIE. There are gunners who SWING FROM 50 FEET TALL SWINGING STICKS, grabbing our heroes. There's a buzzsaw truck. There is a tuck with a bulldozer mounted on it. I mean, how can you not forget about story when that's happening?
I guess I'm just selfish. I wanted my Australian Desert Cake and to eat it too. Still, even with these weaknesses, Fury Road is a visual feast and the must-see blockbuster of the year. I even saw it in 3-D, which I never do, and the extra four bucks was worth it. I implore you to do the same.
Movie Rating
[ ] what the hell did I just watch?
[ ] wasn't for me
[ ] worth the price of admission
[x] impressive
[ ] genius
Screenplay Rating
[ ] what the hell did I just read?
[ ] wasn't for me
[x] worth the read
[ ] impressive
[ ] genius
What I learned: Stay away from the dual-protagonist story unless it's a team-up movie. There are movies where it has worked, yes, but it usually doesn't, as a story naturally wants to wrap itself around a single hero.