Scriptshadow 250 Contest Deadline – 84 days left!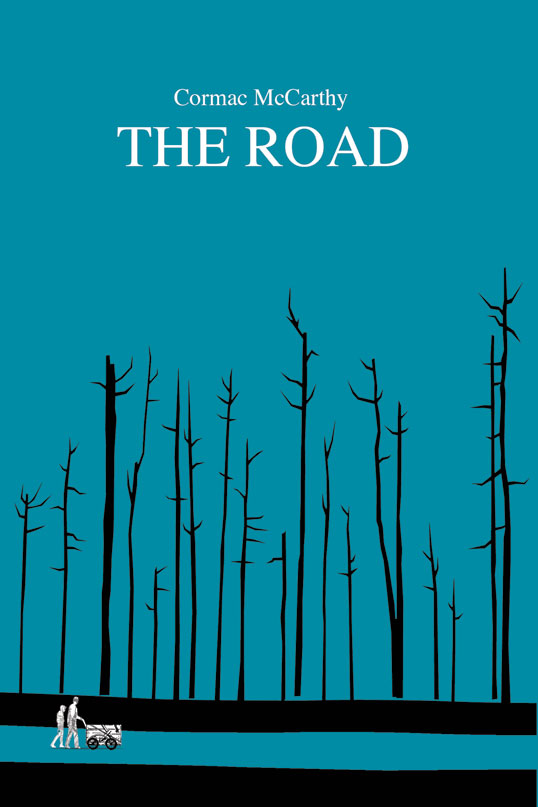 If only we could all be Cormac McCarthy
One of the least talked about components of screenwriting is READABILITY – or "How easy is your screenplay to read?" That's because when compared to character, dialogue, structure, and theme, readability doesn't seem that important. And that's true to a certain extent. But think of it this way. While eggs and flour and sugar are all essential to make a great cake, you can't serve the cake unless you have a plate to carry it on. "Readability" is a screenplay's plate.
This is one that's always vexed me. I'll be sludging through a screenplay where every sentence feels like I'm on the 405 freeway during rush hour. Start-stop-start-stop-start-stop. Then, when I read a good screenplay, the sentences run together like melted butter. Everything seems so natural. So easy. I never think about the writing once.
But it's not always clear why some scripts read uglier than others. I'll go back through the bad-reads to figure out what went wrong and find that "technically" the writing was "correct." What clouds the analysis is story quality. When you're in the middle of a good story, the sentences always read quicker. When you're reading a bad story, each sentence seems to go on forever.
Is readability just relative? Are sentences only as bad or good as the story they're a part of?
I don't think so. There's clearly a way to combine sentences together in a pleasing easy-to-read manner. Unfortunately, there don't seem to be any books or online tutorials about how to achieve this. You're taught all the rules of writing in school and from then on it's up to you to "write good."
That's why I'm writing today's article. If nobody else is going to do it, I might as well give it a shot. To do so, I'll be comparing four sentences/paragraphs from professional and amateur screenplays. My hope is, by utilizing this direct comparison technique, we'll find some answers. Let's give it a shot.
Example Number 1
From – "Joy" by Annie Mumolo
"They both glance over to a table where Joy's father RUDY sits like a KING with his arm around a ROBUST woman in an ill- fitting MARILYN MONROE DRESS."
From – Amateur Screenplay
"Danny patters to the front doors. Angelina awaits him there. The two join hands, partaking in a private moment."
At first glance, the amateur submission isn't that bad. But I don't think it's as good as the professional one. I found Joy to be EXTREMELY readable. While I wouldn't nominate it for "most technically proficient screenplay of the year," I don't remember a single moment where I had to reread a sentence to understand what was going on.
That's one of my biggest takeaways from this experiment. Professionals know they're not trying to win over English professors with their scripts. They're trying to tell a story. And the easier they can get that story across to the reader – whether it's technically correct or not – the better.
A lot of times, amateurs overthink their prose and make it more complicated than it needs to be. If you look at the sentence from "Joy," it's not trying to be more than it is. There isn't a single word in the sentence that you don't understand. But reading the amateur sentence, we get the word "patters" immediately. That's not a common word in this context and causes a pause, if however slight. Whenever a reader stops, if even for a split-second, that means you've failed as a writer. Reading is supposed to be seamless. When it isn't, the reader is taken out of the story.
There are two other issues with the amateur example. The word "partaking" is another odd unpleasant word in this context, which causes another pause. Also, notice how the paragraph is broken up into very abrupt sentences, making for a robotic presentation. I wouldn't say that this is unpleasant. We'll see in a moment that it's possible to do this well. But in conjunction with the other mistakes, it hurts the read.
That's another thing I've learned through this experiment. Bad writing is a lot like bad piloting. If you make one mistake as a pilot, it usually goes unnoticed. But when the mistakes pile up, that's when the plane crashes. Let's move on to the next example.
Example Number 2
From – "February" by Osgood Perkins
"Kat comes out from behind the closet door, wearing her oversized hooded Bramford sweatshirt and a pair of printed pajama pants."
From – Amateur Screenplay
"Cinnamon unbuttons shirt cuffs, rolls up sleeves, pulls on thin black leather gloves from a rear hip pocket. He draws the backside .22 and holds it aloft by the silencer."
Here we have a lot of detail. But in one case, the sentence is easy to read through, and in the other, it made my head hurt. Notice how in "February," we have three words in a row that end with the letter "d" and then nearly four words in a row that start with "p." This alliteration helps the sentence move along quicker in the mind.
With the amateur entry, it feels like information overload. I remember reading this script and there were a lot of sentences, like this one, where I had to read them 2-3 times to take in everything that was going on. While technically fine, it seems like the paragraph could've been simplified. Also note that while in "February," we have a full sentence, in the amateur submission, words are missing in favor of the staccato style. I've added where those words would be:
"Cinnamon unbuttons [her] shirt cuffs, rolls up [her] sleeves, [then] pulls on [some] thin black leather gloves from…"
I'm not going to say to never use staccato style. This is something a lot of writers have used successfully. But when you use in it conjunction with too much information or overwritten sentences, it can easily start to feel like work to read through. Case in point, here's a paragraph from who many feel to be the king of this kind of writing, Shane Black, in his first screenplay, "Lethal Weapon."
"Sergeant Martin Riggs is driving. He looks like he hasn't slept. He certainly hasn't shaved. The DISPATCH RADIO SQUAWKS. He turns down the MUSIC from the car radio and hears:"
We have short quick sentences here, like the amateur example. But they're all grammatically correct, making them easier to read. Let's move on to the next example, staying with our friend, Shane.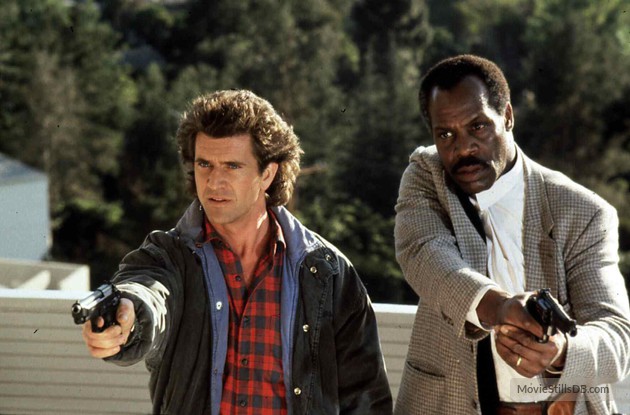 Example Number 3
From – "Lethal Weapon" by Shane Black
"A section of the parking lot is cordoned off by yellow streamers which read: POLICE LINE – DO NOT CROSS, and as we watch, a black and white patrol car pulls up, admitting two beat COPS and a young hooker. Her name is DIXIE, and she is not happy."
From – Amateur Screenplay
"Hadley settles in. The Maitre d' snaps at a server, pointing to the table and holding up one finger addressing Hadley who has just joined the group."
At first glance, Shane Black's sentence seems odd. While he probably should've ended his first sentence after "DO NOT CROSS," he chooses to make it one continuous sentence. Some may say this is "wrong," yet it all feels so relaxed and natural, I'm tempted to say it's fine. I don't have to put in any effort to figure out what he means or reread anything, which tells me the sentence is a success.
Now let's look at the amateur example. Everything seems to be going well until we reach the Maitre d' holding up one finger. When we get to "and" in this example, "holding up one finger" seems to be more of an afterthought, as opposed to a natural extension of the sentence. This is fine in everyday conversation when we remember things at the last second all the time, but when you're describing something in a screenplay, it has to feel planned, or else it reads like you're making your story up as you go along.
This assumption is solidified when the last part of the sentence arrives: "…addressing Hadley who has just joined the group." This tacked on piece of information is lazy. Notice how everything in Shane's example is in the ACTIVE VOICE. What's happening is happening RIGHT NOW. In contrast, "…who has just joined the group" is PASSIVE. It already happened, making it feel tacked on. The lesson here is clear. Keep everything in the active voice if possible. And don't tack things onto the ends of sentences. It shouldn't be, "Carson writes an article after he opens a coke." It's, "Carson pops open a coke and writes his article."
Example Number 4
"500 Days of Summer" by Scott Neustadter & Michael H. Weber
"And that question hangs in the air. Tom, panicked, decides to cut the silence. All the pent up uncertainty and confusion, coupled with the challenge to his manhood in front of the woman he loves, all manifests in one single, solid, almost automatic RIGHT CROSS TO THE GOOD LOOKING DOUCHEBAG'S FACE."
From – Amateur Screenplay
"Joseph drives too fast through woody shrubs on a steep, gravelly hillside. He slams on the brakes before heading off a bluff. Gets out and looks across the vast desert sands."
Our 500 Days friends go big here with a really long sentence. They even make a mistake. "All" is used twice when it should've been used once. And yet it works. The long sentence is fine because it's a pivotal moment in the film. It's okay to write bigger when the moment is bigger. The sentence also takes place completely in the active voice, making it easy to read. And everything flows. Every word/fragment/idea is a logical progression from the word/fragment/idea before it.
Now let's look at the second example. Everything here is fine until we get to "before." "Before heading" takes us out of the active voice into a semi-passive voice. But it's the next sentence that derails the paragraph. Driving the car and getting out to look at the desert are two different actions and should've been split up into different paragraphs. Together, they feel jarring, causing the reader to hesitate as he realizes we've moved out of the car into a different area. There's also an inconsistency to focusing on such specific moments within the paragraph ("woody shrubs, a steep gravelly hillside, slams on the breaks") to then end on one so general (looking across a desert).
CONCLUSIONS
This exercise has taught me a few things about the elusive quality of readability. First off, "technically correct" doesn't always mean "readable." Just as "technically incorrect" doesn't always mean "unreadable." You can go against what they taught you in school and still write a very easy-to-read sentence. Look at our first example from Annie Mumolo. Some people might call that a run-on-sentence. But it's fast and smooth and easy-to-read so it works.
Another big breakthrough for me – the closest I got to an "ah-ha" moment – was Osgood Perkins' use of alliteration, which added a pleasing repetition to the words on the page. It's this "pleasing" quality that I'm after. But I don't think it's possible to ALWAYS use alliteration. It'd just be too hard (and might even get annoying after awhile). I almost wonder if there's a less structured/defined way to achieve the same effect using a middle-ground technique (not quite normal sentence and not all-the-way alliteration). Has anyone heard of such a technique?
One of the most frustrating things about all this is the reality that there's nobody out there who actually teaches you how to WRITE. Sure, there are teachers who teach you nouns and verbs – all the technical stuff. But once you have that down, where is the instructor who teaches you how to place words together in a pleasing way? I haven't found him yet. And I want to. How bout you guys? Do you know of any books or tips that help one achieve this? I've been looking for material on this forever.
In the meantime, here are some tips to avoid the mistakes today's amateurs made.
1) Keep your writing simple.
2) Keep your writing in the active voice if possible.
3) Never write to impress. This is what most beginners do and they end up writing a bunch of unnecessary prose in the process.
4) Don't use vocabulary to show off. If you're using a thesaurus to include a word you've never personally used before, you probably shouldn't use that word.
5) Staccato-style writing ("Jump down." instead of "They jump down.") can be draining to read over a long period of time. There are some writers who do this well. But usually, it requires the brain to think differently in order to process the words, which is taxing. Proceed with caution.
6) In screenwriting, "fewer words" is usually better than "more words." While this would seem to contradict what I just wrote, what I mean is, even with traditional sentences, there's always a way to say something with fewer words. "John grabs his grimy baseball hat as well as his gun while wiping the ever-thickening sweat off his brow," can easily be turned into, "John grabs his cap and gun and flicks the sweat off his brow."
7) Complex sentences are dangerous. Indeed, it's after a conjunction where a few of our amateurs fell apart. A single conjunction (and, but, or) is standard. But when you start using more than one in your sentence, it may be time to start a new sentence.
8) Write to your level – If you're only capable of doing a double-axel, you're going to be exposed every time you try a triple-axel. Sure, we'd all like to be Cormac McCarthy, but one of the biggest mistakes I see writers make is writing above their level. And it's VERRRRRY painful to read. Screenwriting is one of the more forgiving forms of writing when it comes to prose. You don't have to knock our socks off. Take advantage of that.
And with that, I'm going to leave you with two final UNLABELED examples, one pro and one amateur. Tell me which you think is pro, which is amateur, and why in the comments. I'll reveal which is which (in the comments) after sundown.
MYSTERY EXAMPLE #1
"Casper, wearing only tighty-whiteys, sits on the floor of his bedroom amid t-ball trophies, race car bed sheets and a pin-up of Farrah Fawcett; the conflicting decorations of a boy who went through a quick growth spurt.
He thumbs through last year's yearbook looking for the mystery girl. He gives up, lays down and lights a joint."
MYSTERY EXAMPLE #2
"Surrounded, Black begins a coughing fit. His hands come up to cover the cough – the paperclip he stole from Moreau slips into his hand.
Stumbles into the Elevator panel – hitting the EMERGENCY button. The Elevator STOPS – sending everyone flailing.
Black uses the paperclip to release the cuffs. Nickels sees what's going down – but isn't quick enough to stop –
– Black unloads a barrage of strikes, taking down each Agent. Quickly undoes his shackles."