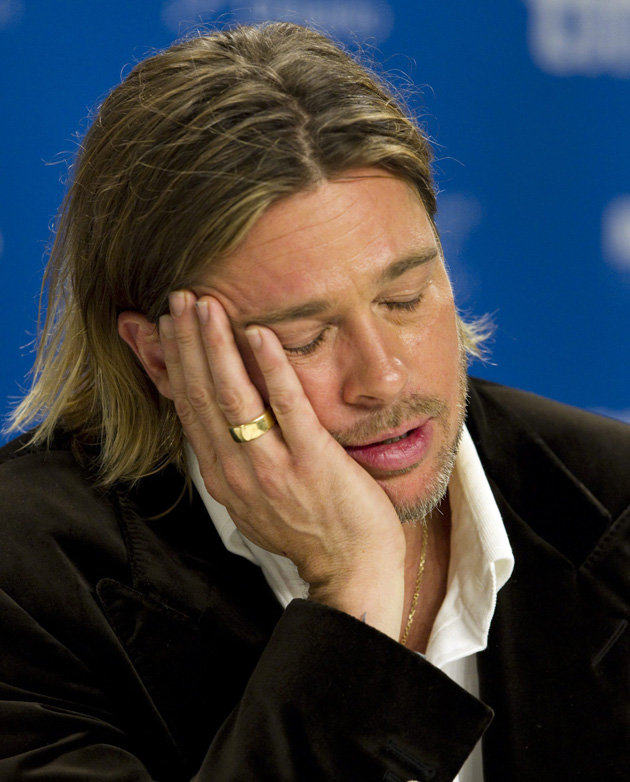 Brad's bored.
Note: FOUR MONTHS LEFT UNTIL THE SCRIPTSHADOW 250 DEADLINE!!!
So over the past few weeks, I've had some discussions with writers gearing up to write their next screenplay. Some of these were new writers with only a few screenplays under their belt. Others have been trying to break in for 10+ years. The discussions universally gravitated towards, what's wrong? Why haven't my screenplays sold or gotten me an agent, or even gotten my best friend to read them?
95% of the time it comes down to that the concept isn't any good. And the fascinating thing I've found over time is that the writer actually knows this. They'll actually say to me, "I know that the concept isn't very good but this isn't about the concept. This is about the characters and their journey they go through and blah blah blah…"
Hold up, hold up, wait a minute, hold on.
What did you just say?
Did you really just say you knew the concept wasn't any good? And you still wrote the script?? Believe it or not, this answer is so pervasive in the amateur writing ranks, that I don't know why it still surprises me. The only explanation I can come up with for why they do it is that they believe they're different in some way. That they're special. And the rules don't apply to them.
Unfortunately, that's not how this business works. This business IS a concept-driven business. Not only because the script has no chance of getting made unless the concept is good. But because Hollywood is a numbers game. Everyone says no to everything – EVEN GOOD CONCEPTS. A yes only comes along every once in awhile. Therefore, you have to spread the widest net and get the most reads in order to get that yes. If you have a lame (or boring, or uninspired) concept, you're not going to get the number of reads necessary for the odds to pay off. A good concept gets 50, 100, 200 times the number of reads a boring concept does. Imagine how much better your chances are of breaking in with those kinds of odds.
So how can we ensure we have a good concept? Aren't those hard to come up with? I mean, if it were easy, everyone would be doing it, right? Well, before we get to how to write a good concept, let's start with how to avoid writing a bad one.
A new phrase I want you to add to your screenwriting vocabulary is: "The Potential of Boring." If your idea sounds like it has the potential to be boring, don't write it. This is not to be confused with the script itself. The script (or the movie) may in fact be the greatest movie ever. But if it SOUNDS like it has the potential to be boring, don't write it. Because, chances are, nobody's going to read it. One of my favorite movies of the last two years is Philomena. I loved it. I would never, in a million years, however, allow an amateur writer to write that spec. Why? Because it's about an old woman who goes searching for her son. The average person hears that and they think, "That has a strong potential to be boring." Ideas that sound like they have the potential to be boring will not get read.
Another good way to know if you've got a boring concept is to play the elevator game. Pretend you're stuck in an elevator with a Hollywood producer and he asks you to pitch your movie. Go, do it right now. Pitch your movie to Imaginary Producer in Elevator Guy. It should become clear very quickly whether you have a good concept on your hands. If you're sitting there going, "… and she goes on this road trip of self-discovery and meets this guy. And he's a drug-addict and then she remembers that what really brought her happiness was her poetry so she starts writing poetry, going from town to town, performing on the street…" That script's not going to get read. "A young family excited to start their life together finds the perfect home, only for the college's biggest fraternity to move in next door." That's going to get you a read.
As far as how to come up with a good concept, there isn't any one way. There are clever ideas (like Neighbors, which I just noted), there are ironic ideas (like The King's Speech, about a man who can't speak who must give the most important speech in history), but if you're still stuck trying to find that big idea, start by thinking "LARGER THAN LIFE." Focus on a scenario that's bigger than what happens in your everyday life. Going to pick up groceries then coming home to have a fight with your wife isn't a movie idea. Going to pick up groceries, coming home to find your wife spread out on the floor dead, and the cops think you did it so you have to go on the run. That's a movie idea. But I'm going to take this one step further. The larger than life your idea is, the more likely it is that it's a movie idea. The Hunger Games, Guardians of the Galaxy, Captain America, The Hobbit, Transformers, Maleficent, X-Men, Big Hero 6. These ideas take place in different worlds, different universes in some cases. They're larger than everything.
Let's see how this can be applied to a basic idea. Say you want to write a movie about sex. So you write about normal people obsessed with sex. The movie is called Nymphomaniac. It makes 10 dollars at the box office. Why? Because there's no "larger than life" angle to it. In comes Fifty Shades of Grey, currently the highest grossing movie of the year. Let's now make one of the characters a billionaire. How many billionaires do you know in your everyday life? I'm guessing none. This aspect gives it a "larger than life" feel.
That might not be the best example, you can always skew the numbers in your favor when making these arguments, and there will always be exceptions to the rule. But I'm telling you. By and far, over the last 30 years of this business, this is the formula that wins out for writers trying to break into the industry.
Now there's one writer I was talking to in particular who had been writing for about seven years. He was a good writer too, and he was frustrated that he still hadn't broken in. I pointed out to him that none of his scripts really satisfied the "larger than life" criteria. There were a few you could argue were close. But like I said, the MORE larger than life it is, the better your chances are. And he tended to keep his stories more grounded, more based in reality. Which is exactly what he said to me. "But Carson, what if I just don't like to write those kinds of movies?"
And I realized that some people just want to write about real human conflict, real human drama, without all the hoopla of a flashy concept. They're more interested in reality. To these people I would start off by saying, "Understand that by taking that stance, you're making your chances of success infinitely harder." Once you've accepted that, we can go to the next piece of advice. And the next piece of advice would be this: "Stop bullshitting yourself." It is completely possible to write a human drama wrapped inside a big concept. I'll give you an example.
A couple of years ago, a writer broke through with one of the hottest scripts in town. It was called "Maggie," and it was about a young girl who was turning into a zombie. Except in this take on the mythology, it took six months to turn into a zombie. I thought the script was okay, but that's not the point. The writer was a genius. He wanted to write a story about cancer. But if he wrote a story about cancer, he knew no one would read it (keep in mind, this was before Fault in our Stars). So he placed the allegory inside of a marketable genre that made the story more high-concept. He told it as a zombie tale. And just like that, the concept is larger than life.
You can explore the human condition inside of ANY idea. So don't fool yourself into thinking you have to write about a small town family who struggles to make ends meet after the dad loses his job in order to explore people. There was a script on the Black List a couple of years ago that did a wonderful job exploring a family amidst an alien invasion. Guess which one of those scripts is getting read? And they're both doing the same thing – exploring the human condition. It's just that one writer was smarter – he gave his story a wrapper that would make people interested. Hopefully, you can learn from him.