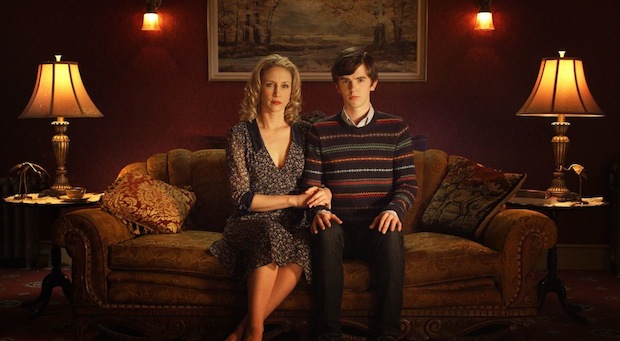 IMPORTANT NOTE: THE SCRIPTSHADOW 250 CONTEST DEADLINE IS NOW 3 ½ MONTHS AWAY! 
On a lark I decided to catch the Bates Motel TV show recently. I mean how bad could it be? It had Carlton Cuse as the showrunner, who did Lost. And the cast looked strong.
I've been pleasantly surprised so far. I mean, you have to come to terms with the fact that the show takes place in the present (Was Norman Bates cloned?) but once you do, it's entertaining television.
I bring this up because I've been watching a lot of television lately – trying to crack the TV code – and I've come to the realization that writing for television REALLY HELPS when it comes to writing character.
That's because you're forced to know a lot more about your characters in TV than what's happening in the here and now. You're thinking three episodes down the road. Six episodes. Even twelve.
As someone who reads a lot of features – features that leave me feeling zero emotional attachment to the characters – this is a revelation. Taking a long-form approach to character forces you to know your characters in a way you never would on the feature front.
Which brings us back to Bates Motel. There's a moment early on in the second season where Norma Bates's brother comes to town. And it turns out he and Norma share a dark secret. Normally, this is something a feature writer wouldn't know, especially if the brother never appeared in the movie. But here, the writers had to know because his entrance into the story needed to be built up.
So as an exercise, I'd like you to approach your feature characters with a TV mindset. Get to know them beyond the 110 minutes that take place in your story. This simple change is going to add a depth and dimension to your characters that you never knew was possible.
To get a little more specific, we're going to call this the 3-D Method. Those three "Ds" represent the PAST, the PRESENT, and the FUTURE of your character. I guess in a way you can look at me as the ghost of screenwriting. But the budget's cheap so I'm going to have to play all three parts. Let's get started.
1-D) PAST
The "PAST" component of character creation is almost exclusively reserved for backstory. It means figuring out as much about your character's life, up until when your movie begins, as you can. We can actually break this down into two sub-sections. "Relevant to Plot" and "Non-relevant to Plot." When you're figuring out backstory that's non-relevant to your plot, it's more for you than the audience. A lot of this stuff will never make it into the script, but it will inform your choices about the character. For instance, if your character was raped when she was 15 by a close family friend, she's probably going to have a problem trusting men. Therefore, you can add a little distance to the character's personality when she's around men she doesn't know. She's the kind of girl who hangs back and needs to get to know the person before she opens up.
"Relevant to plot" backstory is much different. This is backstory that will directly play into the plot at some point in your movie. So say your main character had an old girlfriend he was never able to get over. Now he's happily in a new relationship. Near the midpoint of your movie, then, that ex pops back up and has your character second-guessing his current relationship. Obviously, relevant backstory should take precedence. But backstory that isn't directly related to plot is still mucho importento. The writers who stand out are the ones who add specificity to their writing. And you achieve this by knowing as much about your character's past as possible. I mean Batman is just a guy in a mask if he never had that experience with the bats. The more you know about your character's past, the more real they're going to appear on the page.
2-D) PRESENT
The present is really about your character's IMMEDIATE MINDSET. What's going on in that head of his within the two-hour lifetime that is your movie? There are a few things you want to explore here. First, know what your character wants RIGHT NOW, as in IN THIS STORY. They might want a promotion. They might want an engagement ring from their boyfriend. They might want to kill the bad guy. Know what's driving them. Next, know what mental block is holding them back from achieving that. Maybe they doubt they're strong enough to make a difference (The Matrix). Maybe they put work/country over family (American Sniper/Interstellar). Maybe they're afraid of becoming old and boring (Neighbors). Get in your character's headspace and understand what their issue is RIGHT NOW.
Finally, understand the key issues in your character's current relationships. Maybe one character believes we need to seize the day while another believes we need to focus on the future (Jack and Rose in Titanic or Ferris and Cameron in Ferris Bueller's Day Off). Maybe your character struggles with opening up to others (Skeleton Twins). You can't explore characters in any meaningful way unless you have unresolved issues in those characters' relationships. There will be some crossover between the past and the present depending on if the characters knew each other before the movie started. So with Skeleton Twins, about a brother and a sister, they've known each other their whole lives so this is as much a past issue as it is a present one. With Titanic, the issue is purely in the present since the characters meet for the first time on the boat.
3-D) FUTURE
This is where the TV approach really kicks in. In TV, you need to have a plan for the show's future. You can't just make shit up on the fly or the show will fall apart (see "Prison Break" or "Heroes"). For example, you might know that a friend of the main character dies a year down the line. This knowledge allows you to build stuff into the present storyline that will make that future storyline stronger. So you might build a deeper friendship between the two characters so that when the character DOES die, it'll hit the audience harder. Now, obviously, with features, knowing if a character dies a year down the road isn't as relevant since it won't affect the current movie. But there are aspects of the future you do want to think about. For example, where do you see your character five years from now? Are they happy? Successful? Or are they unfocused, self-destructive, no better off than they are today? Probably the most important question you want to ask is, what's your character's goal in life? Where do they want end up? Do they want a family? Do they want to still be partying at the nightclubs 7 days a week? Or maybe they want to follow their dream of writing a novel. Answering that question will give you loads of insight into who your character is. You can really get into the psychology of a person by knowing what they want out of life.
Once you know someone's past, present, and future, you essentially know their entire life. One of the easiest ways for me to spot a newbie is that their knowledge of their characters is limited to the amount of time their story takes place. They don't know where their characters have been and they definitely don't know where their characters are going. The 3-D Approach insures that you know every aspect of your character – present, past, and future. And while I can't promise you that using 3-D will help you create superb characters every time out, I can promise you that it'll make your characters way better than if you did nothing at all. So let's write some kick-ass characters this weekend. And feel free to share some character-creating secrets of your own in the comments section. :)