THE WINNER HAS BEEN ANNOUNCED BELOW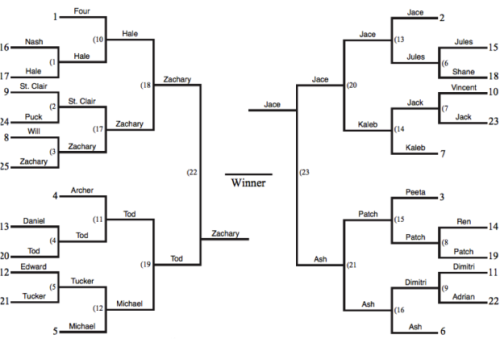 If you're new to the Scriptshadow Tournament, here's what's happened so far. The first round went for 8 weeks, with you, the readers of the site, voting for the best script on each of those weeks. Those 8 winning scripts are now competing in the Quarterfinals. To spruce things up, we've added a wild-card entry to each Quarterfinal week. Wild-Cards were scripts that garnered a lot of votes on their respective week but fell short in the end. The best of those near-misses have been voted into the Quarterfinal round.
As a reminder, here's how this works. Read as much of the three scripts as you can then vote in the comments section which script you think deserves to go into the semifinals. The voting will be done via an electoral process. Which means that different states and countries will account more heavily than other states and countries. I'm kidding by the way. With that said, please explain why you voted for the script that you did so that we know you're a real voter and not a friend of the writer. All of this week's entries have been rewritten since the last time you saw them, so I'll leave it up to the writers if they want to summarize their changes in the comments section.
Voting closes at 10pm Pacific Time Sunday evening.
Good luck to all!
#2 SEED
Title: Raised By Wolves
Writer: Paul Clarke
Genre: Action/Thriller
Logline: Raised in seclusion, a curious but naive teenage secret-agent discovers a sinister side to her work and must escape her handlers and flee into the world she fears to discover the truth.
#7 SEED
Title: Dionaea
Writer: Brian Kazmarck
Genre: Sci-fi/thriller/horror/action
Logline: As their ship is rapidly overrun by a malevolent alien intelligence determined to assimilate the entire crew, a biologist discovers a much darker secret she must expose to the world before they all die.
WILD-CARD
Title: Odysseus and His Boy
Genre: Period
Logline: With only one night to act, two rival soldiers must sneak behind enemy lines to complete a last-ditch suicide mission that will finally put an end to a decade-long conflict.
Writer: Steffan DelPiano
WINNER OF QUARTERFINAL WEEK 1: "Odysseus and His Boy" by Steffan DelPiano. It's Week 1 of the quarterfinals and we already have our first upset, with Wild-Card entry "Odysseus and His Boy" dominating the competition. Congratulations, Steffan. You're in the semi-finals! I'll be alerting this Friday's entrants later today. Also want to congratulate Brian and Paul for a strong showing. Don't get down on yourselves. The short script competition is right around the corner!