THE WINNER HAS BEEN ANNOUNCED BELOW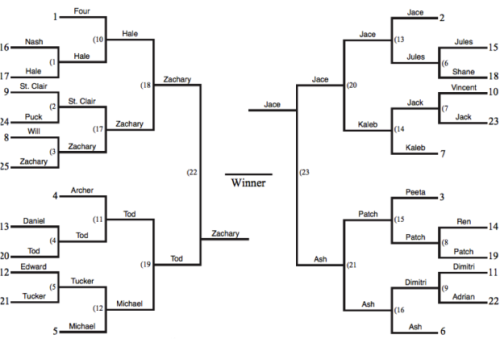 A recap for those unfamiliar with the Scriptshadow Tournament. The first round went for 8 weeks, with you, the readers of the site, voting for the best script each week. Those 8 winning scripts are now competing in the Quarterfinals. To spruce things up, we've added a wild-card entry to each Quarterfinal week. Wild-Cards were scripts that garnered a lot of votes on their respective week but fell short of the win. The best of those near-misses have been voted into the Quarterfinal round.
Last week, we had a major upset, as a wild-card script beat out both of the seeded entries. This just proves that NO ONE IS SAFE!
Here's how voting works. Read as much from each script as you can then vote in the comments section which script you think deserves to go into the semifinals. Please explain why you voted for the script so that we know you're a real voter and not a friend of the writer. It should be an interesting week. Some contestants have had a long time to rewrite. Some have had no time. I'll leave it up to the writers if they want to summarize their changes in the comments.
Voting closes at 10pm Pacific Time Sunday evening.
Good luck everybody!
#4 SEED
Title: Jump
Writer: Andrew Bumstead
Genre: Thriller
Logline: After losing their loved ones in a terrorist accident ten years ago, three strangers get the chance to rewrite history by transferring their minds back in time to that fateful day.
#5 SEED
Title: Log
Writer: Alison Parker
Genre: Horror Comedy
LOGline: A weekend of debauchery turns to terror for a group of friends staying at an old lumberjack camp when a bloodthirsty log springs to life and embarks on a murderous rampage.
WILD CARD
Title: Cratchit
Writer: Katherine Botts
Genre: Mystery & Suspense/Fantasy/Horror
Logline: "A Christmas Carol" reimagined, told from the point of view of Bob Cratchit as he and Ebenezer Scrooge race to track down Jacob Marley's killer — the same killer who now targets Scrooge and Cratchit's son, Tiny Tim.
Okay, so before I announce today's winner, I want to say that I love all three contestants. I'm not mad at anybody. I'm not calling anybody out. But I have received e-mails in regards to the voting this weekend. While I believe it's natural for there to be campaigning in any contest (heck, it's an integral part of one of the biggest movie contests in the world – The Oscars!), I agree with the e-mailers that the campaigning may have been the difference between the winning and losing script this weekend. We've never had a vote with so many people that was this close before, so this is a unique situation. But taking everything into account, I'm calling Quarterfinal Round Week 2, and the winner is: CRATCHIT by Katherine Botts. Congrats, Katherine! You're an official semi-finalist! Excellent showings for both Andrew and Alison. Keep in mind that you guys beat out half-a-thousand entries to make it to the top 8. So keep writing and keep getting better! A reminder that next week THERE WILL BE NO CONTEST due to the holiday. I'll be alerting the three entrants for Quarterfinal Week 3 next Sunday.