THE WINNER HAS BEEN ANNOUNCED BELOW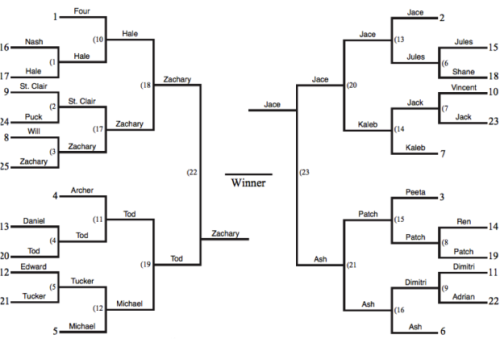 Look who's back, baby! It's the Scriptshadow Tournament!! In the last quarterfinal battle, blood was shed. Wars were waged. Commenters were banished. Some opined that the tournament would never return. It would become a footnote on the bottom of the Scriptshadow page. "Here lies the tournament that always is and never was."
But alas, if there's one thing I've learned about the internet, it's that when there's an argument, throw yourself further into that argument! Stoke the fires with the blood of cheetahs. Bask in the sunshine while laughing with unicorns! And when it's all said and done, sleep in the pouch of the nearest kangaroo–
Okay, now I'm not making sense.
Right, so, we're on WEEK 3 of the Quarterfinals. Already into the Semifinals are Katherine Botts with her detective take on A Christmas Carol, "Cratchit," and the surprise winner of Week 1, "Odysseus and His Boy," by Steffan DelPiano.
Here's how this works. Read as much from each script as you can. Then vote in the comments section which script you think deserves to go into the semifinals. Please explain why you voted for the script so that we know you're a real voter and not a friend of the writer. As always, I'll leave it up to the writers to decide if they want to summarize their changes in the comments.
Voting closes at 10pm Pacific Time Sunday evening, when the winner will be announced.
Good luck everybody!
#3 SEED
Title: The Bait
Writer: Billie Bates
Genre: Romantic Comedy
Logline: An untrusting woman, employed to seduce men prior to marriage for concerned wives-to-be, has her world turned upside down when she falls for her latest target.
#6 SEED
Title: The Attacker
Writer: Jean Roux
Genre: Action
Logline: After scoring the winning goal of a match by cheating, a soccer player has to go searching for his brother in the most dangerous neighborhood of the town that has just lost.
WILD-CARD
Title: Hellfire Alley
Writer: Kenneth Kleemann
Genre: Western/True Story
Logline: The gritty, UNTOLD story behind the real outlaws who inspired the classic film, THE WILD BUNCH.
WINNER OF QUARTERFINAL WEEK 3: Nice work to all the contestants in this week's quarterfinal. Getting this far is not to be taken lightly. But only one can move forward. And that script moving forward is… "The Bait," by Billie Bates, our first seeded script into the semis (#3 seed). Congrats, Billie! I know this process has been difficult for some. Keep in mind, I wanted to do something that's never been done before. And when you do something that's never been done before, the first time is going to be rough. We're learning what works and what doesn't. And the next time we do this will be better for it. That's why I've always treated this contest as a fun experiment (it's FREE remember!). Don't take it too seriously and have fun guys. It's writing. It's supposed to be enjoyable. Next week are the last 3 quarterfinal scripts. Shouldn't take a mathematician to figure out what those are. So if you want to start reading them early, get to it. I'll meet you back here next week!