THE WINNER HAS BEEN ANNOUNCED BELOW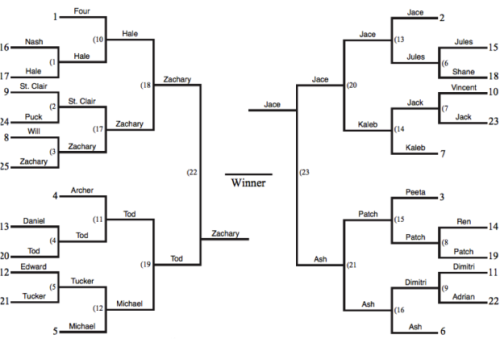 The final week of the Quarterfinals is upon us! After Sunday, we'll have the FINAL FOUR!
The Scriptshadow Tournament is the only screenplay tournament in history where you, the readers, vote on who wins. We started with 500 entries. Based on logline and pitch, 40 of those were chosen by myself to compete in the tournament. Those were whittled down to 12 Quarterfinalists. Of those 12, 3 have been chosen for the Semifinals. This is the last Quarterfinal round, and therefore will reveal the final Semifinalist.
Here's how this works. Read as much from each script as you can. Then vote in the comments section which script you think deserves to go into the Semifinals. Please explain why you voted for the script so that we know you're a real voter and not a friend of the writer or screenplay voting bot. As always, I'll leave it up to the writers to decide if they want to summarize their changes in the comments.
Voting closes at 10pm Pacific Time Sunday evening, when the winner will be announced.
Good luck everybody!
#1 SEED
Title: The Savage
Writer: Chris Ryan Yeazel
Genre: Historical Biography
Logline: The incredible true story of Squanto, the Patuxet Indian who was kidnapped from the Americas as a child and who then spent his life fighting impossible odds to return home, setting in motion a series of events that leads to one of the most significant events in American history.
#8 SEED
Title: Thrills, Kills and Scotch
Writer: Mayhem Jones
Genre: Drama/Psychological Thriller
Logline: A psychopathic magazine editor copes with the hiring of an old rival by killing a fashion model in a twisted revenge plot..
WILD-CARD
Title: Divide and Connor (formerly "Breaking Them Up")
Writer: David Waddell
Genre: Comedy
Logline: Convinced that his constantly feuding parents are headed for a divorce, a 14 year old sets out to find new lovers for his mom and dad in hopes of ending their marriage.
WINNER OF QUARTERFINAL WEEK 4: Wow. Another freaking close race. And I'm not surprised. There's been a lot of love for Chris and David's scripts from the beginning. This is the first week that I've had to use a rule to decide the winner. I know one last reader voted for Divide and Connor last night. But it did come after 10pm pacific time. For that reason, the script moving onto the semifinals is… The Savage by Chris Ryan Yeazel! Congrats to Mayhem and David for making it this far. I know David, in particular, is taking this hard. Don't sweat it, brother. You're a really good writer. Make sure to enter the Shorts Contest! Maybe we'll end up turning your short into a movie. Moving on, next Friday is Rogue One review and the Friday following that is Christmas. Then the Friday following THAT is New Years. So the first semifinal post will be January 6th. Seeya then!