THE WINNER OF WEEK 1 HAS BEEN LISTED BELOW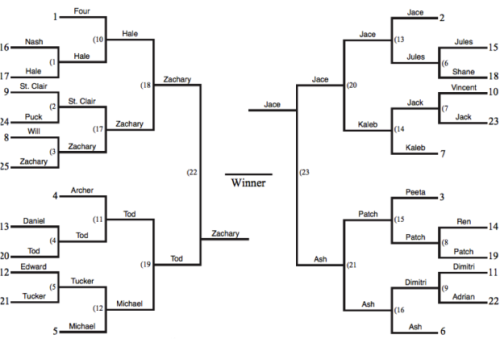 The Scriptshadow Tournament pits 40 amateur screenplays against each other that you, the readers of the site, will vote on. Ultimately, YOU will decide the winner. These are the first five entries. Read as much as you can from each of the entries and vote for the week's winner in the Comments Section. Although it's not required, your vote will carry more weight if you explain why you chose the script (doesn't have to be elaborate, just has to make sense). I say "carry more weight" because a vote for a script without any explanation from an unknown voter may be seen as fake and not count towards the tally. I will announce the winner of this week here, in this post, on Sunday, 10pm Pacific time. That script will then go into the quarterfinals. Let the tournament begin and good luck to everyone!
Title: PREHISTORIC
Writer: Nicholas Malik
Genre: Action/Thriller
Logline: After a viral outbreak causes animals to de-evolve into their monstrous, prehistoric forms, a troubled CDC investigator races to the Manhattan epicenter to stop the virus and save his trapped son.
Title: BURNING BRIGADE
Writer: David Kushner
Genre: DRAMA/HISTORICAL/PERIOD
Logline: Based on true events, BURNING BRIGADE tells the story of the captured Jews forced by the Nazis to burn Holocaust victims, and their daring attempt to escape their captors.
Title: Cratchit
Writer: Katerine Botts
Genre: Mystery & Suspense, Fantasy
Logline: "A Christmas Carol" reimagined, told from the point of view of Bob Cratchit as he and Ebenezer Scrooge race to track down Jacob Marley's killer — the same killer who now targets Scrooge and Cratchit's son, Tiny Tim.
Title: The Honorable Doctor
Writer: Ben James Johnson
Genre: Sci-Fi/Thriller
Logline: In a dystopian future ravaged by a never-ending war, an insane military surgeon pits his enslaved cyborg experiments against a general's men in a battle to the death.
Title: The Bait
Writer: Billie Bates
Genre: Romantic Comedy
Logline: An untrusting woman attempts to seduce men prior to marriage for concerned wives-to-be, but when she falls for her latest bait while he remains rocksteady in his denial of their mutual attraction, her world is turned upside down.
WINNER OF WEEK 1: "BAIT" by Billie Bates. Congratulations, Billie. Under the Scriptshadow Tournament rules, you may start incorporating changes into your script for its Quarterfinal Showdown. Good luck!