THE WINNER OF WEEK 2 HAS BEEN LISTED BELOW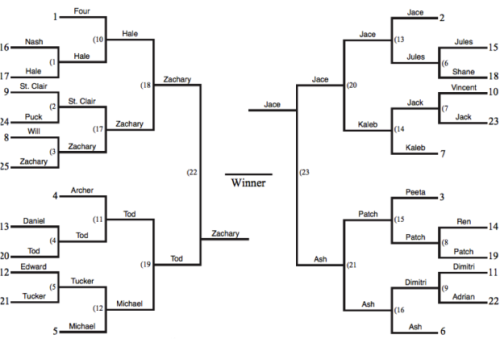 The Scriptshadow Tournament pits 40 amateur screenplays against each other that you, the readers of the site, will vote on. Ultimately, YOU will decide the winner. Today we have the second five entries. You can see who won Week One here. Read as much as you can from each of the entries and vote for the week's winner in the Comments Section. Although it's not required, your vote will carry more weight if you explain why you chose the script (doesn't have to be elaborate, just has to make sense). I say "carry more weight" because a vote for a script without any explanation from an unknown voter may be seen as fake and not count towards the tally. I will announce the winner of this week here, in this post, on Sunday, 10pm Pacific time. That script will then go into the quarterfinals. Good luck to this week's contestants!
Title: A Darker Place
Writers: Andrew Rhodes and Robert Irvin
Genre: Contained Thriller/Sci-fi
Logline: In the home of her latest case, an obsessed social worker fights to save a girl being tortured in the basement of that very house … 24 years in the future.
Title: The Inheritance
Writer: Matt Lopez
Genre: Comedy
Logline: A wealthy man leaves a huge inheritance for his warring and estranged family. But to get a share, they must all agree how they split the money before they attend the funeral.
Title: Shifting
Writer: Jon Ridge
Genre: Horror/Drama
Logline: A teenage girl's efforts to fit in at school by keeping her lycanthropy secret are tested when a boy from her former pack vows to bring her back and help defeat their rivals.
Title: Dionaea
Writer: Brian Kazmarck
Genre: Sci-fi/thriller/horror/action
Logline: As their ship is rapidly overrun by a malevolent alien intelligence determined to assimilate the entire crew, a biologist discovers a much darker secret she must expose to the world before they all die.
Title: Courageous Man
Writer: Philip Whitcroft
Genre: Family Adventure
Logline: A cowardly boy and his nerd friends have to step up when they get trapped in a comic book world and they can't find the heroes.
WINNER OF WEEK 2: "DIONAEA" by Brian Kazmarck. Congratulations to Brian for winning a tight race and advancing to the QUARTERFINALS! And congrats to Andrew and Robert and Matt for making him earn it. Despite one commenter's observation that my contest is a "shit show" (it's too bad – I liked that commenter), I'll continue to bring attention to as many writers as possible with the tournament. I'm figuring out a way to keep "almost winners" in the hunt. Stay tuned. Let's meet back here next week!