THE WINNER OF WEEK 3 HAS BEEN LISTED BELOW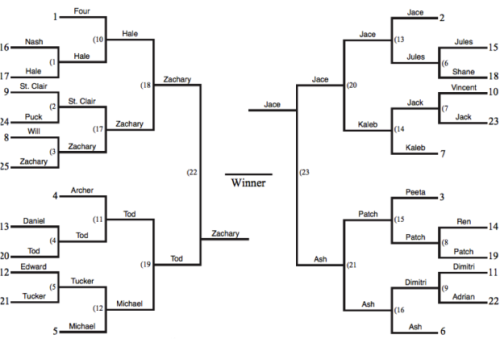 The Scriptshadow Tournament pits 40 amateur screenplays against each other that you, the readers of the site, will vote on. Ultimately, YOU will decide the winner. Today we have the third group of entries. You can see who won Week One here and Week Two here. Read as much as you can from each of the entries and vote for the week's winner in the comments section. Although it's not required, your vote will carry more weight if you explain why you chose the script (doesn't have to be elaborate, just has to make sense). I say "carry more weight" because a vote for a script without any explanation from an unknown voter may be seen as fake and not count towards the tally. I will announce the winner of this week here, in this post, on Sunday, 10pm Pacific time. That script will then go into the quarterfinals. Good luck to this week's contestants!
Title: Widow's Walk
Writer: Brett Martin
Genre: Contained Thriller
Logline: A psychic breaks into a haunted house to confront a malevolent force from her past that she believes has abducted her daughter.
Title: The Savage
Writer: Chris Ryan Yeazel
Genre: Historical Biography
Logline: The incredible true story of Squanto, the Patuxet Indian who was kidnapped from the Americas as a child and who then spent his life fighting impossible odds to return home, setting in motion a series of events that leads to one of the most significant events in American history.
Title: The Darlings
Writer: Matt Edward
Genre: Horror / Slasher
Logline: A group of teens venture to a secluded cabin for a grad night celebration, but the night of debauchery turns into a fight for survival when they fall prey to an ex-classmate turned convicted murderer who recently escaped from the authorities.
Title: Deadsight
Writer: Kosta K
Genre: Supernatural Thriller
Logline: A man who can see the spirits of the dead traces a series of gruesome murders back to the suicide cult he was a part of when he was a child.
Title: Three Miles to Waffle House
Writer: Jeremiah Lewis
Genre: Comedy
Logline: Two friends attempt to get a post-concert meal at Waffle House, but become embroiled in a series of misadventures instead.
WINNER OF WEEK 3: "THE SAVAGE" by Chris Ryan Yeazel. Great job, Chris. And WOW, this week's race was tiiiiiight. So this is probably a good time to say that if you don't win your round, YOU'VE STILL GOT A SHOT! I'll be including FOUR WILD CARDS into the quarterfinals. At the end of the first round, we'll have a Wild Card Week, where ten highly-voted runner-ups compete for four wild-card spots. The top 4 vote-getters from that week will move into the quarterfinals along with the 8 winners.
I understand that this makes things tricky regarding rewrites. If you're not sure your script will make the quarterfinals, why rewrite it? Well, if you finished second place in your week, you'll very likely be in the Wild Card Round, and if you finished a close third, there's a slight chance you'll be in it. So if that's you, I'd rewrite the script, taking into consideration all the notes you received. Good luck and I'll see you all back here next week for Week 4!!!