THE WINNER OF WEEK 4 HAS BEEN LISTED BELOW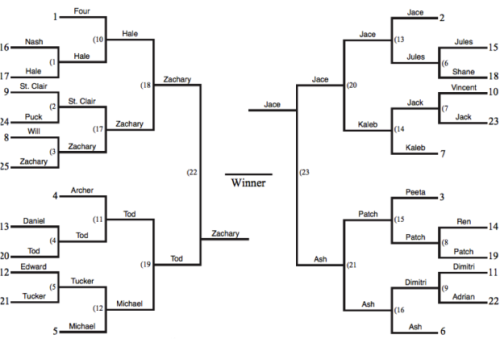 The Scriptshadow Tournament pits 40 amateur screenplays against each other that you, the readers of the site, will vote on. Ultimately, YOU will decide the winner. Today we have the fourth group of entries. You can see who won Week One here, who won Week Two here and who won last week here. Read as much as you can from each of the entries and vote for the week's winner in the comments section. Although it's not required, your vote will carry more weight if you explain why you chose the script (doesn't have to be elaborate, just has to make sense). I say "carry more weight" because a vote for a script without any explanation from an unknown voter may be seen as fake and not count towards the tally. I will announce the winner of this week here, in this post, on Sunday, 10pm Pacific time. That script will then go into the quarterfinals. Good luck to this week's contestants!
Title: Years of a Clown
Writer: Michael Mchale-Boyle
Genre: Fantasy/Adventure/Drama
Logline: A precocious young boy, struggling through his parents' divorce, finds comfort in an unlikely friendship with an elderly Clown who recounts the story of his amazing life.
Title: Cartel
Writer: Ben Stoker
Genre: Action
Logline: A vengeful DEA agent plots an unsanctioned mission to kidnap Mexico's most-wanted drug lord, but soon finds himself marooned in cartel land with his hostage and an army of hitmen in pursuit.
Title: 21 Days in the Amazon
Writer: Ben Koch
Genre: Found Footage Horror
Logline: When the cast and crew of the reality show Bared and Scared film an episode in the Amazon, surviving the deadly jungle proves less frightening than surviving an unhinged contestant.
Title: Raised By Wolves
Writer: Paul Clarke
Genre: Action/Thriller
Logline: After being attacked and accused of murder, a spoiled naïve teenage girl discovers her sheltered little world is a lie and must escape it to discover the truth about her work and her father.
Title: Hellfire Alley
Writer: Kenneth Kleemann
Genre: Western/True Story
Logline: The story of the real Wild Bunch that inspired the classic film.
WINNER OF WEEK 4: "RAISED BY WOLVES" by Paul Clarke. Congrats, Paul! I knew this week was going to be close. You had two commenting favorites in Kenneth and Paul vying for votes. When you throw in a compelling concept like Years of a Clown, I had a feeling it was going to come down to the last day. Then 21 Days came out of nowhere and made things even more interesting. Can't promise anything but those who were close, cross your fingers. You may get a wild-card slot.