THE WINNER OF WEEK 5 HAS BEEN LISTED BELOW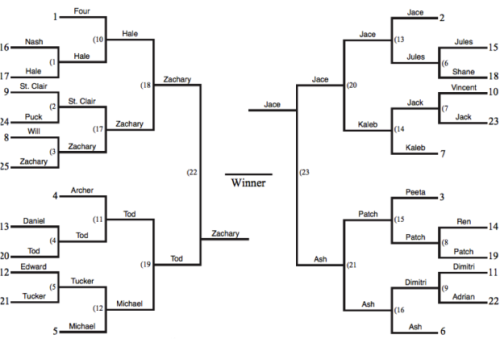 The Scriptshadow Tournament pits 40 amateur screenplays against each other that you, the readers of the site, will vote on. Ultimately, YOU will decide the winner. Today we have the fifth group of entries. You can see who won Week One here, who won Week Two here, who won Week Three here, and who won last week here. Read as much as you can from each of the entries and vote for the week's winner in the comments section. Although it's not required, your vote will carry more weight if you explain why you chose the script (doesn't have to be elaborate, just has to make sense). I say "carry more weight" because a vote for a script without any explanation from an unknown voter may be seen as fake and not count towards the tally. I will announce the winner of this week here, in this post, on Sunday, 10pm Pacific time. That script will then go into the quarterfinals. Good luck. There are some extremely tough competitors this week.
Title: Log
Writer: Alison Parker
Genre: Horror Comedy
LOGline: A weekend of debauchery turns to terror for a group of friends staying at an old lumberjack camp when a bloodthirsty log springs to life and embarks on a murderous rampage.
Title: Something True for Those Skyscraper Hearts
Writer: J Aaron Aragon
Genre: Fantasy
Logline: When a talented musician finds himself on the wrong side of life he must discover if anything is stronger than death – and if anything is more important than family.
Title: The High Hard One
Writer: David Martin
Genre: sports drama
Logline: An angry young bowling prodigy from the trailer parks of Seattle competes in a tournament for a chance at the pro tour, and faces off against his estranged father – a famous ex-pro attempting to mount a comeback.
Title: Untitled Breaking Up Parents Marriage Comedy
Writer: Anonymous
Genre: Comedy
Logline: Convinced that his constantly feuding parents are headed for a divorce, a 14 year old sets out to find new lovers for his mom and dad in hopes of ending their marriage.
Title: Return to Flight
Writer: Chad Rouch
Genre: Drama
Logline: Richard Covey, the pilot for the next mission after the Challenger disaster, must battle his growing paranoia about the safety of the shuttle program if America is to return to space. Based on a true story.
WINNER OF WEEK 5: "LOG" by Alison Parker. Congrats, Alison! May you give future generations many many log nightmares. And nice job holding off the untitled marriage comedy. I have a feeling that had that script had a title, it may have been an even tighter race. But alas, we'll never know! See ya back here next week where I expect the competition to be just as tight!