THE WINNER OF WEEK 6 HAS BEEN LISTED BELOW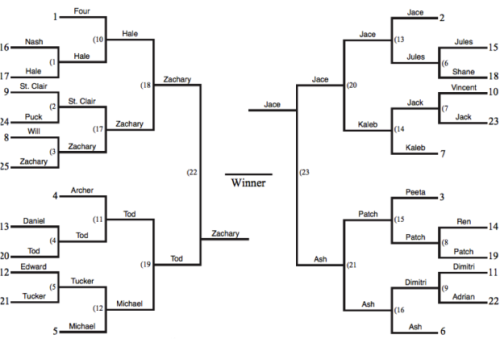 The Scriptshadow Tournament pits 40 amateur screenplays against each other that you, the readers of the site, will vote on. Ultimately, YOU will decide the winner. Today we have the sixth group of entries. You can see who won Week One here, who won Week Two here, who won Week Three here, who won Week Four here, and finally, who won last week. Read as much as you can from each of the entries and vote for the week's winner in the comments section. Although it's not required, your vote will carry more weight if you explain why you chose the script (doesn't have to be elaborate, just has to make sense). I say "carry more weight" because a vote for a script without any explanation from an unknown voter may be seen as fake and not count towards the tally. I will announce the winner of this week here, in this post, on Sunday, 10pm Pacific time. That script will then go into the quarterfinals. Good luck.
Title: Corpse Flower
Writer: Michael J. Kospiah
Genre: Horror
Logline: After a brutal home invasion, a psychotic mother must go head-to-head with a sadistic plastic surgeon to save her abducted little girl — a little girl who isn't as innocent as she seems.
Title: BLOOD RED, SILVER SCREEN
Writer: Andrew Sieger
Genre: Horror
Logline: When independent filmmaker, William Roman, gets the opportunity of a lifetime to direct a movie for a big time Hollywood studio, he jeopardizes his career and maybe his life when he casts a real Vampire in his Vampire movie.
Title: Gods of Rock
Writer: Sean Woolford
Genre: Dramatic Comedy
Logline: After faking their death to get out of a bad management deal, a KISS-type rock band resurfaces 19 years later as their own tribute band.
Title: Jump
Writer: Andrew Bumstead
Genre: Thriller
Logline: After losing their loved ones in a terrorist accident ten years ago, three strangers get the chance to rewrite history by transferring their minds back in time to that fateful day.
WINNER OF WEEK 6: "JUMP" by Andrew Bumstead. Great job, Andrew! And congrats to Alison, as well, who got herself a producer connection off of Log. And a special thanks to Scott's tireless work on tallying up the votes. Now we even get QUOTE-VOTES, which was really fun to see (not that I expect you to keep that up, Scott. But it was definitely fun)! Have had a great time doing this guys. Can't wait to see what emerges next week!