THE WINNER OF THE FINAL WEEK OF ROUND 1 HAS BEEN LISTED BELOW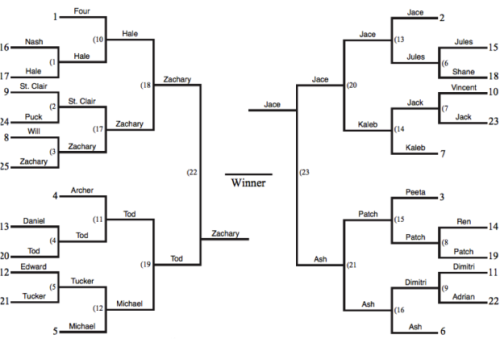 It's the FIIIINNNAL WEEK for the first round of the Scriptshadow Tournament!. The Scriptshadow Tournament pits 40 amateur screenplays against each other that you, the readers of the site, will vote on. Ultimately YOU will decide the winner. Today we have the last group of entries. Here are the previous weeks where you can find the 7 scripts that have already advanced…
Week One
Week Two
Week Three
Week Four
Week Five
Week Six
Week Seven
As you make your way through the final batch of entries, make sure to vote for the week's winner in the comments section. Although it's not required, your vote will carry more weight if you explain why you chose the script (doesn't have to be elaborate, just has to be convincing). I say "carry more weight" because a vote for a script without any explanation from an unknown voter may be seen as fake and not count towards the tally. I will announce the winner of this week here, in this post, on Sunday, 10pm Pacific time. That script will then go into the quarterfinals.
WILD CARD ROUND – So next week, we'll be highlighting eight ALMOST MADE IT screenplays. Four of those will go through to the quarterfinals. I haven't fully decided on how I'm going to choose those yet but I'm leaning towards Scott's suggestion of highest percentage of votes. We'll see though. For everyone who finished SECOND or A CLOSE THIRD in their respective weeks, feel free to send me an updated draft to carsonreeves3@gmail.com by this coming Wednesday. Yes, I realize that those in later weeks won't have as much time to rewrite as the early weekers, but those are the breaks when you're a wild card.
Onto today's scripts!
Title: The Attacker
Genre: Action
Logline: After scoring the winning goal of a match by cheating, a soccer player has to go searching for his brother in the most dangerous neighborhood of the town that has just lost.
Writer: Jean Roux
Title: Brick House
Genre: Action
Logline: An ex-hitman must protect a child when his old gangster boss seeks retribution for a botched assignment.
Writer: Jason Prugar
Title: The Cheater
Genre: Comedy
Logline: A PI who specializes in helping AND exposing cheating relationships must navigate a business venture while juggling two lovers.
Writer: Evangelos Banks
Title: Felix
Genre: Horror, Coming-of-age
Logline: After his great-grandmother's death, ten-year-old Felix is troubled by a potentially haunted family heirloom and his father's increasingly strange behavior.
Writer: Casey Giltner
Title: Antiheroes
Genre: Action, Sci-Fi, Superhero
Logline: After a botched heist bestows a group of friends with superpowers, they decide to use them for their own personal gain, putting them in the crosshairs of both a ruthless villain and the organization of superheroes sworn to protect the city.
Writer: Patrick G. Emralino
WINNER OF WEEK 8: "The Attacker" by Jean Roux. Awesome job, Jean. The best concept doesn't always win the week, but today it did. I'm excited to see how this one does moving forward. And let that be a reminder to all you second and third place finishers – send me new drafts by this Wednesday. The wild card round will consist of 8 scripts, 4 of which will be chosen to move on. Then we get to the nitty-gritty, the QUARTER-FINALS BABY! Can't wait!