THE WINNER HAS BEEN ANNOUNCED BELOW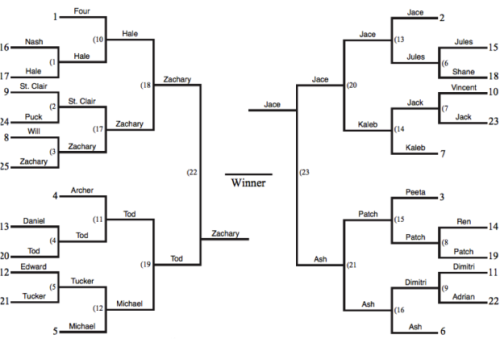 SEMI-FINALS BABY!!!
The Final Four. March Madness. The Fearsome Foursome.
Down from over 500 entries, these four scripts are all that remain. Today's scripts had to scratch and claw their way to this semi-final, each winning by less than 2 votes. I can only imagine what will happen this weekend.
A recap for those of you unfamiliar with the tournament. The first round went for 8 weeks, with you, the readers, voting for the best script each week. Those 8 winning scripts, plus 4 wild-cards, competed in the Quarterfinals. The 4 winning scripts from each quarterfinal are now competing in the semis, which is this week and next week.
Here's how voting works. Read as much from each script as you can then vote in the comments section which script you think deserves to advance to the FINALS. Please explain why you voted for the script. It lets us know that you read the screenplay.
Today's writers have new drafts. I'll let them discuss the changes in the comments. Voting closes at 10pm Pacific Time Sunday evening.
#1 SEED
Title: The Savage
Writer: Chris Ryan Yeazel
Genre: Historical Biography
Logline: The incredible true story of Squanto, the Patuxet Indian who was kidnapped from the Americas as a child and who then spent his life fighting impossible odds to return home, setting in motion a series of events that leads to one of the most significant events in American history.
WILD-CARD
Title: Cratchit
Writer: Katherine Botts
Genre: Mystery & Suspense/Fantasy/Horror
Logline: "A Christmas Carol" reimagined, told from the point of view of Bob Cratchit as he and Ebenezer Scrooge race to track down Jacob Marley's killer — the same killer who now targets Scrooge as well as Cratchit's son, Tiny Tim.
WINNER OF SEMIFINAL WEEEK 1: The Savage by Chris Ryan Yeazel! Congrats to Katherine, whose script was probably the hardest working in the tournament. Every time you thought it was out, she'd kill it with a rewrite and it'd be right back in contention. And, of course, congrats to Chris, whose #1 seeded script is like the Duke of March Madness. A powerhouse every time up. We'll see who he's going up against in the finals next week. Seeya then!!!