Shorts Week Continues: Welcome to Day 4 of Shorts Week, where I cover 5 short scripts from you guys, the readers. Shorts Week was a newsletter-only opportunity. To sign up and make sure you don't miss out on future Scriptshadow opportunities, e-mail me at the contact page and opt in for the newsletter (if you're not signed up already). This week's newsletter went out LAST NIGHT. Check your spam folder if you didn't receive it. If nothing's there, e-mail me with subject line "NO NEWSLETTER." You may need to send a second e-mail address.
Genre: Drama/Thriller
Premise: A sinister man on a bus receives a powerful valentine from a little girl.
About: Today's short has already been turned into a short film.  It was submitted by longtime commenter, Jaco.
Writer: Rob Burke
Details: 2 pages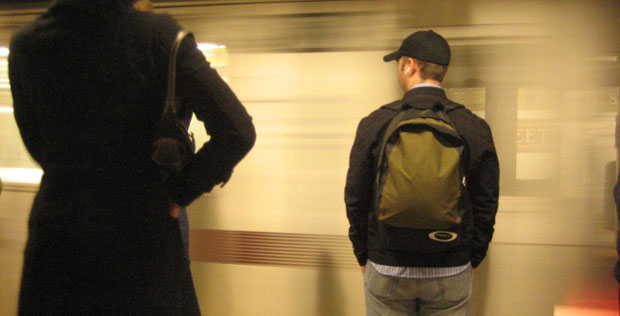 So far we've read a strong animated short, a strong CGI-heavy short, and a live-action script which I used as an example of what not to do in the shorts medium. What we haven't read yet is a short that we can actually COMPARE to the finished project. Well that's going to change today. We're not only going to read a short, but we're going to see what it looks like on the big screen (or your small screen).
I actually saw this short before I read it. Rob tweeted it to me a few months ago. I thought it was good. Nothing earth-shattering. But something you remember. And in a world filled with mostly forgettable stuff, that's saying something.
It was interesting, then, going back and reading the script, because there were some key differences between the two. Those differences are worth discussing as they had more of an effect on the final product than I think Rob knew.
"Love" begins with a man, 38, wearing a backpack, waiting for the bus. This isn't a friendly fellow. He isn't the kind of guy you're going to invite to your son's Bar mitzvah. He's a mean looking dude. Nervous, too. He's clearly up to something.
He wasn't always this way though, as a quick flashback shows. He once had a wife, a baby boy. He was once happy.
The bus arrives. It's full. This seems to bring satisfaction to the man. Once on the bus, he sits down, takes a look around. Lots of people, going about their daily lives. Another flashback. More time with his family. A little girl across from him breaks him out of his trance with three simple words: "Happy Valentine's Day."
She offers the man a valentine, a little red heart with the word "love" on it. The man takes it reluctantly, bringing a smile to the girl's lips. But he's still got a job to do. He stuffs his backpack under the seat and slips out the door at the next stop.
Another flashback – the aftermath of some sort of explosion. His family has been killed. Devastation. Fear. Anger. As he watches the bus drive away, he pulls out a phone – HIS DETONATOR. The valentine slips out of his pocket, floats in front of him. One more look at the phone. Should he press it? Just as he's about to, he changes his mind, throwing the phone away instead.
Now let's take a look at how the movie turned out…
As you can see, there were some key differences. First, the bus was changed to a subway. I'm guessing this was done because it was easier to shoot, but it ended up being a better decision. There's something scarier about this happening underground in a subway setting.
The flashbacks have also been eliminated. I'm guessing this was also a budgetary decision, but this really hurt the short in my opinion. Those flashbacks are the only way into our main character's head. And in this case, they told us a ton. They told us he used to be happy, that somebody was responsible for the death of his family, and therefore this is probably payback. It's not that we WANT this guy to succeed, but we at least understand why he's doing what he's doing.
The next change was a creative one, and I think it really hurt the film. In the script, the girl gives a Valentine only to him. In the film, he looks around to see that she's given a Valentine to everyone. I don't know what this choice was supposed to achieve but the way I saw it was that he wasn't special. Her desire to give him a Valentine basically meant nothing since everyone else got one as well. In the script, this moment was much more special. It meant something because she targeted only him. Combined with the flashbacks to his family, it shows a man who's able to feel again, which is likely why he didn't pull the trigger in the end.
The final big change is the ending. In the script, he doesn't pull the trigger. In the movie, it's open. We see him hovering over the detonator and cut to black before a decision is made. To be honest, I don't have an opinion either way on this. I don't know if that's good or bad but as long as he didn't blow that cute little girl to bits, I'm okay with it.
So how does "Love" hold up overall? Well, here's what I took away from it. First, it's possible to tell a big story in a very short period of time. This script was just 2 pages long. TWO PAGES! And in that time, a LOT happened. We had a guy waiting for the bus. We saw moments from that character's past. We had him get on a bus. We had him making a connection with a little girl. We had him leaving a bomb on the bus. We had him getting off the bus and trying to decide whether to detonate the bomb. That's over 4 locations in 2 minutes!
Compare that to a lot of these shorts I've been reading that just seem to go on forever in the exact same location with very little (to no) progress in the plot. "Love" teaches you how much you can do in a very short amount of time.
Having said that, there's something missing for me. I'd probably still give it a passing grade because Rob fit such a big story into such a small package, but ultimately the stuff that happened on the bus was too muddled. In the script, I'm not entirely sure what happened to the protagonist's family. I think that's important to know. And in the movie, I'm not sure why you'd give everybody in the bus a Valentine instead of just our protag. While watching that moment, I thought for sure there was some bigger meaning to what was happening. But then I realized it was just…he's one of many people who got a Valentine. Because I couldn't figure out what the intention was of that decision (it looks like it's supposed to make him happy seeing all these valentines, yet logic would tell us that the opposite should happen), I had to dock it a few points.
So a solid effort, but I feel that Love had the potential to be something much bigger.
Script link: Love
[ ] what the hell did I just read?
[ ] wasn't for me
[x] worth the read
[ ] impressive
[ ] genius
What I learned: Just showing a character's reaction to things isn't enough, especially in a short, where we don't have any time to get to know the character. We need a way into their head. We saw this Tuesday with "Tigers." Emma had Hobbes to talk to, which allowed us into her thoughts. And we actually saw it here in the script, with the flashbacks. However, once those flashbacks were erased for the final film, you saw how difficult it was to know anything about the protag or what he was thinking.