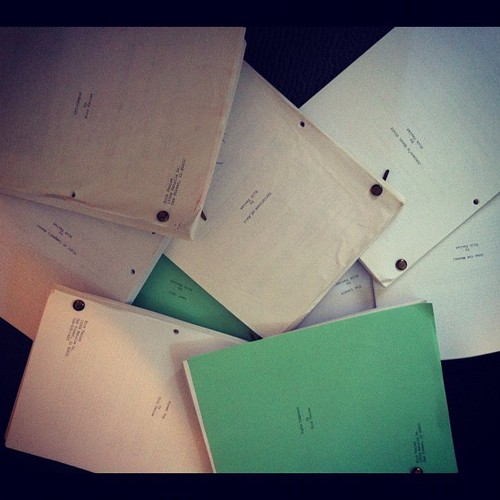 Not even Jason Bourne can save the worst summer in box office history. The newest Bourne will bring in 10+ million less than its previous Matt Damon installment. Personally, I think they dropped the ball with the title. All those other Bourne movies had cool titles. Like, "The Bourne Sociology" and "The Bourne Platitude." This one is just, "Jason Bourne." When you can't even make your title exciting, why would you expect us to think your movie was exciting? And don't even get me started on them ditching Tony Gilroy in favor of THEIR DAMN EDITOR writing the script. Hmm, ya THINK that might have something to do with the bad reviews, guys. Let me just throw a question at the editor here. Would you allow a screenwriter to edit this film? Exactly. But surrrrrrre. Anybody can write a script. Why not give the job to someone who's never done it before? Hilarious. All of this continues to be AWESOME news for screenwriters, though. The industry is learning the hard way that we want something fresh. And as we all know, the hard way (less money) is the only way the industry learns. And who knows. Maybe one of today's scripts will be the original spark they're looking for!
Title: Fool
Genre: Comedy
Logline: Show business today may be a snake pit of jealousy and backstabbing, but for an aspiring Court Jester in the 1636, it isn't even THAT nice.
Why you should read: I'm a UK-based writer and I've always loved film and TV about the inner workings of show-business, and the chaos, desperation and joy involved when art meets money. 'I'm Alan Partridge,' 'The Larry Sanders Show,' 'Bullets Over Broadway,' etc – it's been done brilliantly many times but I think with FOOL I've found a new angle on it. I love sharp, witty dialogue as much as I love broad slap-stick, and in FOOL I've tried to them throw both in together. So if you want a fresh take on a much-loved genre, have a read of FOOL. I hope you enjoy it but if you don't, you can have fun tearing it to bits – another great showbiz tradition.
Title: Cargo Unknown
Genre: Sci-fi
Logline: The misfit crew of an interstellar freighter are hired to transport a mysterious scientist and his unknown cargo. During the long trip, they discover the frightening contents of his containers and know they must stop his mad plan before arriving at their destination, Earth.
Why you should read: With this script, I hoped to create a sci-fi action story that continuously ramped up the tension on the crew's desperate situation. The small crew quickly loses control of their ship. They are nearly weaponless, vastly outnumbered and have only the duration of their trip to stop the villain. The threat isn't the typical killing machine/monster and I absolutely loved the two badass women who are the ship's engineers. I was lucky enough to have this script make it into the SS250, but it didn't crack the top 25. I would certainly appreciate any suggestions and comments from Carson and the Scriptshadow community.
Title: Taking Stock
Genre: Drama
Logline: When his estranged brother gets in over his head with a Las Vegas Mob boss, A timid, low-level financial analyst must decide whether to risk his job and his freedom by using insider trading information to pay off his brother's debt.
Why you should read: This is a solid story with interesting characters that are polar opposites. Matthew is a PTSD riddled, gambling addicted Iraqi war veteran engaging in reckless behavior in the hopes that nature will eventually takes its toll. Damian, his younger brother, is a timid, anxiety ridden investment lackey whose idea of risk is not balancing his checkbook. Although different at that cores, they share a tragic past that continues to bind them together. A bond that ultimately compels Damian to risk everything he values to prevent a cruel Mobster from taking all that Matthew has left – his life.
The story also achieves a personal goal for me in that I wanted to write a story that compares the worlds of organized crime and investment banking. This script demonstrates that they are indeed similar beasts.
Title: Zoneheads
Genre: Comedy
Logline: An errand boy for a contract killer stumbles into a ruthless battle with his boss and an unscrupulous landlord to save his weirdo friends and their beloved laser tag arena.
Why you should read: The only way I could live further from LA is by moving to Tranquility Base (I'm in Singapore). I submitted this for the Scriptshadow 250 but didn't make the initial cut. Don't make the same mistake twice! I've read almost all of the Amateur Friday offerings and (bias alert) this script is better than nearly all of them (I would have said "all of them" but trying to be modest about it). If I had to compare it to anything (that's advisable, right?) I'd say it's a Clerks meets Pineapple Express deal. I've read Scriptshadow Secrets several times and done my level best to implement every bit of advice from it. This is your chance to say "See everybody, my book can turn you into a real screenwriter!"
Title: The Picks, the Pit and the Plan
Genre: Dark Comedy Thriller
Logline: A pot dealer and a primatologist clash with the townies after they hijack a brain damaged clerk's plan to brutally hunt down everyone he sold a lottery ticket to in a desperate race to claim the jackpot.
Why you should read: I got on your newsletter after you and I talked about a YT video I made called Muppets Saw a few years ago. I've had over 60 million views (many of them stolen) of my silly videos on the web. Instead of videos, I now spend my free time writing screenplays. — I've had a few reads of this script from people in the biz and the biggest critique was that it wasn't commercial enough. I think you should read it for very selfish reasons … because I want to write for a living. Your review could only make me closer to that goal.