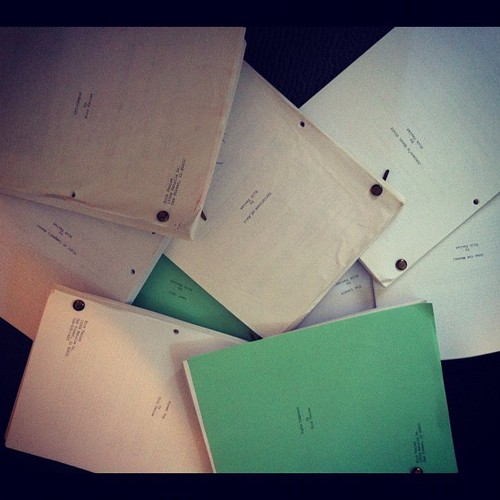 Brexit. Kanye West's Famous video. Independence Day 2 tanking. So much madness happening at the moment. Let's add to that madness. I mean, where else do you get to read scripts titled "Lazer Sloth" and "Mermaniac?" Only at Scriptshadow!
Read and vote for your favorite in the COMMENTS!
Title: 3 Sweet Things
Genre: Contained Thriller
Logline: Three girls conducting door to door surveys are lured into a twisted and deadly all-night game of cat-and-mouse by a psychopathic home owner.
Why You Should Read: Because this is the dark and twisty home invasion thriller that KNOCK KNOCK should have been. Fuck you for that weak shit, Eli Roth. My girls don't have to act like overheated whores to get what they want from a man.
Title: Lazer Sloth
Genre: Kids / Adventure
Logline: A trio of misfit kids must work together to protect a supernatural baby sloth from a deranged ex-child star and return it to the Oregon Zoo.
Why You Should Read: This is my first script. Awhile back, Carson talked about how we should write what we know. I spent the majority of my childhood outdoors — building forts, climbing trees and catching frogs. I wanted to write a fun live action kids script that captures what it was like growing up in a small town. Also, it's got a sloth that shoots FRICKIN' LASER BEAMS from its eyes!
Title: ALIEN DEATH DRIVERS
Genre: Action/Adventure
Logline: People around the city are being abducted by what appear to be alien beings driving super fast cars. When an illegal street racer discovers a connection to his beloved, missing sister, he hits the throttle and abducts the beautiful niece of the Death Driver's leader, leading to a high-speed showdown.
Why You Should Read: I am an Australian screenwriter loose on the streets. I am currently working on a couple of projects with Eddie Brown Jr of MysterE Entertainment.
Why should you read ALIEN DEATH DRIVERS? – These aliens are not out to take over the world. They're just gangsters out to make a quick buck selling drugs and enslaving humans for shipment off world. Human slaves fetch a good price. The love story between the lead character and the beautiful alien niece of the Alien Death Drivers' leader is out of this world.
Title: SUCCESS-N-LIFE
Genre: Drama
Logline: Based on the true story of Robert Tilton, the king of television evangelism tries to maintain his sanity as his empire is shaken up by a widow looking for revenge, the cult-like leader of a small church, and a young Diane Sawyer.
Why You Should Read: My name is Michael Weldon and I am 26 years old. I live in the Dallas/Fort Worth metroplex and have been an aspiring screenwriter my entire life. I've written over a dozen short films and feature length screenplays on spec, this being the first one I thought was mature enough to send out into the world. The screenplay is currently submitted to The Academy Nicholl Fellowship, The Austin Film Festival Screenplay Competition, and the Final Draft Big Break Competition. If selected to be reviewed, I'd love to hear your thoughts. Thanks for always giving us readers great content.
Title: Mermaniac
Genre: Creature Feature
Logline: A screw-up cop needs the help of a conspiracy nut to convince a small resort town preparing for a bikini contest that there is a killer, alcoholic merman in the lake.
Why You Should Read: I realize that a tale about an alcoholic merman won't reel everyone in, but as I cast the net wide enough I'm finding many who love sinking their teeth into this one. I've had some nibbles on previous scripts, but never any bites. This time we're just going to shoot it ourselves, whether we raise money or not. What I'm really fishing for is any feedback I can get that will help improve this project.