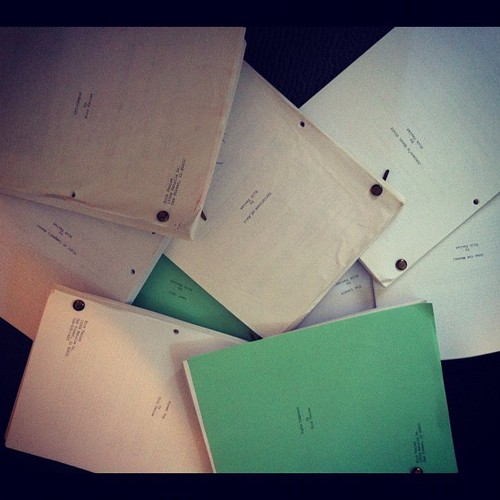 It turns out that when I posted yesterday's Amateur Friday review, it went on a post delay or something, so it didn't show up for most of you until the evening. I apologize about that. If you have some time, though, check it out. I go over a lot of beginner mistakes that are huge tells to readers and identify you as "not ready for prime time." I want all of you to be ready for prime time.
On another note, Lights Out is doing well! Remember that Lights Out is a Grey Matter film, the same company I teamed up with for my contest. So if you want to see winning script, Disorder, hit the big screen, go and see Lights Out! The better it does, the better chance we've got!
Onto Showdown Saturday! This is a HEAVY HITTER week, man. There are previous favorites, previous winners, and hot genres all in a single bunching. Read the scripts and vote for your favorite in the comments section! Winner gets a snazzy Friday review!!!
(3 Sweet Things has enough fans that I've brought it back for another shot!)
Title: 3 Sweet Things (updated draft)
Genre: Contained Thriller
Logline: Three girls conducting door to door surveys are lured into a twisted and deadly all-night game of cat-and-mouse by a psychopathic home owner.
Why You Should Read: Because this is the dark and twisty home invasion thriller that KNOCK KNOCK should have been. Fuck you for that weak shit, Eli Roth. My girls don't have to act like overheated whores to get what they want from a man.
Title: Starring John Wayne
Genre: Biopic
Logline: The true story of how John Wayne, guilt-ridden over avoiding military service in World War II, helped save the Marine Corps from being eliminated by Congress and the White House with his iconic portrayal of a battle-hardened Marine in the movie "Sands of Iwo Jima."
Why you should read: The biopic craze that has gripped the movie industry in recent years has left out arguably the most compelling figure in the history of Hollywood: John Wayne. My script, "Starring John Wayne," fills void. The script focuses on an overlooked and tumultuous chapter of Wayne's life as he sought to atone for his lack of military service in World War II. A little about me: I am a journalist for a major news organization who has relentlessly and thoroughly researched John Wayne's life with the goal of selling this script. I recently took a break from my job to be a stay-at-home dad for my baby boy after my wife went back to work. We watch John Wayne westerns and war movies during bottle feedings and diaper changes. I try out dialogue during the nap-time routine. And when the baby sleeps, I crank out pages. Thanks for your consideration.
Title: Under the Cover of Darkness
Genre: Thriller/suspense
Logline: A man awakens without memory in the nightmarish world of history's largest super-prison. As he fights for his freedom, he develops visions of a past he cannot recall, causing him to lose grip on the present — leaving only a matter of time before his past & present collide.
Why you should read: It's the Bourne trilogy meets Oldboy. — You once gave some advice on how to generate a good starting point for your script. Basically, you had it down to: confined space, central hero, a mystery to solve, and keep them moving. I really took that into consideration when starting this script. I love The Twilight Zone. I love that the best stories involve basic human fears, and then build and twist them into simple, confusing, haunting stories. And I had a great idea: a regular guy (or is he..?) wakes up in a super-prison without any memory of how he got there. He's innocent as far as he knows. It involves fears we all share: the innocent man accused, held against our will, losing our mind – really frightening shit.
Title: The Claiming
Genre: Horror
Logline: A paranormal expert who investigates a mysterious mansion falls in love with the blind pianist who lives there, only to discover it's not the house that is haunted but her.
Why you should read: I'm both a horror fan and a hopeless romantic, so I set out to write a haunted house script that's also a love story. The character of Alexa, the blind pianist, is the one I love the most out of all the characters I've ever written. I'd really like to know if the Scriptshadow readers find the secret that she hides as heartbreaking as I do.
Title: Bush Baby Summer
Genre: Action/Adventure, Sci-Fi
Logline: A small-town juvenile delinquent on a hiking trip with three other teens runs afoul of a D.B. Cooper-style air hijacker smuggling extraterrestrial cargo.
Why You Should Read: My previous script won AF back in November and I've taken everything I learned from the process of writing that one and from the awesome notes I received here, and poured it all into this one. Bush Baby Summer is (hopefully) a fast-paced outdoor action adventure with a sci-fi twist. It's also my attempt to capture the oft sought after yet ever-elusive "Stand By Me meets E.T." vibe. It's currently a Page quarter-finalist under the title "Ramblers", and – I just found out today – it placed among the top 10% at the Nicholl. Thanks for considering Bush Baby Summer for AOW. I look forward to some constructive notes (good or bad) from the community.