Genre: Drama/Thriller
Premise: (from IMDB) A man believes he has put his mysterious past behind him and has dedicated himself to beginning a new, quiet life. But when he meets a young girl under the control of ultra-violent Russian gangsters, he can't stand idly by – he has to help her.
About: As you can see just by looking at my Top 25 list (over to the right), I hold this script in high regard. So I was more than curious how it would play out on the big screen. The project had a bouncy development process. Denzel was always attached, but it kept switching directors, moving from Rupert Wyatt (Rise of the Planet of the Apes) to Nicolas Winding Refn (Drive – another favorite script), and I want to say one other director before it eventually reteamed Washington with Antoine Fuqua. Let's be honest here. Fuqua hasn't been hitting it out of the park lately. But anyone who directed Training Day is an okay choice by me. The film opened this weekend at number 1, surprising a lot of industry analysts, who thought it would land in the 23-25 million dollar range. Instead it finished with 35 million.
Writer: Richard Wenk
Details: 2 hours and 12 minute runtime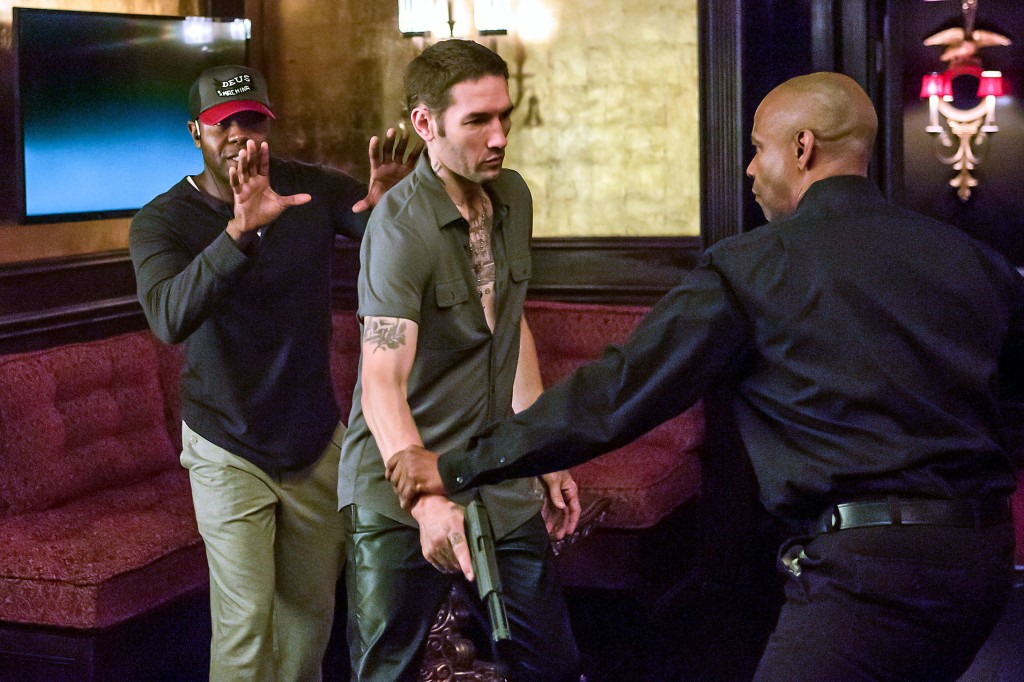 Writer Richard Wenk initially passed when he was offered The Equalizer. But the second time he was approached, the assignment came with a new piece of play-doh. Denzel Washington. Wenk, who had promised himself to only write for directors from this point forward (if you write something without a director attached, you'll likely have to start all over again once one does join, so why bother?), changed his tune once the name "Denzel" was uttered.
But that still didn't guarantee anything. Denzel has lots of people "officially" writing projects for him. If you don't deliver, if the script doesn't excite him that first time it hits his eyes, you're SOL. So Wenk and the producers worked really hard to get it right. The result was one of the best scripts I've ever read.
It really is a master class in writing. Everything is so sparse, from the description to the dialogue. And that's not surprising when you hear Wenk talk. He claims his m.o. as a writer is looking for ways to eliminate all the unnecessary words from his work, to slim the script/story down to its bare essence. And you see that here.
The question with The Equalizer script was always, is it too generic? The story is SO simple that it risks being a retread of lots of stuff we've already seen before. I didn't see that happening. But you never know. If the director doesn't pay attention to those little details the writer worked so hard to integrate, an "Equalizer" can easily turn into an "Abduction."
For those who don't know anything about the film, it's about a 50-something "nobody," Robert McCall, who lives by himself and works at Home Depot. He develops a friendship with a young hooker (Chloe Moretz), who's nearly killed by her Russian pimps. We learn that McCall used to be a CIA officer, and knows about 7000 ways to kill a man. He takes down the pimps to set the hooker free, only to learn that the biggest Russian mafia boss in the world has put a price on his head.
So what did they change from the original first draft? And how did it affect the film? They didn't change much. The most well-publicized switch was changing the 30-something hooker to a 17 year old. Here's the thing you gotta remember when you make a key change in your script. Since you're going to both lose something and gain something, you have to make sure that you gain more than you lose.
What they lose by going from a 30-something to a 17 year old, is a more flirty love-interest type of relationship. Audiences like these relationships, even in a script like this, where the romance doesn't take precedence, because they like the idea that our main character and this woman might get together in the future.
You don't get that when the girl is 17. It's more of a friendship. What they were banking on, and this was specifically a note from Sony studio head Amy Pascal, was that we would sympathize and care more about Teri (the hooker) if she was just a girl. It's a solid argument. The entire script hinges on us buying that McCall would kill five random men to save this one girl he barely knows. And if we're seeing a girl in danger as opposed to a grown woman, we're more likely to believe McCall will stick up for her.
It worked. I'm not sure how much less I would've sympathized with Teri as an adult, but that additional layer of her being a scared little girl affected me.  A smart call.
Some of the other changes were more subtle, but interesting nonetheless. In the script, McCall was a tidy dude, born out of his upbringing in the military. But in the film, McCall is OCD. He has to make sure things are lined up properly. He's always rearranging things on desks and on tables. In the script version of the famous "Take-Down Russians" scene, McCall walks back to the door and locks it. Here, he opens and closes the door three times, the echoes of an OCD tick.
There's no doubt in my mind that this is something Denzel Washington brought to the character. As an actor, that's your job. You have to find ways to play the character that make them original, make them truthful. But that's not how it should've gone down. And I'll tell you why in the "What I Learned" section later.
Seeing the finished product also helped me notice a few things I missed in the script. First, you guys know how much I love underdog heroes. They are the heroes audiences root for the most. Audiences also love badasses. They love John McClane and Iron Man.
Therefore, I realized how genius it was that they somehow created a hero in The Equalizer who was both. They got a 2-for-1 deal! McCall is the most unassuming man in the room.  Couldn't win an arm-wrestling contest with a 5th grader.  And that's why we fall for him. He's one of us. And yet it turns out he can take down the entire fucking Russian Mafia! How rad was that choice? Could you have created a more perfect likable combo?
Lastly, I noticed a unique structural choice that I wanted to discuss, as it's something Miss Scriptshadow was curious about after the film. Usually, you want your main character to have a big goal once the first act is over. He's got to kill the terrorists or win the Hunger Games – whatever. Equalizer doesn't have this. McCall kills the local Russian Mob Ring, and for the next 20-25 minutes, he doesn't have a clear goal.
He's sort of drifting between helping people when his help is required. His storyline is directionless. Which can kill a script dead if it goes on for too long. I mean it's great McCall is helping random people, but sooner or later the audience is going to be like, "Wait, where is this going???" So Wenk does something really clever, and something you should take a cue from. During that 20-25 minutes, he switches the goal over to the villain.
You can do this in your script, when, for whatever reason, your main character's story is stagnant. Switch the focus over to the villain and his goal, and in this case that means our villain investigating who killed his Russian gang. The story is still moving forward because we feel him getting closer to discovering our buddy, McCall. Once he finds him, the story hits a new beat. McCall has to take these guys down before they take him down, giving both sides an overarching story goal that effortlessly drives the story for the last hour.
There was really only one big thing that bothered me, and it bothered me in the script as well. The Home Depot climax felt too safe. The script was so good up until that point, that to conclude things with a generic cat and mouse game in a glorified warehouse – it was lightweight.  Using the tools from his store to defeat the bad guys gave the impression of cleverness, but in reality, we were never at his work, so who cares if he's using his unique knowledge of his workplace against the bad guys. Plus, McCall can kill people with anything. He doesn't need tools. The tools ended up being cheap gore.
Because I loved the first 95% of the script so much, I didn't penalize the script for that ending. Here, in movie form, it was more evident that it didn't work, which brought it down a notch for me.
With that said, I still think this script is fucking amazing and should be studied in all screenwriting classes and read by all screenwriters. You can see Wenk's philosophy at work in every scene – always looking to take words out, minimizing anything that's unnecessary, keeping the read sparse and focused. It's great stuff.
[ ] what the hell did I just watch?
[ ] wasn't for me
[xx] worth the price of admission
[ ] impressive
[ ] genius
What I learned: Do the actor's job for him – Like I was saying earlier, Denzel brought the OCD angle to McCall to make him more distinctive. Learn from this as a writer. When you're writing a character, think about them from the actor's point of view. Think about what the actor is going to say about your character after they read the script and how they might want to improve him/her. Then, write all that stuff into the character before it gets to the actor. I believe, that if an actor feels like they need to improve their character, that the writer didn't do his job. You should build all that stuff into the character ahead of time, and you can do this, at least partially, by anticipating the weaknesses an actor might see in the character, and addressing them yourself.