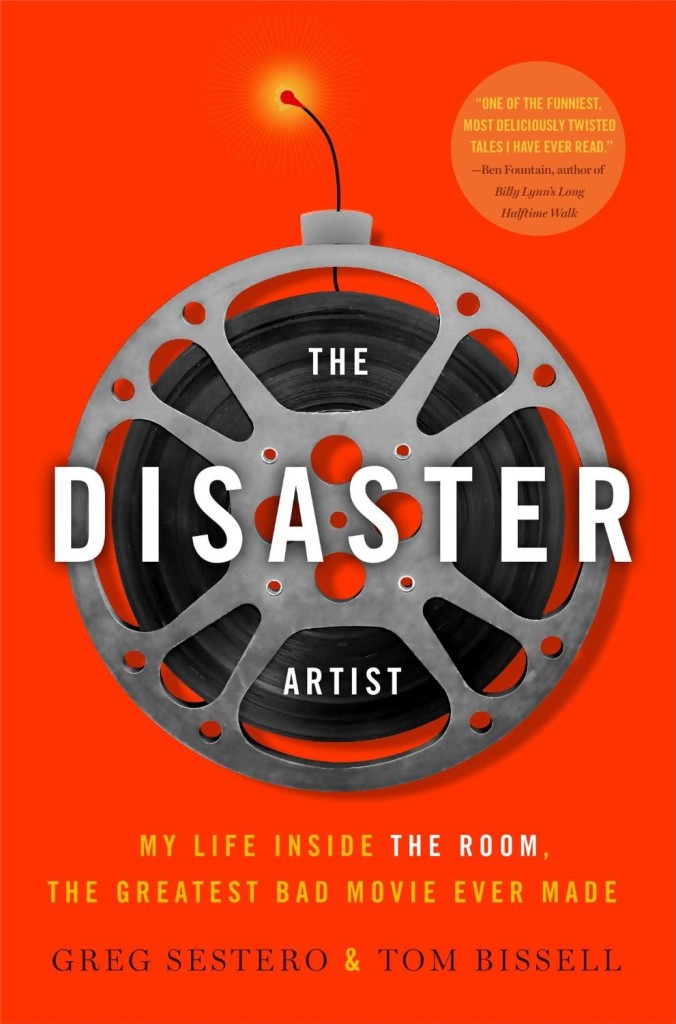 So it's the first post of the year and I'm reviewing… a book?
Yes.
Because it's not just any book. The Disaster Artist may be the funniest book ever written. There is a catch, however. If you're going to buy this book, I highly advise you get the audiobook version. Why? Because the book's author (who also reads it) adds his hilarious impression of the book's eccentric subject, Tommy Wiseau, whenever he quotes Tommy. And about half the book is quoting Tommy.
To understand why this would be funny, go watch this interview of Tommy Wiseau. As you'll see, Tommy's accent very well might be the eighth wonder of the world. There is no origin for it, no logic, no rhythm, no reason. Every time he speaks it's like watching two cars playing chicken on the highway.
To provide some context for the book, you'll have to have heard of The Room. The Room is a 2003 film that many consider to be the worst movie ever made. In the tradition of Ed Wood, however, The Room is insanely watchable in a "so bad it's good" way.
If you don't die of uncomfortable laughter during the five-minutes-too-long love scene, you'll fall down laughing from lines like, "Hi Doggie," and "I did not hit her! It's not true! It's bullshit!  I did not hit her.  I did not!" (throws water bottle – then, completely happy within a nanosecond) "Oh, hi Mark." Then, of course, there's the moment where Johnny (the main character, played by Tommy) has sex with his fiancé's dress before shooting himself.
What's The Room about? Well, to hear it from Tommy's perspective, it's a complex character drama about seven people whose lives intersect on a daily basis as they come in and out of this room (Johnny's apartment). But things start to unravel when Johnny's fiancé starts cheating on him with his best friend, Mark.
Mark, it turns out, is played by actor Greg Sestero, who is the co-writer of the book (Tom Bissell is the other writer). And Greg finally puts to rest the mystery of how this movie was made. And when I say he finally puts it to rest, I mean he goes into EVERY SINGLE DETAIL of the movie's pre-production and production. Which would seem like overkill. But it's not overkill when you have the most interesting man in the world to talk about.
Some of the highlights of Greg's memories of Tommy include how the original actor slated to play Mark was an actor named "Dan." But Tommy always called him "Dawn." Whenever anyone would say Dan's name around him, Tommy would say, "Who is that??" since he knew him as Dawn. This forced everyone to gradually call Dan "Dawn" as well.
Then there was Tommy's decision to replace Dawn with Greg during production. Except he didn't want to fire Dawn as he feared confrontation. So his plan was to shoot all the scenes with Greg under the pretense that the "producers" (there were no producers) wanted to see tape on Greg. Then when Dawn would come in to do the scene, Tommy would instruct the cameraman to only pretend to record him. As you would expect, this didn't end well.
Tommy also did such things as buy a two camera set-up so he could record in both film and HD at the same time. Whenever anyone asked him why he would do such a thing, he would say because it was "big American production." Whenever they went out to eat, Tommy would always order a glass of hot water (he got in an argument with the waiter every time he did so). Tommy would hold impromptu five minute silences for America. He would drive five miles per hour wherever he went. He didn't know how to use windshield wipers so when it rained, he would push his face against the window to see.
Maybe the funniest moment in the book has no relation to The Room at all. Tommy and Greg first met in an acting class in San Francisco many years before The Room. Tommy, who had a tempestuous relationship with the acting teacher for always vehemently dismissing her critiques, had picked a famous scene from his favorite play, A Streetcar Named Desire, to perform with an unfortunate female student.
As you all know from the scene, in it, Stanley is screaming at Stella up on the stairway. With "Intense Emotion" being Tommy's favorite thing to play as an actor, he went… shall we say, "overboard." Tommy rarely remembered a single line when he was acting, much less an entire scene of them. This forced him to always make up his own lines.  In this case, he didn't remember any lines.  So he just continued to scream "Stella!!" over and over again, somewhere in the neighborhood of 50 times. All of this while never once looking at the actress actually playing Stella, who stood dumbfounded next to him. Tommy instead delivered the scene directly to the audience. According to Greg, everyone in the room realized that they had just witnessed the single most horrible performance in the history of the world.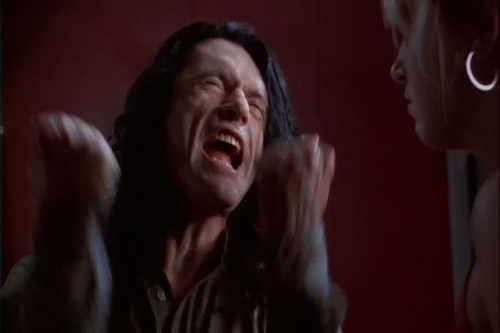 "You're tearing me apart Lisa!!!"
One of the biggest focuses of the book is the mystery behind Tommy's fortune. For those who don't know, Tommy financed the 6 million dollar "The Room" all by himself. Yet no one could identify where Tommy made his money. Greg makes it a point to ask Tommy, over their 10 year friendship, questions about his past, but his past is the one thing Tommy won't give up. It's clear that something horrible happened there and to bring it up is the equivalent of yelling "Al-Queda" on a packed flight just before it leaves the gate.
While the book is mostly laugh out loud moments (I literally laughed over 200 times) Greg realizes that if this book is going to resonate he's going to need to explore Tommy on a deeper level. It's actually a great reminder for screenwriters. Audiences will laugh at jokes for awhile, but sooner or later they want a reason to stick around.
Part of the appeal here is seeing how misunderstood Tommy is, how lonely he is, yet how hard-working and optimistic he stays. Greg points out that at one point, years before they made The Room, Tommy, who lived in San Francisco, would actually fly down to LA every Thursday night to take an acting class, and then fly back home the same night. Of course, because Tommy is also a living contradiction, he showed up 4 hours late filming The Room every day.  Go figure.
Slipped into this is Greg's own journey. And it's a harsh look at Hollywood. Greg is trying to become an actor but even though his looks give him an above-average audition rate, he rarely lands any roles. Hearing him go through stretches where he doubts himself and wants to quit, is a familiar monologue any artist can relate to.
But I actually think there are some great screenwriting lessons to be learned from The Disaster Artist, starting with that one. Greg was 23 years old when he wanted to give up. Granted he didn't go to college, so he started acting at 18, but I'm of the belief that if you want to be something, you commit yourself to it. Giving up at 23 – one year after you would've graduated college, is a wussy move. That's the main way Hollywood gets rid of its wannabes. If they're going to give up that easily, then they weren't meant for the business anyway. Greg even notes that Jack Nicholson went through 350 auditions before he got his first part. It takes awhile to build connections and to get better at your craft. It never happens overnight. And the same can be said for screenwriting.
Also, as crazy as Tommy Wiseau is, there's something admirable about the fact Tommy made this movie. There are too many people who only talk about doing something in this town yet never do anything about it. He went out and actually made something.
Now I know what you're thinking.  "Well yeah, he had 6 million dollars." But when you read this book, you learn that Tommy could've made this movie 10 years earlier, or 20 years earlier. He had the same amount of money then. So why didn't he just bankroll the film then? It's because money isn't the real reason we don't do something. It's fear. It's fear of putting a piece of yourself out there. Money is great but movies can be made for very little money these days. If you really want to do it, you'll find a way. Tommy finally forced himself to make that psychological leap, got over his fear, and did it. And there's something to be said for that.
Hopefully, some of you guys can make that leap this year as well.