Keeping in mind that adapting The Hobbit is probably one of the tougher screenplay jobs this side of the slugline, how did Jackson and his co-writers fare?
Genre: Adventure
Premise: Bilbo Baggins reluctantly joins a band of dwarves who go on a quest to reclaim their kingdom, which has since been taken over by a dragon.
About: After lots of legal battles and one giant director fallout, the first of three Hobbit films finally comes to the big screen. The talk about these films seems to be Peter Jackson's pioneering use of 48 frames per second as opposed to the traditional 24. This new frame-rate is supposed to make the movie a lot more enjoyable in 3-D. We'll see about that.
Writers: Fran Walsh & Philippa Boyens & Peter Jackson & Guillermo del Toro (based on the novel by J.R.R. Tolkien)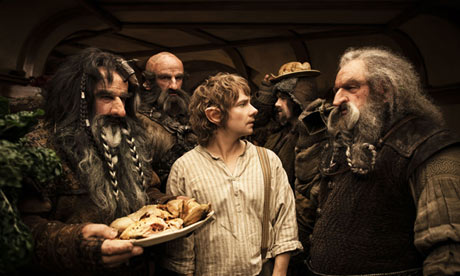 I've been to the Shire. I saw Ryan Gosling there and he said he didn't want me to review his script today. So I decided to review the Hobbitses instead.
Before I get into the writing side of this movie, I first have to address the 48 frames per second phenomenon. Now maybe I'm wrong and in 10 years every movie will be in 48 fps and we'll look back at this 24 frames stuff as ancient history, the way my generation looked at Black and White films. And the way that generation looked back at films without sound. But I don't know. I understand we've been conditioned on this frame rate for over a hundred years, and we've been led to believe that anything 30 frames per second or higher looks like home video, but that's what this looked like to me. It looked like home video.
No, you know what it looked like? It looked like those History Channel reenactments, but with like 100 times the production value. I mean for the first half of the movie, I couldn't stop thinking about it. All I kept saying was, "This looks so cheap." Not only because it looked like video but because it was so smooth and crisp you could see the make-up on the actors. You could see all the imperfections. Now I did start to get used to it as the movie went on, but I'd be surprised if James Cameron decided to shoot Avatar this way after seeing the footage (as he'd been hinting at).
But what about the actual movie!!? Well, I always had a problem with going back and doing a Hobbit trilogy as it seemed like a pared down version of the Lord Of The Rings. If the world were made of truthful marketing campaigns, this one would read, "Everything you got before, but smaller." And that's what this felt like. There wasn't that grand scale that dominated the earlier (later) films. This felt more intimate. At times that was good but since this is a spectacle movie, it was mostly bad. Wanna know what the film was about?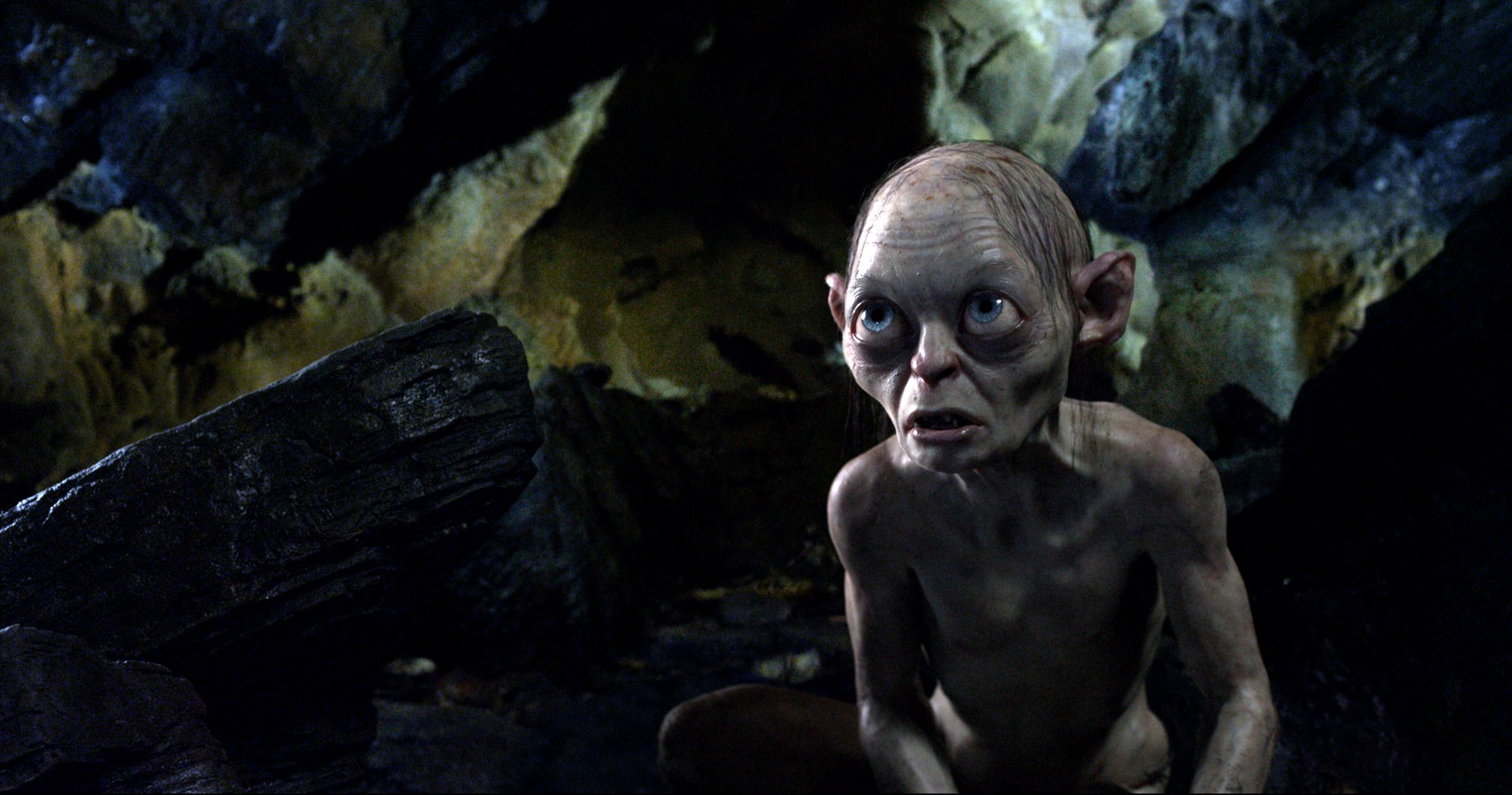 Okay, I'll tell you, but not in Middle Earth-speak. That would take me an extra two hours of name-checking in the Hobbit encyclopedia. I'm going to tell you in layman's terms. Basically, these dwarves lose their kingdom to this really evil dragon who wants it because there's a lot of gold stored there. I'll admit, I was confused right off the bat on this one. Why would a dragon need gold? What can a dragon possibly use gold for? He can't make gold dragon clothes. He doesn't need it to buy anything. His currency is breathing fire on people. But whatever. Point is, all the dwarves got kicked out of their home.
Many years later we meet Bilbo Baggins, a hobbit, who's minding his business when Gandalf and a bunch of dwarves show up telling him he has to go on a mission with them, a mission to get their castle back. This confused me as well because I couldn't understand why they needed a hobbit to help them. From what I understood, Bilbo was scared, inexperienced, didn't want to go, and didn't bring anything advantageous to the table other than it's harder for dragons to smell hobbits. Maybe this is explained in the books or the sequels somewhere, but at least in this story, I couldn't understand why Bilbo was even part of this adventure. Even Obi-Wan says to Luke, "I'm getting too old for this." So it made sense why Luke needed to come on that journey.
Anyway, off they go to take on that bad dragon with an irrational gold fetish. However, mid-way through, we begin to realize that them taking on the dragon ain't going to happen in this movie. Nope. We're going to have to wait til the third film for that one. Which leaves us feeling empty. Luckily, Jackson helps us forget this with a wagon-full of orc attacks! Orcs and trolls. Every 20 minutes or so, some orcs would find them and we'd get a big set-piece. These set-pieces ranged from cool to really cool, but never quite awesome (however running across bridges in the underground orc lair got close).
Our good buddy Golum does make an appearance in the film with his and Bilbo's "Battle of Riddles (?)" and it's the one thing I remembered from the book as a kid so I was excited to see it play out on the big screen. I was disappointed. The rules of this riddle game seemed vague, and it appeared that you could ask the most nonsensical question ever and it would be considered "fair." "Trust and trout and beetles and stout. Seven tigers drink six cups of milk. What's the answer?" Errr, what? More concerning was the way Bilbo won. "What's in my pocket?" That's the question he won with? You can just ask a question that there's no way for someone to know the answer to? "How many centipedes live underneath the big rock in my garden back home?" I don't know! I wanted to feel like Bilbo cleverly outwitted Golum. Instead, I'm left wondering what the hell the rules were to that funky game.
Eventually, Bilbo escapes Golum and the dwarves escape more Orcs and they all get away. But then they have to fight one last battle against the King Orc, who our Prince Dwarf supposedly killed many years ago, but who has come back for revenge. Oh, and then there's a guy who rides around on a sled pulled by rabbits.
To "The Hobbit's" credit, we do have a clear story here. We have our goal (Get to and reclaim the Dwarf Kingdom), we have our stakes (the dwarves will be without a home until they get their kingdom back), and we have our urgency (they're constantly being chased by orcs). Despite all that, The Hobbit takes its time in too many places. Jackson knows he's got you stuck there in the theater and boy does he take advantage of it, giving you a twenty minute opening scene in Bilbo's house, and a 15 minute exposition-laden scene at the Elf kingdom. There are a lot of talking scenes in this script and that almost dooms it.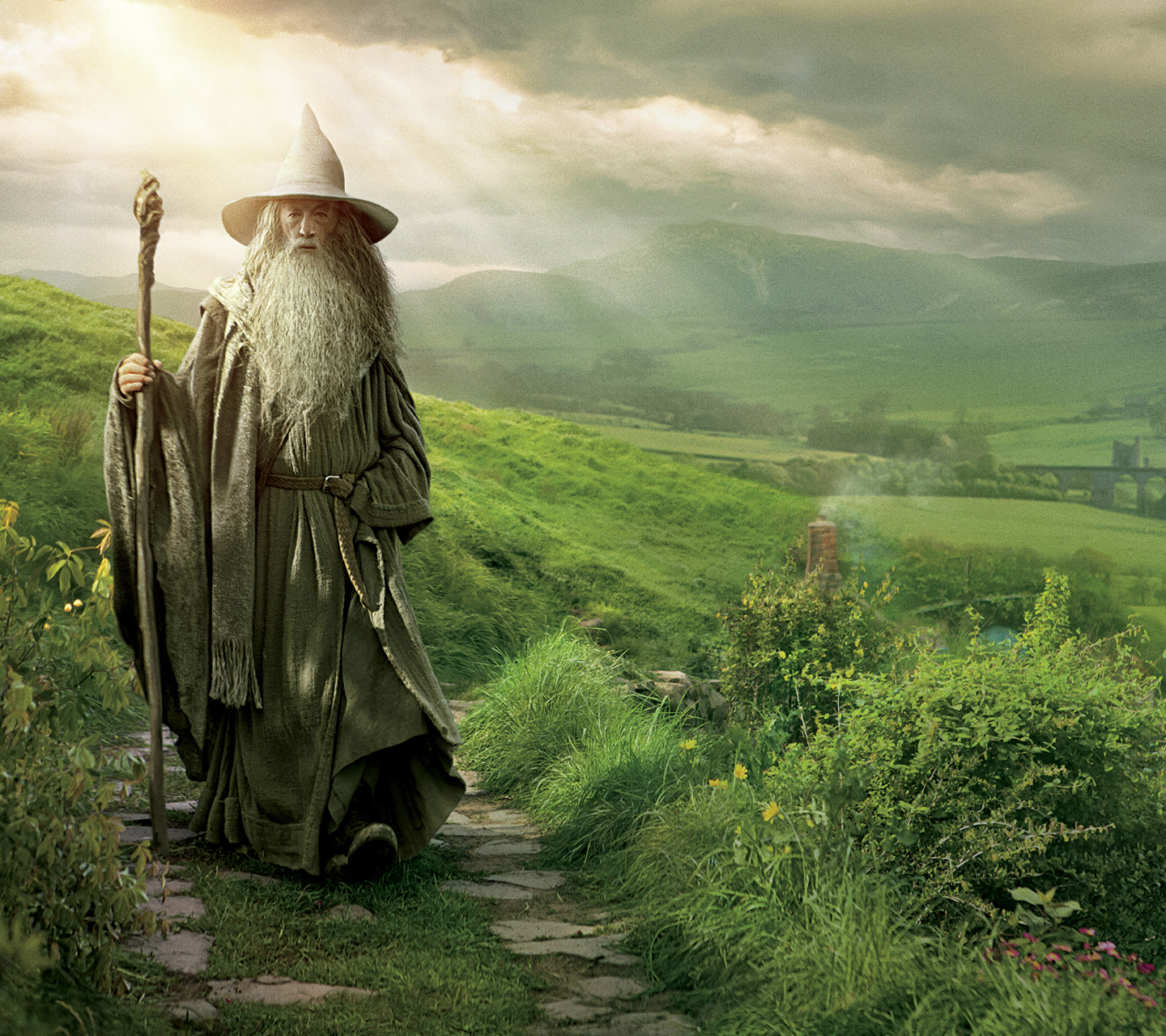 Luckily, Jackson (and Tolkien obviously) throw tons of obstacles at our heroes to keep the entertainment level high. Just when the story's about to run out of gas, orcs show up, or trolls show up, or giant raving mad rock monsters show up, or Bilbo falls into the dark crevices of a cave with no way out. Remember, as long as you give your characters a goal, you can place tons of obstacles in front of that goal. And as long as we care about them achieving their goal, we'll be entertained by them trying to overcome those obstacles. Jackson adds several nice touches where we see how important getting their home back is for the dwarves. So we're entertained by the obstacles that get in their way.
Character-wise, Bilbo, our main character, is a tough call.  He's very passive for most of the screenplay, and for that reason he's one of the least interesting characters in the bunch. There's an old saying that your main character should be the most interesting person in the movie. I don't know if that's always possible because a lot of times the hero has to play the straight man, but it would've been nice if Bilbo was a LITTLE more interesting.
With that said, he did have a flaw, and therefore an arc. And it's one of the better flaws you can give a character, since it's so identifiable. Bilbo lives a safe life. He doesn't take any chances. He'd rather stay holed up in a tiny hobbit shack than deal with the dangers of the outside world. This journey is about him learning to step out of his safety bubble and do something different and new and scary. Haven't we all felt that way at one point or another in our lives? Always add a flaw to your hero if you can, guys. It'll provide your story with a more dynamic, and therefore more interesting, character.
One thing that KILLS this movie for me, though, is the trilogy format. This tale is lighter than Lord Of The Rings as it is. And now you're telling me that the goal your characters are after isn't even going to be pulled off in this film? Not only is that a big tease, but it throws the entire rhythm of the script off. In a story, the whole point is to build to the climax, the thing you've been telling us is our heroes' objective. If there's no objective, there's no climax, and that's exactly how the Hobbit felt. I didn't know where we were going after awhile or what the ultimate point of THIS MOVIE (not the entire trilogy) was. I don't think any script should end with the reader saying, "Oh, that's it?" And that's how this one ended. I honestly wouldn't have been surprised if The Hobbit had gone on for another 30 minutes, and that's sloppy storytelling as far as I'm concerned. The audience wants the payoff. We got it a bit with the King Orc showdown, but that felt like the appetizer to the big meal, a meal we won't be eating for another two years.
I don't know where I come down on this one. It held my attention, but sometimes for the wrong reasons. I just couldn't comprehend why they'd put something onscreen that looked like it had been shot on a Best Buy video camera. However, I suppose the script had just enough thrust to keep my attention til the end. For that, I guess it's worth a matinee ticket.
[ ] Run for your life
[ ] Wait for video
[x] worth the price of admission
[ ] impressive
[ ] genius
What I learned: How much time is too much time to build up your characters in a screenplay? Peter Jackson takes his sweet time in this area, giving us 30-some minutes with our hobbits and dwarves before they get on the road. This can work if a lot's happening (we don't get on the road til the 30 minute mark in Star Wars, for example, but a TON of stuff happens before that – evil villains chasing, forgotten hermits reemerging, droids running away, aunt and uncle killed), but if you just have people sitting around at tables talking, the script is going to drag. I see this sometimes with established writer-directors. They know they don't have to keep a reader's interest. They already have you in the theater. So they take forever to get going. I think established or not, all writers should try and keep the story moving. Don't waste a line of screenplay space if you don't have to, especially in the opening, when it's imperative you hook your audience. The Hobbit could've moved a lot faster.