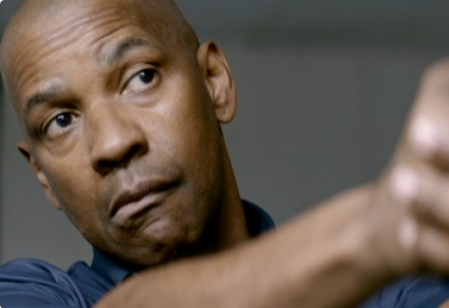 No, Robert McCall didn't get me in my sleep last night.  But sleep is definitely the main suspect in today's mystery.  For the first time since I began Scriptshadow, I actually fell asleep while reading yesterday's review script.  Apparently reading and giving notes on four scripts in a single day is my limit.  Boy did I have some sweet dreams though.
Since there's going to be no review today, I can tell you something big I learned after reading all of those scripts.  I started to notice early on in the 4-pack that 80% of the scenes in these scripts had zero drama.  They were all straightforward, all executed on the surface.  Surface-level scenes are almost all catastrophes for being so boring.  For example, "Don" might need to tell "Judy" that they need to take money out of the bank.  So we'd have a 2 page scene where Don told Judy that they needed to take money out of the bank.
The more of these scenes I read, the more I realized why they were so bland.  In every situation, we were certain what was going to happen.  There are lots of ways to make a scene work, but one of the best ways is to through uncertainty.  Let me give you an example.  Let's say that "Frank" wants to break up with "Ellen."  If Frank goes into the scene and says "Hey, I had something to talk to you about."  "Oh really, what's that?" "Well, it's a big deal." "Okay, tell me."  "Umm, I think we should break up."  If you write the scene that way, with everything going according to plan, it turns out to be a boring scene.
But if you go into the scene with the intent of creating uncertainty, of not doing the expected, you can bring life and drama to the scene.  So say Frank comes in and says, 'Hey, I had something to talk to you about?" and Ellen says, "Oh?  I had something to talk to you about as well."  Frank is momentarily thrown.  "You do?" "Yeah."  Whereas in the first example, we knew where the scene was going, by unleashing uncertainty into the re-mix, we created a more interesting scenario.  Frank's plan is now all messed up.  He's forced to reevaluate his approach.  We, the audience, are the benefactors because now we have no idea where this scene is headed, which means we're paying more attention.
As I kept reading the scripts, I noticed that you can create uncertainty before the scene starts (let's say, before Frank gets to Ellen's, he gets a text from her: "We need to talk.") or you insert it as the scene is going, kind of as a surprise.  A situation where we think we know what's going to happen that turns into one where we have no idea what's going to happen is an exciting scenario.  The ultimate take-away here is that a scene plays out in a more suspenseful manner if we don't know where it's going.  If we think we know where it's going and you take us there?  You've failed to entertain us.
So I challenge you all.  Go find an "expected" scene in your script, one where everything goes according to plan, and add an element of uncertainty.  Either before the scene or during it.  I'm betting the scene becomes a lot better.