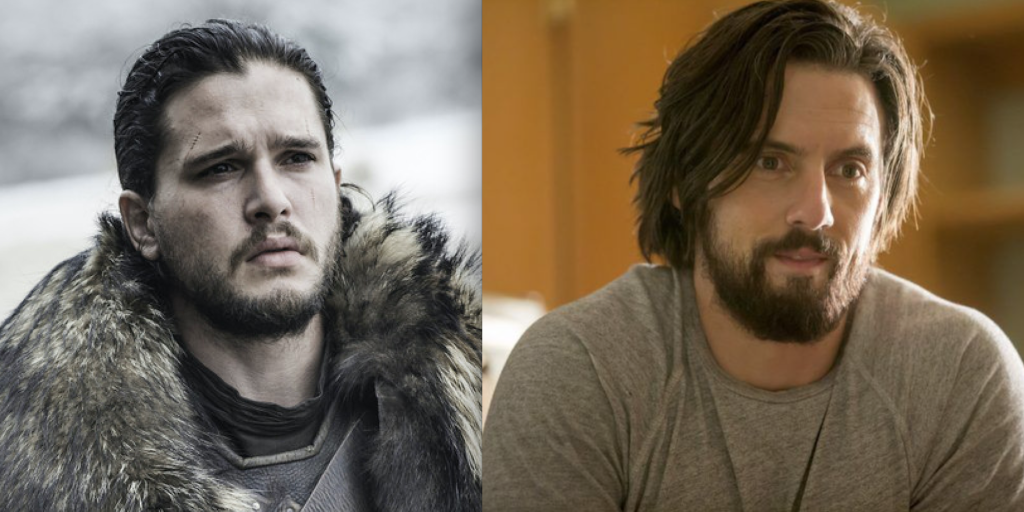 Who'd you rather? Jon Snow or Jack Pearson?
It's the goal of every producer in Hollywood, the dream of everyone who's ever had an idea for a TV show – to not only create a hit show. No no. Creating a hit show is easy. But to create a WATER COOLER show – the kind of show that's so good, so exciting, so twisty-and-turny, that people MUST talk about it the next day. Let's list some of these shows.
But before we do, let me put the needle on the record of some Barry White. Get a good vibe going. Oh yeah, can you hear Barry? I can. Okay, let's get to that list…
Lost
Breaking Bad
True Detective
Walking Dead
Game of Thrones
This Is Us—
SCRAAAAAAAAAAAAAAATCH
I'm sorry. Run that last show by me again. This is Us??? A show about family with no dragons, no drug dealers, no serial killers, no zombies, and no Others. The show is just about… people? How did a show that ONLY explores interpersonal relationships become so addictive? And what can we learn from it that we can apply to our own TV writing?
Water cooler shows used to be common. That's because only 30 shows aired a week and even the lowest rated shows did better than the highest rated shows today. Everybody was watching the same stuff so, chances were, you'd want to discuss the latest episode of Seinfeld with your co-worker the next day. Today, with 300+ shows a week to choose from, everybody can pick their own little weird show to watch. And that means writing a show that a lot of people watch and that generates widespread discussion has become almost impossible.
Every network wants the next Game of Thrones but what does that even mean? You can't just make another swords and sandals dragon show or else it looks like a cheap version of Game of Thrones. The same thing happened when Lost was big. Everyone wanted the next Lost. But you couldn't replicate Lost. It was too unique.
Enter "This is Us," the most unlikely water cooler show of them all. And maybe that's our first lesson of the day. Whenever there's a mega-hit show, the collective industry response is to try and copy it. But what you'd be better off doing is finding something that's the opposite, which is what This is Us is.
But that doesn't explain how this show got so buzzy. Once again, the show relies solely on internal and external character conflict to drive episodes. So how can it possibly compete with a show that spends 25 million on movie-level battles every other other week, or kills off multiple beloved characters in a singular blood-curdling wedding? It seems impossible.
For those who haven't seen This is Us, go watch the pilot right now. I'm serious. Stop reading this and watch the pilot, because it's one of the best written episodes of television ever. Also, it's impossible to talk about the show without indirectly spoiling the pilot. And I need to get into the pilot to explain why this show is so buzzy. Okay, did you watch it? Are you sure? Cause every sentence going forward is a spoiler. You've been warned!
For those who don't have the time, This is Us follows "triplets" Kevin, Kate, and Randall Pearson. Kevin is a handsome successful sitcom actor who decides to quit his show to pursue theater in New York. Kate is his extremely obese manager whose entire life revolves around trying to lose weight. And Randall, who is black and was adopted by the same parents of Kate and Kevin, is an extremely smart and successful businessman with a great family.
The show, however, doesn't just cover the triplets in the present day. Half of every episode is dedicated to 30 years ago, where we show their parents, Jack and Rebecca Pearson, going through the struggles of being a young couple trying to raise three kids.
There is one more major plotline, which is that Randall seeks out his biological father, William, who left him at a fire station that night that Jack and Rebecca adopted him. Randall learns that William is dying, and extends an invitation to move in with him and his family, where he learns about William's unique life as a struggling artist/addict.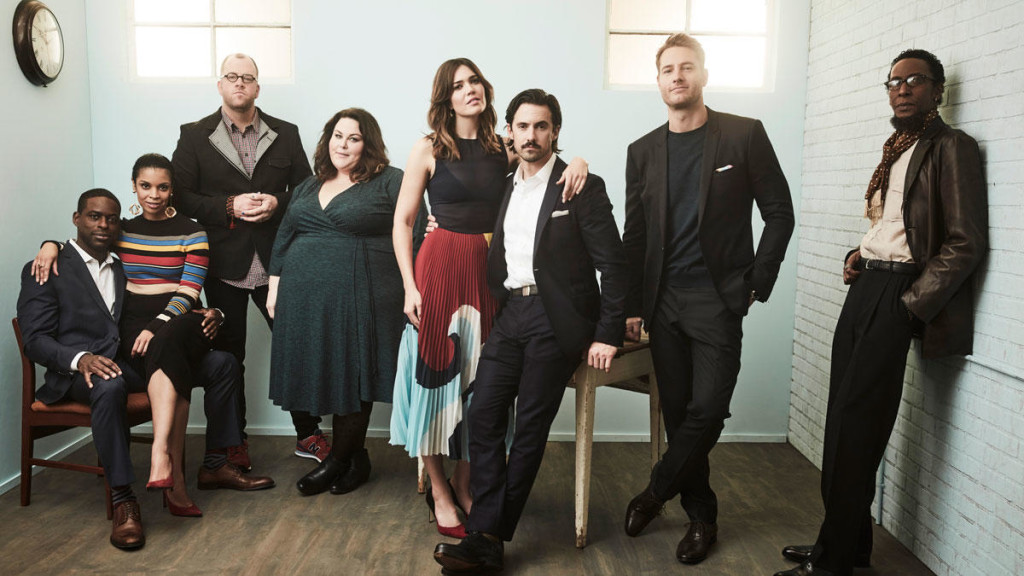 Okay, now that we've got the basics, let's get to why this show, which, once again, is just about people, is able to compete on the same buzzworthy plane as Game of Thrones. We'll start with the number one reason, which I'm guessing nobody here picked up on. If you did, kudos to you. Cause it took me awhile to figure it out.
This Is Us's PAST-PRESENT structure allows it to introduce sexier twists and turns than your average character-based show.
Case in point: The pilot. This is Us hides the fact, with clever directing, that Jack and Rebecca's storyline – they're at the hospital about to have triplets – is happening in the past. It also hides the fact that Randall, who's black, is in any way related to Kevin and Kate. This allows them to throw a quadruple-whopper at us in the pilot's climax. Jack and Rebecca's storyline is set in the past, one of their triplets dies during birth, Jack and Rebecca decide to adopt Randall, who was dropped off to the hospital during delivery, which, of course, means that Kevin, Kate, and Randall are all siblings in the present. Wow! Now that's writing.
However, even after the gig is up on the hidden past storyline, This is Us still uses it to deliver dose after dose of surprises. For example, at the end of the second episode, Randall, Kate, and Kevin's parents stop by the house. "Grandpa and Grandpa are here!" Randall's daughters excitedly yell. We open the door to see Rebecca…. but she's not with Jack. She's with Jack's best friend. Cut to black. End of episode. WTF. This is a twist you can only pull off inside of this unique PAST-PRESENT format. And This is Us goes back to that well again and again (mostly to success, but not always).
It's funny, when I looked up at my list of water cooler shows, I noticed there are two others that use this exact same format – Lost and True Detective. So there's obviously something writers have discovered that's like this little miracle worker for twists. Nobody had figured out how to do that for a character-driven show yet, though. So kudos to Dan Fogelman, the creator of This is Us, for doing so.
From there, This is Us utilizes good old fashioned solid-writing to make sure you love it. In television, your primary job in the pilot is to make us either a) fall in love with or b) be intrigued by each and every character. If you can accomplish that, it's an investment that pays dividends for a loooong time. We'll endure some bad episodes if you've given us characters we love. And This is Us has some bad episodes. But I don't care. Because I want to see if Kate's going to prioritize her relationship over her eating issues, if Kevin ends up with the playwright, or how Will, the biological father dying from cancer, is holding up.
This is Us also utilizes a cheap, but effective, tool for keeping its show buzzworthy. It's not afraid to kill people. Or, when it isn't killing people, it's coming damn close to it. When you look at all those buzzworthy shows – Walking Dead, Game of Thrones – they love to kill off characters. And look at the time tested TV genres – cop shows, medical shows – death is basically built into their DNA. This is Us understands that just having a bunch of people lollygagging around, sharing jokes, isn't enough. There had to be the threat of death hanging over each episode to give the show weight and generate discussion.
In closing, let me offer you some TV writing advice. And this extends to the feature world as well. I have no problem with writers capitalizing on trends. If you've got a Game of Thrones like show that takes place in a completely different setting and feels new and fresh, that's a powerful marketing tool for you when you go out and pitch it. "I've got the next Game Of Thrones" does perk up some ears. However, remember that TV producers hear "I've got the next Game of Thrones," all the time. So going in the completely opposite direction, like Dan Fogelman did with This is Us, may be just as lucrative.