Genre: Drama
Premise: A small-town insurance salesman finds himself embroiled in a series of violent mishaps after a chance meeting with a mysterious man.
About: One of the best films of all time is being turned into a TV show after a long winter hiatus. That's right, Fargo, which won Joel and Ethan Coen a screenplay Oscar, has been reimagined as an hour-long drama which will premiere on FX next week. It should be noted, however, that while the brothers are executive producers on the show, it's unclear how involved they'll be. The pilot script (and many of the other episodes) will be written by Noah Hawley, who's probably best known for writing on the show, Bones. However, he also created the short-lived 2009 series, The Unusuals, and has written four novels.  The show stars everyone's favorite hobbit, Martin Freeman, and Billy Bob Thorton.
Writer: Noah Hawley
Details: 66 pages (April 3, 2013 Draft)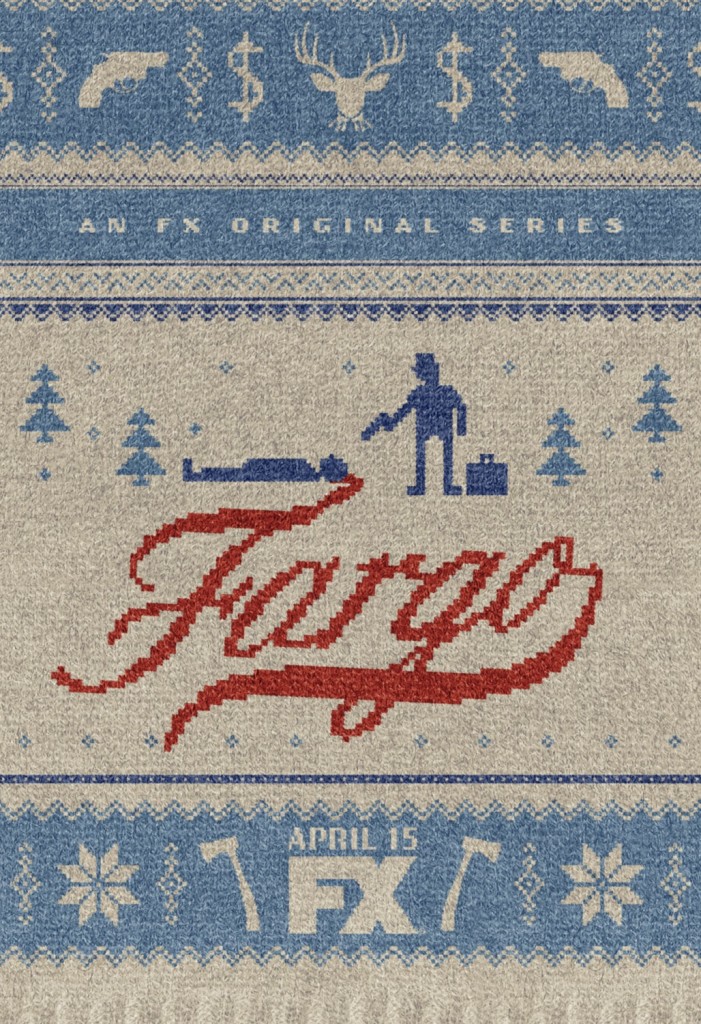 On the surface, this looks like both a good idea and a bad idea. A bad idea, because how do you turn a very specific movie like Fargo into a TV series? To fans of the iconic film, it looks like a cheap ploy to get us to pay attention. It's a good idea because the TV world is desperately looking to fill the Breaking Bad void, and the Fargo universe is about as close, tone-wise, as you're going to get to the Meth TV Empire without it looking like a direct rip-off.
Plus, you've got Billy Bob Thorton in it. And while Thorton's been missing in action for awhile now, there was a time (when this movie came out in fact) where he was hot shit, winning Oscars and marrying Angelina Jolie 'n stuff. Hey, anybody who can bag the Angster's gotta have something going on, right? So what do Billy Bob and the rest of the Fargo production team have in store for us? Can they pull off a miracle and match the cagey wicked hilariousness of the film? Or was this just a big, fat Fargoian mistake? I shall Far-go that answer for the time being.
40 year-old Lester Nygaard is a big fat wimp. He's got the body of a pimple-faced teenager. He's got an insurance job that he sucks at. He's married to a wife who doesn't respect him. And he lives in a cold, small, miserable town. Whatever the American dream is, Lester is living the opposite of it.
That's put on display when the town bully, Sam Hess (who has been beating Lester up since high school), starts badgering him during a trip into town. Sam dresses Lester down with a series of insults, and to add more insults to injury, he does it right in front of his own kids. Lester gets so scared during the harassment, that at one point he turns around to run away and runs smack dab into a store window.
It's at the hospital where he meets the unstable and unpredictable psychopath Lorne Malvo, one of those crazy ass people you NEVER look in the eyes. Lorne asks Lester what happened, and Lester eventually gives him the replay. Lorne is baffled that Lester would allow a man to humiliate him like that, and off-handedly says that if he were ever around that man, he would kill him for Lester. Lester's a little freaked out but he doesn't say not to do it. And that's all Lorne needs.
A few pages later, Sam Hess ends up dead. But the crazy thing about Fargo the TV show is that things don't end there (major spoilers ahead). When Lester goes home, his wife tears into how worthless he is, and Lester just loses it. To the tune of bludgeoning his wife with a hammer. Ouch! But that isn't even the end of it. I don't want to spoil too much but we'll just say, there's more blood to come, courtesy of Lorne. And when all that blood settles, it looks like Lester and Lorne are going to have to work together to make sure they don't get nabbed as the murderers.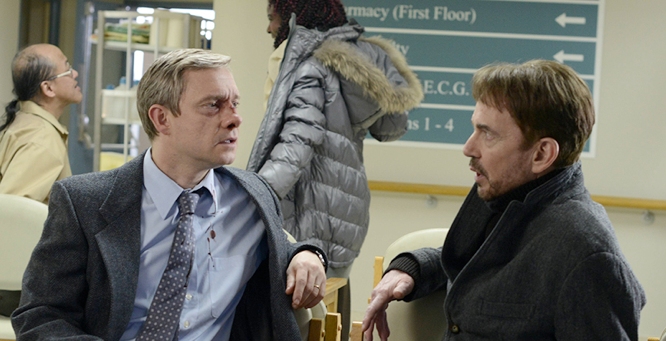 Initial impressions?
This is a good, but not great, pilot. My biggest concern after finishing it was, did they blow their load too early? I mean, the killing of Sam Hess was enough to start the ball rolling. They could've easily had Lester kill his wife in a subsequent episode. But they killed her here, too. And then someone else. The body count of Fargo started to look like Rambo.
I actually just read an interview with Vince Gilligan, the creator of Breaking Bad, and he said one of the biggest things he learned while doing Breaking Bad was to hold back. He originally wanted to pack all this shit into the first season but he realized if he had done that, he wouldn't have had a show for very long. He said it was okay to draw things out. And that's the opposite of what they're doing in Fargo. I mean, a nuclear bomb just dropped in this pilot.
Another interesting thought that came out of this was, can you root for a character that does horrible things? Walter White (in Breaking Bad) becomes a bad person and we still root for him. But that's because we got to know the guy as a good person for three seasons. Here, Lester bludgeons his wife with a hammer. It was so shocking I actually jolted backwards, and I don't experience that often when I'm reading. So in that sense it was good. But now you're asking for us to root for a guy who bludgeons his wife IN THE FIRST EPISODE.
Again it goes back to, did you really need to do that? Lester was already indirectly responsible for Sam's murder, so you gave us something he needed to cover up (which provided more plots for future episodes). And we still would've liked him. I'm just surprised they went with the wife-killing angle. I guess they wanted that "talk-about moment" to get people discussing the show?
I'm also wondering where the show's longevity is going to come from, seeing, as of now, that the only goal our main character will have is covering up this mess. In Breaking Bad, Walter White spends a lot of time doing that as well. The difference is, Walter White is active. He's not just running away from things. He's building a meth empire. He's making money to help his family. The "dodging the cops" stuff was always secondary. I don't know if you can have a show where a character is solely reacting to the past.
The standout character from Fargo is definitely Lorne. He's that Gaear Grimsrud (the awesome Peter Stormare) from the film who would rather stare you into terrified oblivion than answer whatever stupid question you're throwing at him. And when he does say something, it's weird or unsettling.
I noticed that the Coen brothers have gone to well with this character, as we see another version of Gaear in No Country For Old Men (Anton Chigurh). These villains are so chilling in their interactions with people that maybe more writers should be stealing them for their own scripts. Start with characters who bore into your good guys' souls and ramble on about unsettling shit then add your own flourishes. They've done it again here with Lorne and it works.
One of the things that made the Fargo film so memorable was the dialogue, and while the teleplay doesn't quite reach those levels, it holds its ground. We get exchanges like Lester giving his insurance pitch: "What happens if you have an accident at your job?" "I work at the library." And that glorious silly Midwestern banter: "Geez. Ya think this was, like, an organized crime thing? A hit or the like?" "Don't know what I think yet. Except that I was warm in bed a half hour ago." I was mostly entertained by whatever anybody was saying.
Truth be told, I was really into the whole script until the mountains of bloodshed started raining down from the sky. Fargo the movie had this laid back feel to it that doesn't gel with so much happening in such a short amount of time. But the characters are interesting enough where I'll definitely watch a few episodes. I'm curious to see how the show is going to evolve.
[ ] what the hell did I just read?
[ ] wasn't for me
[x] worth the read
[ ] impressive
[ ] genius
What I learned: It's tempting to throw everything you can think of into your pilot. We're all scared that readers (and viewers) won't stay interested long enough to get to the end. But it's okay to be patient. Scenes with subtle tension between characters can trump huge bloody shootouts if they're written well. So don't blow your load in your pilot. Learn to take your time.