Today's pilot is the best drama pilot I've read since Breaking Bad and will likely turn actor Jason Bateman into the next Walter White.
Genre: TV pilot – 1 hour drama
Series Premise: A family man moves from the city to the Ozarks to begin repaying the money-laundering debt he owes a ruthless drug lord.
About: Today's pilot is one of Netflix's big new shows. It's written by The Judge screenwriter, Bill Dubuque, and it will be directed and starred in by Jason Bateman.
Writer: Bill Dubuque (story by Bill Dubuque & Mark Williams)
Details: 67 pages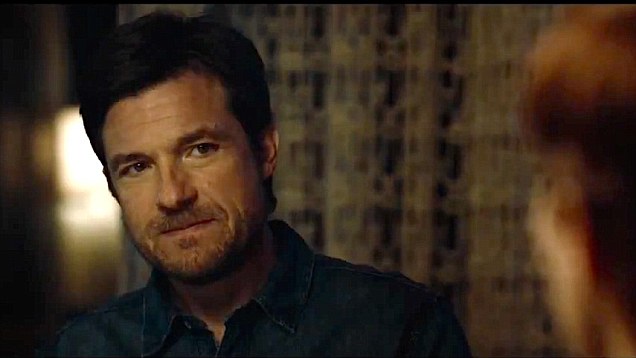 Whenever I talk to people "in the know," they tell me to watch out for screenwriter Bill Dubuque. That he's the next big thing. Now if you're like me, you probably respond to that with, "The guy who wrote The Judge??" I remember reading that script and thinking, "There isn't much here." Assuming I must've missed something, I went to see the movie, and I left thinking, "There still isn't much here."
But see while the rest of us peasant folk judge movies on whether they're good or they do well, Hollywood has another barometer for success, which is if you're the guy who writes something that attracts a major movie star that propels a movie into production. If you do that, you're considered a screenwriting superstar.
And Bill Dubuque didn't nab Downey Jr. with anybody-could've-written-it Iron Man 3. He nabbed him with a quirky character piece, which is one of the hardest things in town to pull off. People figure you have God's private number if you can do that. Which, I presume, is why people are so high on Bill Dubuque. And after reading Ozark? I probably should've paid them more attention.
40-something Marty Bird drives a Camry. He's got two kids in their teens, a boy and a girl, and the perfect wife for almost twenty years. He works as a financial advisor for a two-man firm, along with his best friend, Bruce, the fast-cars and fast-women version of Marty, who can't stop talking about this new opportunity down in the Ozarks. All the young families are moving and vacationing there. And they all have money.
At first we get the impression that Marty envies Bruce. In fact, as he's pitching a young couple on his company's merits, he's also discreetly watching amateur porn on his desktop, something it seems like old Brucey would do.
But we're going to realize that problem's much bigger than we could've guessed. When Marty goes home that night, he sees his 15 year-old daughter, who believes he sucks the fun out of anything approaching happiness. And his 13 year-old son, one of those weird kids who can rattle off creepy facts that nobody else knows, like how armadillos are the only animals who can carry leprosy.
Oh, and then we meet Marty's wife, Wendy, who we realize was the woman in that amateur porn, which wasn't amateur porn at all. It was a camera Marty'd secretly installed in his bedroom to catch what he'd suspected for awhile, that his wife was cheating on him.
Before we can recover from that surprise, Marty gets an ASAP call from Bruce saying he needs to come to their off-site office immediately. Marty heads over to meet Bruce, Bruce's fiancé, and some guy named Del, who makes Tuco from Breaking Bad look like Urkle from Family Matters. This is when we learn that Marty and Bruce launder 1 billion dollars a year for one of Mexico's major drug cartels. And Del's here because 8 million dollars of that money is missing.
In a harrowing scene, Del figures out that Bruce is the culprit (a total surprise to Marty) and shoots him and his fiancé dead. He then explains, in a very business-like way, that he not only has to kill Marty, but his family as well. Marty begs for his life, and somehow convinces Del that that tourist haven down in the Ozarks will allow him to triple his profits.
Del relents, but only if Marty can get him the 8 million Bruce screwed him out of WITHIN 48 HOURS. And so for the next two days, Marty goes on a harrowing journey to wrangle up 8 million George Washingtons, sell his house, and tell his family that they're moving. But nothing happens the way you think it's going to happen in Ozark, and there are many casualties along the way.
I wish I had more time for this review because if there's any script that deserves it, it's this one. But I don't. So you'll have to excuse the frantic presentation.
I'm going to make a prediction. This is going to be a mega-series that will take America by storm the same way Breaking Bad did. I mean unless the writing takes a nosedive after the pilot. But if we're going on this pilot alone, this series will be a show-stopper.
Why is it amazing?
The writing is complex. What happens with a lot of new or average writers is that they think very linearly, and they don't map their story out on expanded levels. They're only thinking about what comes right before the moment they're writing and right after. As a result, the story feels very basic – very "and then this happens, and then this happens, and then this happens, and then this happens." Snore attack.
In comparison, Ozark feels like it was mapped out in 9 dimensions.
Take the opening scene. Marty is trying to sell this new couple on his firm while simultaneously watching porn. So we're forming these opinions on Marty. He's a sleaze ball. He doesn't care about work. But then later, we meet his wife and realize SHE'S THE WOMAN in the video, which means she's cheating on him, which means this is a camera he installed to catch her. So we do this total about-face, and see Marty in a whole new sympathetic light.
What's even better? That revelation now adds dramatic irony to the mix. It gives the scenes between Marty and his wife an extra charge since we know that he knows her secret… but she doesn't know.
That's a theme here. Dubuque will use one thing, like that twist, to add another dimension to another part of the story.
So for instance, the very tool Dubuque uses to build sympathy for his protagonist, the fact that his wife has been cheating on him, is then used to show how layered Marty is. When Del is about to kill him, and tells Marty that he's going to kill his wife next, Marty is a thousand times more worried about his wife than himself. The very wife who's betrayed him is the person he's trying to protect. That's complex writing right there.
There are little things as well. One of my favorite moments is when, before Del kills Bruce, he tells everyone in the room a story about how his grandfather once caught his maid stealing money from the till. Before telling everyone how his grandfather handled the situation, he asks everyone what the grandfather should've done.
In typical Dubque fashion, this choice will create two great moments instead of one. The first is something countless writers fail to do. Del's story builds suspense. We know Del is going to kill everyone here. So Dubuque draws it out. Even better, he makes us wonder if their answers might save them. A brilliant use of the device.
So one of the henchmen answers and then Bruce answers, and Del turns to Marty, wanting his answer. Instead of playing along, Marty thinks he's bluffing. So he calls him on it. He says "You're intimidating us in the hopes of catching us in something. But we didn't do jack shit."
Marty turns out to be wrong which is when Del starts killing. But the great part comes many scenes later, after we've forgotten Del's monologue. Del, once again, is at odds with Marty, and revisits his story, "You never answered the question. What should my grandfather have done?" It's a simple payoff to a simple setup, but the great part is just how unexpected it is, and how much we realized we wanted Marty's answer. And what's great is that Marty gives us an even better answer than we had hoped for.
Again, average writers would've wrapped that whole episode up in a single scene (linear and obvious). Dubuque knew he had something good, so extended Del's monologue/question out beyond the scene. I love that shit.
But the best thing of all about Ozark? What really made it stand out? Is that it kept going where everyone else would've stopped. I guarantee 99 out of 100 writers would've written the version of this pilot where the Del/Bruce/Marty standoff was the climax of the episode. With Marty saving himself by convincing Del of the Ozark opportunity. CUT TO BLACK.
But Dubuque KEEPS FUCKING GOING. And I thought he was crazy. I was like, "How are you going to top THAT SCENE???" And somehow, HE DOES! Watching Marty scramble for 8 million in 48 hours with his cheating wife dishing Marty's secret to her lover, putting all sorts of new people at risk, including her own kids… I mean I couldn't turn the pages fast enough.
If you want to write a drama pilot, FIND THIS SCRIPT NOW. This is writing. This is the standard. This is what you need to live up to. This pilot is a course in pilot-writing. I didn't even get to half the great things here (like the fact that Dubuque repeatedly did more than one thing with each scene). It's so freaking good.
[ ] what the hell did I just read?
[ ] wasn't for me
[ ] worth the read
[ ] impressive
[x] genius
What I learned: Take your story to where everyone else would normally stop, and then go further.