Genre: TV Pilot – Drama/Procedural
Premise: A veteran cop teams up with an unconventional young partner to take down Charles Manson in the days before Manson's infamous killings.
About: Aquarius has been steadily gaining buzz ahead of its premiere next month. The gritty team-up of two cops in search of Charles Manson seems to have been at least, in part, inspired by True Detective. If not in this draft (which is dated 2013), then in its subsequent rush to get to the small screen. Writer John McNamara is a bit of a journeyman, writing for 15 different TV shows dating back to 1983. He's arguably experiencing the biggest moment of his career, not only writing this, but also the feature, "Trumbo," starring Bryan Cranston, which chronicles the life of screenwriter Dalton Trumbo, who was one of the screenwriters blacklisted during the red scare. Trumbo will be his first feature credit. Oh, and the series will star X-Files alum, David Duchovny (playing the lead cop, not Manson, although I'd be way more interested in this if he played Manson.  Now that would be funny).
Writer: John McNamara
Details: 55 pages (Revised Draft – October 28, 2013)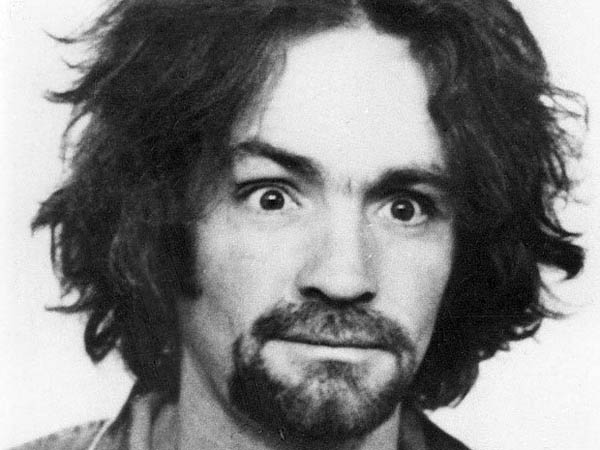 "What are you talking about? I'm not crazy, man!"
I'm going to try and say this politely. This was one of the most visually unpleasant scripts I've read in awhile. When you look at a good page of writing, it's like walking into a clean apartment. Everything is where it's supposed to be. The person living there cares about the placement of the chairs, the tables, the television, everything. You feel comfortable and safe.
Walking into Aquarius felt like walking into your derelict drug-dealing friend's basement.  There's a 3 foot tall stack of dishes in the sink. A trail of ants on the wall. Garbage bags lean against objects, their shape molded into them because they've been there so long.
Simple things like paragraphs. You want to have uniformity to your paragraphs. 2 lines here. 3 lines there. Aquarius would rock us with a 6 liner, then hit us with a 1 liner, then a 2, then another 6. It was an assault. It was all so jagged and crude.
We also had WAY too many characters, even for a TV show. I'm fine with lots of characters if they have a place in the show. But there were like 80 cops introduced, 70 of which  surely won't be around for episode 2.  And it took me until page 30 before I knew who our protagonists were.
There were also little things that made reading unnecessarily difficult. Tons of needlessly CAPITALIZED WORDS. Underlined words. Three line parentheticals!!! And that was standard. It was like this was written during a 3 day Vegas bender.
After weeding through all that mess, I was able to discover somewhat of a story. Aquarius follows LAPD Sargent Sam Hodiak. Hodiak's called in by Grace Karn, a woman he used to date, whose 16 year old daughter, Ella, is missing. Because Ella's father has political aspirations, they can't make this public. So they were wondering if Hodiak could, you know, find Ella on the down-low.
Since Ella was last seen partying, Hodiak calls on Brian Shafe, a young cop who's recently infiltrated the hippy drug scene. Shafe becomes an undercover secret weapon who works his way into the parties where he finds out a certain somebody is hoarding up all the hot girls, promising them a life of love and happiness. That somebody is a young drifter named Charles Manson.
While Manson's interest in Ella appears random at first, it turns out there's more than meets the eye. Ella's lawyer father used to represent Manson. And when he stopped returning Manson's calls, Manson took it personally. Therefore, his seduction and defloweration of Ella was payback. He lets her father know that if he doesn't start cooperating, this is just the beginning.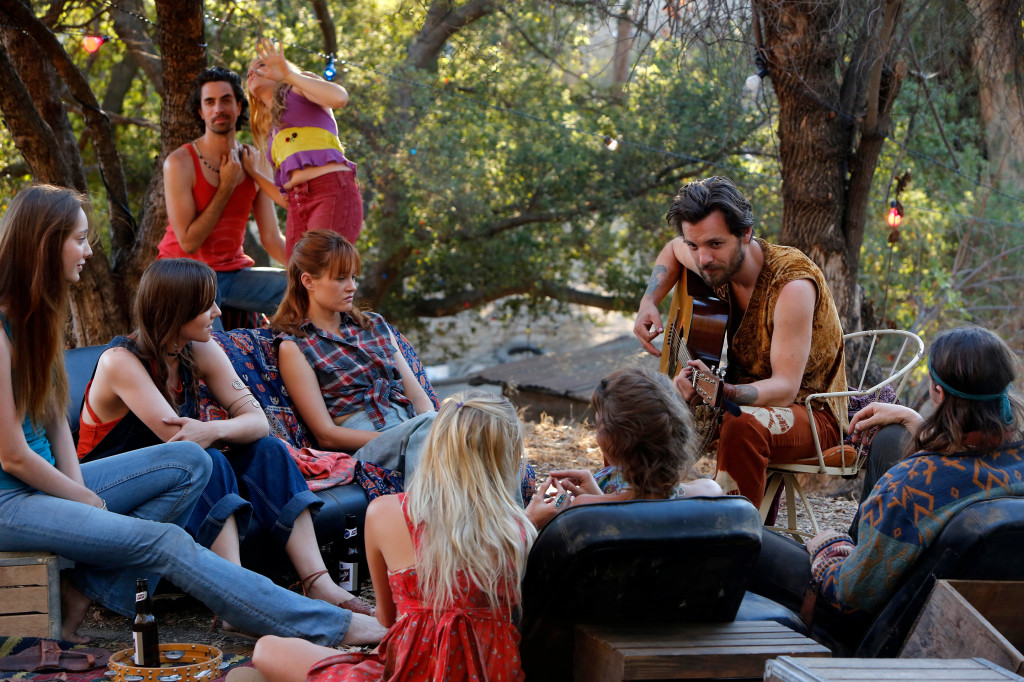 Abercrombie & Fitch ad or a scene from Aquarius? You decide!
Aquarius feels like Ryan Gosling may have consulted on it. It takes forever to get started, with a never-ending line of character introductions before any real story begins. I mean if you don't know who the main character in a pilot is before page 30, the captain needs to be notified that the plane is going down.
This meant the last 26 pages contained all the good stuff. And there are a couple of nice scenes. Like when Shafe takes a fresh-out-of-training undercover female cop to convince Manson's right-hand man to take them to Manson. The henchman tells them sure, but the price of admission is that he gets to bang the girl. Shafe did not prepare the female cop for this and they can't blow their cover so he goes along with it, leading to the only scene in the pilot that contained some actual suspense.
My biggest issue with Aquarius is that if you take out the Manson element, there's nothing left.  I understand that the dramatic irony of Manson's involvement drives the story.  But that doesn't mean you can just phone everything else in. Without Manson, these are just a couple of cops looking for a guy who kind-of kidnapped a girl (but not really, since she wanted to go with him). Not exactly a high-stakes scenario.  It's hinted at that Manson killed a girl a few months earlier.  Why not start there?  Now you've got a show.
I'm also worried about the show's arc. We all know where it's headed. And it's not good. The good guys lose. So why are we watching again? Resting on the celebrity of Manson isn't enough. Then again, maybe this is another True Detective scenario where I just don't get it. That'd be nice. I don't want the show to be bad. But going off this pilot script alone, it doesn't look good.
[ ] what the hell did I just read?
[x] wasn't for me
[ ] worth the read
[ ] impressive
[ ] genius
What I learned: It's hard to make the reader care when he's way ahead of the investigation.  We all know that Manson took Ella. We saw it. The next 40 pages, then, are waiting for Hodiak and Shafe to catch up to us. You can add suspense to this scenario IF the victim is in imminent danger (Silence of the Lambs). But Ella never seems to be in danger at all. She's a little unsure of being here. But that's it.  Not exactly a ticking time bomb scenario.