Genre: TV Pilot – Action/Apocalypse/Martial-Arts
Premise: A century after the fall of society, a large swath of land known as The Badlands is being fought over by bands of gangsters. Gangsters who know kung-fu.
About: AMC has only ordered three shows straight to series. Better Call Saul, The Walking Dead, and this one. The show comes from the unlikely duo of Al Gough and Miles Millar, who created Smallville, a very successful show, but not traditionally one that gets the ultra picky execs at AMC to go green-light crazy. It must have been the pitch of the season. The show is slated to come out this fall.
Writers: Al Gough & Miles Millar
Details: 59 pages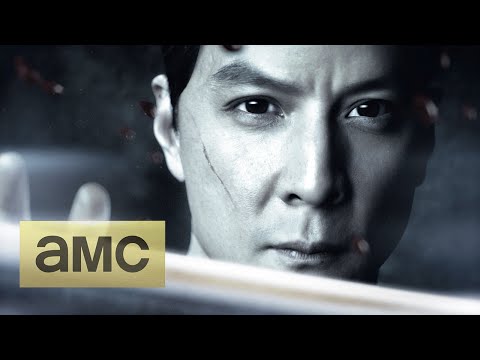 It's Tuesday which means it's Carson TV recap day. I finished House of Cards Season 3 this weekend and… wow. Can somebody tell me what in the Declaration of Independence happened to that show? What had previously been a masterfully crafted political expose about Machevellian manipulation covering a half-dozen captivating storylines devolved into a plodding mist of unfocused yuckiness.
You turn your ruthless main character – the whole reason we watched the show! – into a sniveling cajones-less whiner? You focus on macro plot elements devoid of drama (Will Russia be our friends??)? You change your minds throughout the season (Frank's not running for president. Oh wait, yes he is!)? And you destroy the one relationship we love above all else – Frank and Claire? I think I speak for the people of America when I say: What the hell were you thinking???
The thing is, I'm actually a little relieved. The previous two seasons were so well written they made writing look near-impossible. If this was the standard amateur writers were being held to, they had no shot at breaking in. The way the show would deftly pay off in episode nine something it had set up in episode two showed just how much thought and effort went into the construction of this saga. Every single storyline and character had bite, had a point, had a say in the bigger picture. Shakespeare himself would've had a tough time making this writing staff. To see all that come crumbling down like – sorry, but I have to say it – a "house of cards," proves just how difficult this craft is. There is no secret pill. Nothing comes easy. If you want to write something great, you must continue to work your butt off and push yourself.
Looking at the situation a little closer gives us more insight into what may have happened here. House of Cards was originally picked up for two seasons. It's no surprise, then, that they wrote two seasons worth of great material. The third season was the first season they had to write on the fly. And that may be why they couldn't even write their own John Hancock. I have more respect than ever for TV writers now, as House of Cards proves how difficult it is to keep the campaign afloat. The writers of Breaking Bad, Lost, The Good Wife – keeping the story compelling for that long and with that kind of consistency is a huge coup. Let's hope House of Cards learns from its mistakes and rebounds for Round 4.
Speaking of good writing, there's no other network that cares more about writing than AMC. They've been chastised for their gladiator style "bake-off" contest where in-development scripts battle for a shot on the channel's roster. But what's wrong with a little healthy competition, no? The channel has been aching for another apocalypse show (they wrote another one which I liked quite a bit – but it ultimately ended up being too weird for them), and this genre-friendly horse looks to be who they're putting their money on. Let's see if it's worth the bet.
Who knows how long ago society crumbled? It doesn't matter to these men. All that matters is the area known as the Badlands, a large expanse of dirt disputed by a handful of feudal-like lords known as Barons. The one we follow, a man named Quinn, is getting ready to transfer his town over to a new leader, either his temperamental biological son, Ryder, or his adopted son, Sunny.
It is Sunny who is out in the Badlands one day, checking on a slave transport Quinn sent out earlier, when he finds that everyone in the transport has been slaughtered. Sunny tracks down the rival gang who did it, and learns that, for some reason, they saved a single teenage boy (M.K.). In an epic martial arts battle, Sunny takes down the gang all by himself.
He then takes M.K. back to town and places him in the Clipper program, a training ground for the town's soldiers. Meanwhile, the town prepares for Quinn's third marriage (polygamy in the future baby!) but Quinn's given bad news that night. He's got cancer. This means he'll have to transfer his kingdom over sooner than he wants.
When Ryder gets this information, he knows he has a job to do. The only way he's taking over the town is if he takes down Sunny. But he'll have to do so in the shadows. He can't risk being seen killing the chosen one. Public Relations 101.
The increasingly mysterious M.K. escapes town and is captured by Quinn's rival, a ruthless woman named "The Widow," bequeathed her position by killing her husband and all her children. Sunny and Ryder will need to work together to take The Widow down, but they're surprised when it's actually M.K. who saves the day. This is just the beginning of what will surely be an epic battle to control… the Badlands.
Let me start off by mentioning the action-writing style here, which was very unique. Typically, fight scenes are written in short staccato-like clips to keep the eyes moving down the page quickly – mirroring the pace of the fight.  But these guys write in much bigger 5-6 line chunks, breaking them up with a single word, usually the name of a character (that the camera is focused on) before moving on to the next chunk.

 It's not something I'm used to but it was strangely pleasing. The blocks of writing were all so uniform, they created a balance to the page that grew on me. I'm not sure I would recommend anyone else trying this, but it worked in this case.
On the story side, Badlands uses a formula that's been growing in popularity. We have the leader of an empire who's getting ready to pass his empire down to someone new. This is the perfect plot point for a TV show because it packs a one-two-punch into the story's longevity. The first season is about the young guys jockeying for position to take over the job (in this case, Ryder and Sunny) and the second season is the aftermath of the takeover.
Both situations can fill a season's worth of material (of course, if you're smart, you can extend it to three seasons by having the cancer go into remission for the current leader, allowing him to keep his spot for season 2) which is great. You've seen what happens when you don't have a clear plan for a season (ahem, House of Cards). They're doing this exact same thing on Empire and, if I remember correctly, they're doing something similar with the FX show, Tyrant, as well.
Another teachable moment is how the writers handle the martial arts. Many amateur writers coming into this situation would have focused solely on writing great martial arts action scenes. Gough and Millar know that the martial arts scenes, just like the zombies in The Walking Dead, are secondary. They mean nothing unless you set up a compelling world first.
So this pilot sets up the mythology (the rules for the Badlands), it sets up Quinn's town and how it operates, and it sets up the key relationships, such as the conflict between Sunny and Ryder and the bitter head-butting between Quinn's multiple wives. These are the things you want to focus on when you're writing a pilot. Not the action. Sure, you'll write action scenes, but they'll emerge naturally from the storyline.
Badlands is a pretty solid script. My only fear is that it may be too simplistic. JJ Abrams would not be a fan, as the number of mystery boxes here is limited. When I finish a pilot, I like to have 4 or 5 unanswered questions to look forward to. This script really only has one – the mystery of M.K. It feels like they could've gone a little further than that. Nonetheless, it's a good pilot.
[ ] what the hell did I just read?
[ ] wasn't for me
[x] worth the read
[ ] impressive
[ ] genius
What I learned: I don't know if this lesson is specific to AMC or not. But it's worth noting if you're writing a pilot. I asked myself, why is it that AMC passed its beloved bake-off competition with Badlands and gave it only the second straight-to-series order for an original show in the channel's history? The answer is the same reason that they greenlit The Walking Dead straight-to-series. Gough and Millar took a genre that's been popular in the feature world but is yet to be translated into a television series – the martial arts flick. That was really smart. So if there's a movie genre out there that's never been turned into a TV show before, you might want to scout it out and see if it's ready for a transition.