Genre: TV Pilot – Drama
Premise: A former cop who's lost custody of his son to a vindictive ex-wife, moves back home to plot how to get him back. In the process, he meets some old friends on the wrong side of the law, friends who may be the only people who can help him.
About: Okay, I'm super confused here. I read on Deadline that Badlands was a show that showrunner Shawn Ryan (The Shield) was doing for HBO. It covered a mining town in Wyoming. But this pilot, which was labeled as "HBO – Badlands" in the document title, is not about mining at all (thank God). So I'm guessing this is a completely separate pilot named "Badlands" that someone erroneously thought was the HBO pilot? Or Deadline was just way off? Either way, the writer, Joe Nienalt, has a short but sweet interview over at "The Boring Stuff" blog about the difficulties of being an "almost there" screenwriter. UPDATE: Okay, I got some new info here.  Joe is NOT from Australia.  The guy who interviewed him was.  Joe is from Philly.  Also, this is not the HBO Badlands.  But, this pilot did get Joe invited to submit to the Sundance TV Lab (you have to have someone vouch for you to submit).  I know Sundance really helps people get their stuff made, so maybe you can ask Joe about that process in the comments. — Also, I changed the dialogue sample.  I knew it wasn't the perfect sample but I'm still learning this screen grab thing (I can't scroll and capture long scenes. I can only capture what's on the physical screen, which limits me).  Hope it's a better representation.
Writer: Joe Nienalt
Details: 62 pages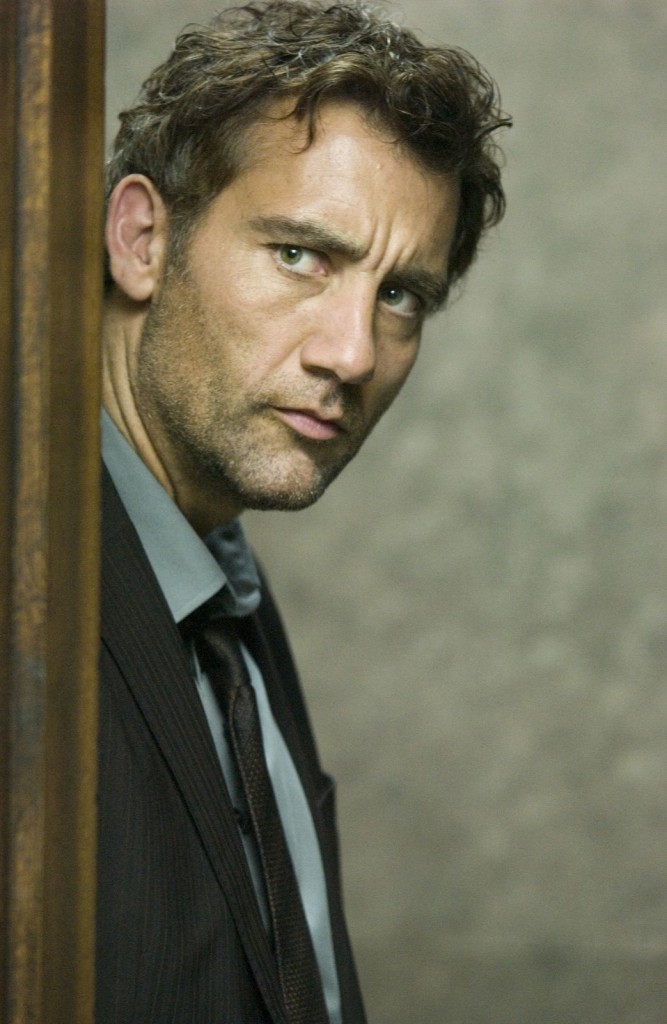 I wouldn't mind seeing Clive Owen take on a TV role. 
So I was reading the interview I linked above for today's writer when I came upon something he said that happens to be one of the most debated topics in screenwriting. Joe said that when he stopped worrying about what was marketable and what Hollywood wanted and focused more on himself and what he cared about, that's when Hollywood noticed him.
Writers can go crazy overthinking this, and I've gone back and forth on it over the years. Then recently, something occurred to me that I hadn't thought of before: timing. Writers break through when they're ready – when their mastery of the craft gets to the point where they can write good screenplays. Therefore, whatever genre they're writing at that time (a big action movie or a small personal drama) becomes the one that breaks them in.
The writer then says to himself, "I broke in with an action movie so Hollywood is about being commercial," or "I broke in with a personal script so Hollywood is about being true to yourself," and then they ride that mantra along for the rest of their career, believing it's the only way. That can be misleading because maybe you'd just gotten good enough that whatever you wrote next was going to be the one.
Because the thing is, you can take either of these approaches too far. If you think it's all about being true to yourself and ignoring the commercial aspect of the industry, you can write something that's so innocuous, nobody gives a crap. And if you think it's all about giving them vampires and robots wrapped inside a catchy hook, you can write something so vapid that nobody gives a crap.
So I love reading scripts from writers who have declared themselves believers of one way over the other, as I feel that each of these scripts gets me one step closer to finding the definitive answer.
Now I originally thought this pilot was about mining, and boy did I wonder how the hell someone was going to make that interesting. The subject matter isn't quite that boring, but it was lacking a hook. So let's see if Joe was still able to make it entertaining.
30-something Joseph "Buddy" Shields, a former cop, happened to marry the wrong woman. Like a really terrible woman. And that woman, who's now his ex, is raping him of everything he has, including his home, and most importantly, his son. The ruling is so bad that not only does Buddy have to leave his home, but he still has to pay the mortgage while his ex-wife lives there. His reward? Seeing his kid once every other weekend.
That isn't enough for Buddy. His kid means everything to him and he's willing to fight to get him back. The problem is, he doesn't have any money for a good lawyer, and lawyers are the people who get your kids back in these wars.
Broke, Buddy is forced to head back home to Philadelphia and live in his mother's house. His old neighborhood, Badlands, is the worst in the city, and we quickly realize Buddy was one of the few to escape and actually do something with his life.
Now that he's back, all those "bad influence" friends start visiting him again, including his old buddy "Fast," who's become a bit of a criminal in his middle-age. Fast sees how badly Buddy wants his kid back and offers him a deal. Join him, run some "jobs," and he'll be able to afford any lawyer he wants.
Buddy doesn't think twice. His kid is everything to him. If he has to lie, cheat, and steal to get him back, that's what he's going to do. But when Buddy realizes that some of these jobs entail killing some of his old friends, he realizes just how deep this rabbit hole goes. But in the end he feels that if his son is at the bottom of that rabbit hole, then fuck it, he's willing to dig.
I got to give it to Nienalt. This was really good writing. I know something's good when a) I'm involved even without a story hook, and b) when the writer can make things I've already seen before interesting.
That's the biggest shock of Badlands, is that we've seen all this before. I've seen the divorcee desperately trying to get visitation. I've seen the middle-age protagonist who has to go back to his hometown to regroup. I've seen the hero who, once back home, is pulled into a crime ring.
But what makes Nienalt different is he addresses all of this in such detail. I think this is what he meant when he said (in his interview) that he became a better writer once he looked inward, because he states in that interview that he got a divorce, and we see all that pain and those unfair custody hearing details right there on the page. I've never had to fight for custody before, but if I had to guess, it would be something like this.
And when you add details, when you add REALITY to your script, the reader REALLY begins to trust your story. They know this isn't something somebody slapped together in a month, but rather the blood, sweat and tears of someone who's been through these things. And that gets to you. Because you know the writer really suffered. And it draws you towards the protagonist in a way that you wouldn't have otherwise.
Now as far as the criminal stuff – like when they robbed a marijuana store – I don't know how he pulled that off. I hope Joe isn't doing that in his spare time. But man, he knows this Badlands town so well that if you told me tomorrow Joe had been in prison for robbery, I'd probably believe it.
And you can really tell when someone knows an area when the dialogue feels authentic to that area. Usually, when I see writers trying to write low-income criminal type dialogue, its wrapped inside this upper middle-class entitlement sheen, the way some middle class kid THINKS people like that talk because they've watched a lot of movies. You can always tell the difference when a writer has a true ear for this stuff.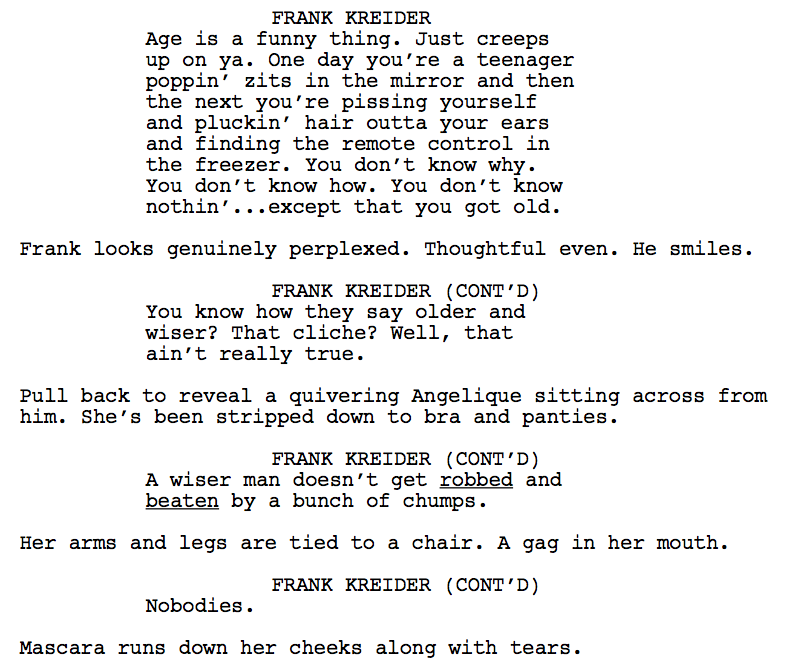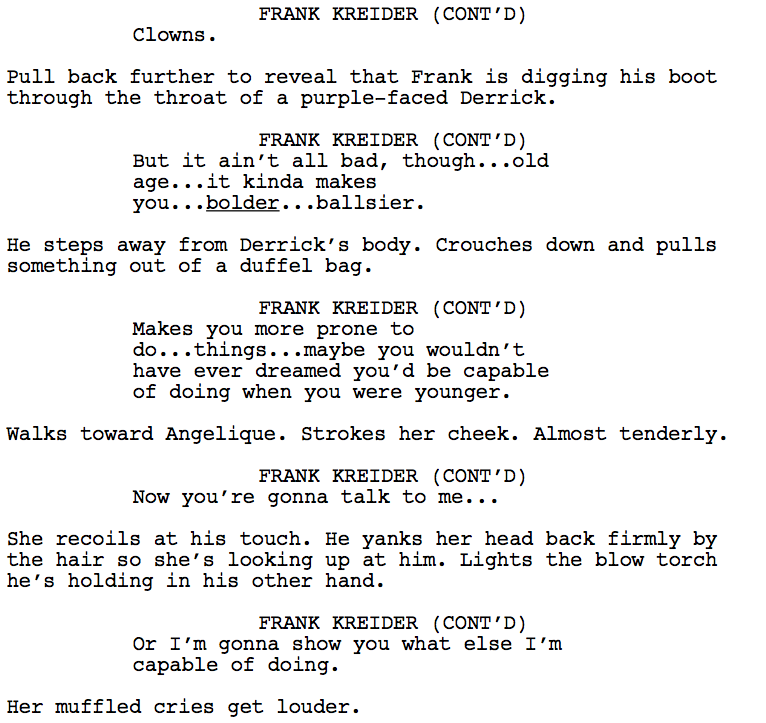 The only real issue I had with the pilot was the longevity question. As you well know, the one big difference with a TV pilot is you have to be able to see 50-100 more episodes going forward. With the only real goal in this setup being for Buddy to get his kid back, I'm not sure where the story goes afterwards.
There is (spoiler) a scene at the end that reveals Fast is a cop, and he brings Buddy in as a Badlands cop too, which was a nice little twist. But I'm not sure what that means. Does that mean we're going the basic "corrupt cop" route that we've already seen before? Does it mean these guys are going to pull a bunch of heists/robberies as cops? I feel like these are trails already well-traveled so it's hard for me to envision the future of the show.
The thing is, Nienalt is so good at making "been there, done that" scenarios feel authentic and fresh, that he might be able to make it work. If not for this show then for something else. I really like this guy and will be watching him a lot closer after this.
[ ] what the hell did I just read?
[ ] wasn't for me
[xx] worth the read
[ ] impressive
[ ] genius
What I learned: You'd like to include things in your script that you can talk about with some level of expertise, whether it's a job or an experience or something from your personal life. The more expertise you have, the more detailed and, therefore, authentic your story will be. I loved how Nienalt included these custody hearing details. It made me sympathize with the protagonist in a way I wouldn't have if the execution of that stuff was more generic.  Remember, the reader can always tell when you're bullshitting them – when you don't know any more than they do about something.